Who among us has ever said, "Yep, my kids get ALL the fruit and vegetables they need. And then some."
Not you? Me neither.
To get the five recommended servings of vegetables and fruits into four kids every day, I serve veggies straight up but also add them into unsuspecting dishes: Eggs. Smoothies. Popsicles. And you better believe it, muffins.
Our new favorite healthy muffins are adapted from Super Healthy Kids, with our version coming in a little less sweet and easier to make as well.
How to make Magic Muffins: The Healthy 5-Fruit & Vegetable Muffins Kids Love!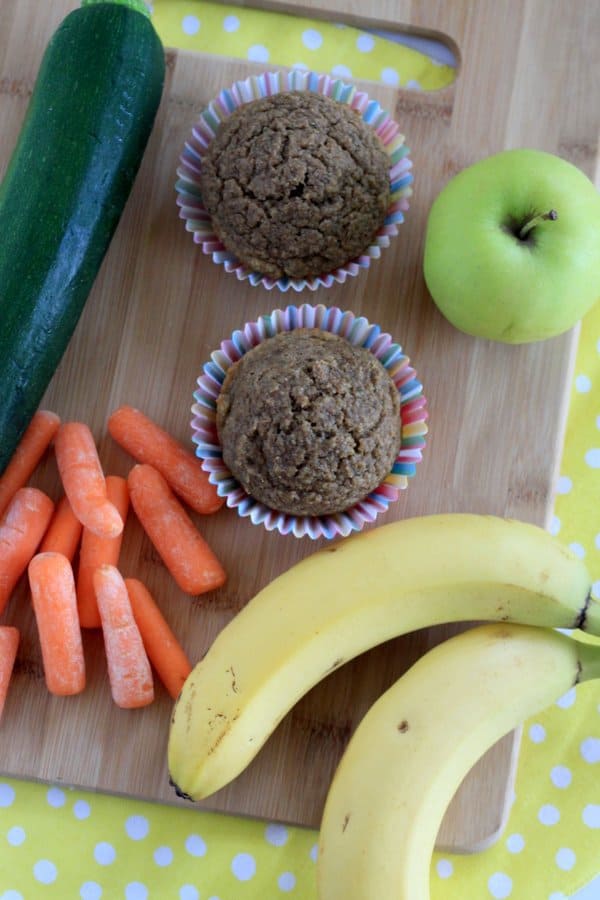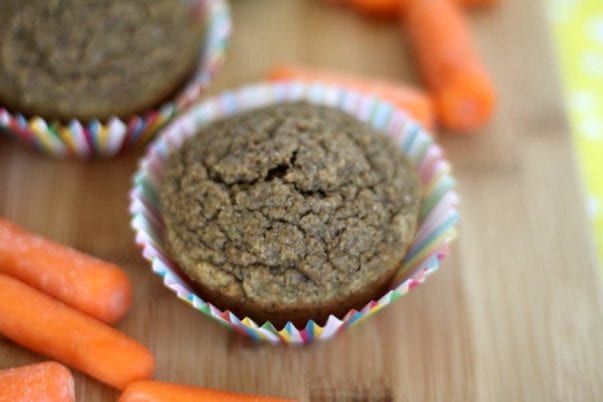 Print
Magic Muffins (The Healthy Hidden Fruit & Vegetable Muffins My Kids Love!)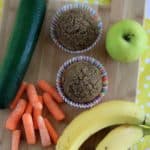 A food processor will make quick work of mincing all the fruit and veggies.
Author:
Prep Time:

15 mins

Cook Time:

25 mins

Total Time:

40 mins

Yield:

24
Ingredients
1/2 cup broccoli florets (frozen broccoli works great, but try to thaw ahead of time)
1 medium zucchini cut into chunks
1 cup shredded carrots OR 10 baby carrots OR 1 1/2 medium carrots, peeled
1 medium apple, cored
1 medium banana
1/2 cup unsweetened applesauce
1/4 cup plain Greek yogurt
1/2 cup sugar
4 tablespoon butter
2 large eggs
1 teaspoon vanilla extract
2 cups whole-wheat flour
3/4 teaspoon baking soda
1/2 teaspoon salt
2 teaspoons cinnamon
Instructions
Preheat oven to 350 degrees F and prepare 2 muffin pans with liners, butter or spray.
Combine the broccoli, zucchini, apple, carrots and banana in a food processor and pulse until everything looks uniformly ground.
Add the applesauce and yogurt, and pulse one more time. Set aside.
In a large mixing bowl, use a firm spoon or beaters to whip the sugar and butter together.
Add the eggs one at a time, mixing after each one.
Pour in the vanilla and mix again.
Combine your vegetable mixture with the butter mixture in your mixing bowl, stirring gently.
I like to put a strainer over the top of my mixing bowl to add the dry ingredients but if that's not possible, just start adding them anyway: flour, baking soda, salt and cinnamon.
Mix until JUST incorporated.
Fill muffin pan about 3/4 full, using an ice cream scoop.
Bake for about 23-25 minutes. The muffins are done when you can press on them with an index finger and the tops spring right back.
My Favorite Muffin Making Gear
After watching the umpteenth episode of Barefoot Contessa, I finally broke down and bought an ice cream scoop with a release lever. It's AMAZING. Every single muffin is the same size now. Every time. Plus the handles come in all sorts of cute colors.
And I have a non-stick muffin pan, which means I never have to pry muffins or cupcakes out of the pan, only to loose half of it, then spend the next two days alternately soaking, scrubbing, and vowing to never bake again. This one by Wilton is my absolute favorite.