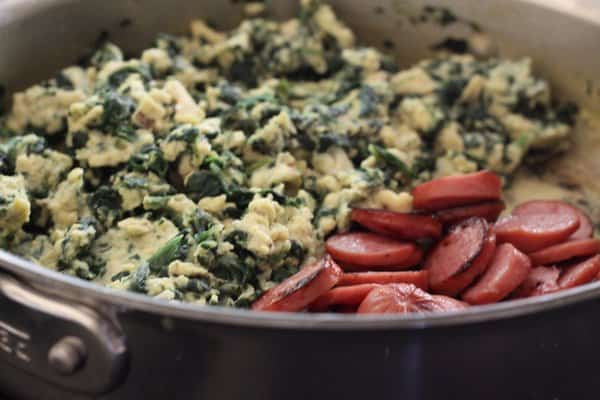 THIS IS ONE OF MY TRICKS. Since I try to cook (almost) every night, I take a shortcut and make breakfast for dinner about once a week. It's always easy, usually inexpensive, handy because the ingredients are in the pantry–and best of all, the kids love it.
The book "Green Eggs and Ham" is a household favorite, so this dish was an easy sell when we introduced it. I laugh when I think about it, but the first time I made green eggs I actually used food coloring but have since figured out something MUCH better: spinach. Aha! Sometimes I steam it, then blend it. That makes the whole pan evenly green. Sometimes I just reach into a frozen bag of chopped spinach and throw in a couple of handfuls. That makes it speckled. Both are delicious.
When we were in Rome, I added diced pancetta to the scramble. It was easy (and affordable) to find at the grocery store . Since we've arrived in the US, I've switched to sliced turkey kielbasa. Also easy and affordable. Both totally tasty.
TECHNIQUE: Add spinach, either frozen or fresh, to your favorite scrambled eggs dish. And sizzle up a little sliced kielbasa on the side. Round out the meal with whole wheat toast, if you like. And if you do, put your slow cooker to work earlier in the day and make up a batch of apple butter. (Just my speed, the apples don't even need to be peeled!)