DESPITE THE UBER-URBAN SETTING, I WAS OBSESSED with all things domestic during my NYC days. Single, living in a series of 4th floor walk-ups and working all hours…it was an unlikely fit. (And definitely not very cool.) Then there was the question of space. None of the six apartments I eventually lived in had what the rest of America would consider a "full kitchen". In fact, one of my worst was actually the entryway to a studio apartment on the Upper East Side where my equipment consisted of a mini-fridge, two burners and a wall-mounted oven that everyone assumed was a microwave. I called it my camper kitchen. It was in one of these setups that my total fascination with the Martha Stewart Living magazine began (followed soon by Ina Garten).
On my first cold November in New York, I opened the impossibly glossy magazine to find a recipe for homemade apple butter,  just like the kind my mom used to make. And even better, there were flaky hand pies, piping hot and oozing with that apple-cinnamon goodness. The photos looked so warm and homey that I practically burst into tears. Instead I lugged home three pounds of Golden Delicious and got to work.
Cut to a zillion years later and here I am. Married, mother of two (plus) and cooking in a real kitchen. (It's an apartment in a city but things are improving…) And still obsessed.
The thing I remember about those apple butter hand pies though, other than their flaky crust and amazing apple flavor, was how much work they were! Since I'm totally frazzled and exhausted usually pretty busy these days, I set out to redo this recipe for both kids and the moms who cook for them. Taking a little help from another cooking-and-blogging mom, Brittany Mullins at Eating Bird Food, I was amazed to find a sugar-free apple butter recipe that didn't even require peeling the apples. And instead of four hours on the stove, they went straight into the slow cooker. (Albeit for longer than I've ever imagined cooking anything but I literally cooked in my sleep here.) Then I reached into the recent Foodlets archives for another idea: toasting whole wheat bread in muffin pans. Both worked well though my one improvement would be using less butter next time (I updated the recipe below). In fact, it was all so tasty that I'd also like to try a couple of other variations:
Line the cups with a thin slice of cheddar cheese. This will help the bread from getting soggy, add another delicious flavor dimension and also give this snack more staying power.
Use oversize cookie cutters to make a pair of fun shapes, then just toast them in the toaster. Slather with apple butter, sandwich together and enjoy!
Bonus, even Estelle ate the ingredients, chopped apples with cinnamon and strips of toasted bread, though apple butter is totally baby-friendly too. There's apparently enough to share.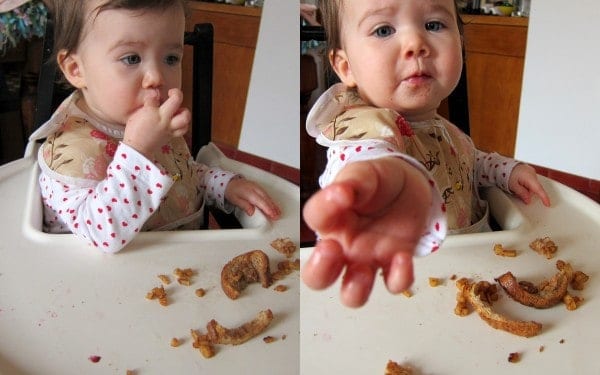 MORE PHOTOS BELOW
[nggallery id=3]
TOASTED APPLE BUTTER HAND PIES
Choose a sweet variety of apples for this no-sugar apple butter, such as Gala or or Golden Delicious

When a recipe calls for lots of sliced apples, I like to quarter them then cut the core on a diagonal (see the how-to photo in the slideshow)
Cookie cutters + whole wheat bread = the easiest way to make this dish a little more fun
Makes six pies
ingredients
3 tablespoons butter, cut into 12 pieces
12 slices whole wheat bread
2 cups apple butter
instructions
Preheat the oven to 425 degrees.
Cut crusts off six slices of bread.Use a cookie cutter slightly smaller than the muffin cup to punch out shapes in the other six pieces of bread.
Using a muffin pan, put one piece of butter in each cup. Press one piece of crust-less bread into each cup. Fill completely with apple butter (approximately 1/3 cup). Top with one of the cookie cutter shapes plus a piece of butter on top.
Toast for 15 minutes. Serve and eat immediately.