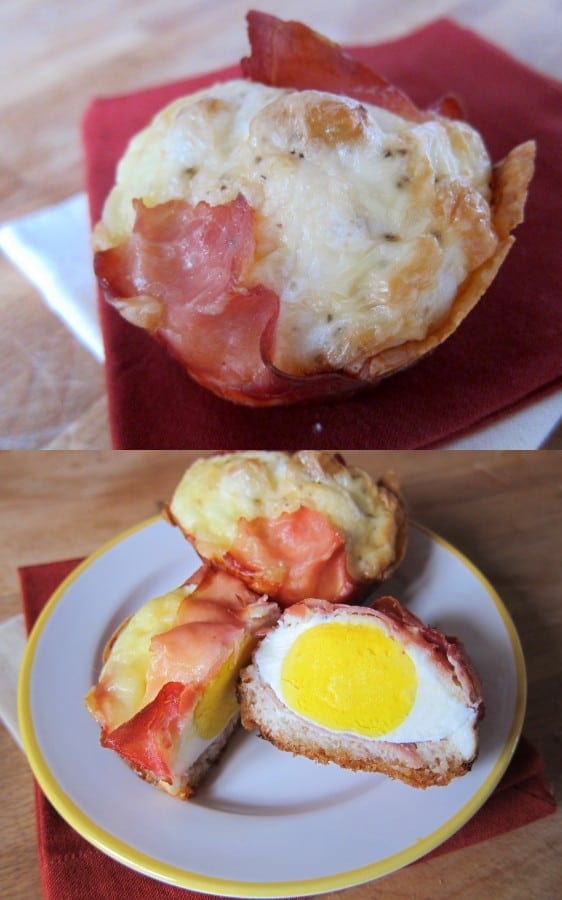 MMM, THESE ARE GOOD. That's the review from my husband. (He's actually asked me twice now, days later, "what was at the bottom of those?" Believe me when I say this is notable.) Unfortunately Phoebe hasn't had them yet; things were entirely too flu-y for her this weekend but we'll try again soon. In fact, I'm going to make another batch and freeze them. I have a feeling they'll be great popped into an oven at 350 for 5 minutes or so, a quick but hearty breakfast of our near future. And I need it. I've accidentally fallen into a terrible habit of getting a pastry at our coffee shop each morning, then staggering home mid-sugar crash to augment another terrible decision with something more lasting: peanut butter toast, yogurt, cheese. Note to self: apple pastries aren't on this list–The 10 Best Foods for Pregnant Women–but eggs are number one. So here we go.
I've seen these done with puff pastry but as usual, I wanted to make something decadent out of healthier stuff. So I tried a substitution I wasn't sure about: whole wheat bread plus a pat of butter. It turns out, the heat of the pan plus the ham's flavor take one little dab of butter to a whole new level. Crispy, salty, totally satisfying. Except it's really just whole wheat toast. If you've got picky eaters, scramble the eggs with a bit of milk instead of leaving them whole–for others the big egg yolk in the center will be a fun surprise.
And one more quickie. Those bright yellow yokes haven't been photoshopped–that's really what eggs look like here in Rome. We buy the organic label, which they call "BIO", but every egg I've encountered has the same cheery glow. It's one of the things I love about Italians. They take their food seriously and wouldn't dream of tampering with it the way a lot of foods are elsewhere. We'll miss that when we move back to the US this fall. Actually we'll get some chickens (an idea I'm nearly obsessed with as I live in my fifth floor apartment overlooking the streets of Rome) and we'll make these, often.
HAM, EGG AND CHEESE BREAKFAST CUPS
Use any meat your family likes (turkey), or skip it
Cheddar, Gouda, Swiss, Monteray Jack…when it comes to cheese, just pick your family favorite
This recipe makes 2 cups which is a light breakfast for 2 adults or a big breakfast for 2 small kids; multiply as needed
ingredients
2 slices whole wheat bread
2 teaspoons butter
2 slices ham (from the deli, preferably low-sodium)
2 eggs
2 slices cheese or 1/2 cup shredded cheese of your choice
Salt & pepper
instructions
Preheat oven to 350.
Cut crusts off the bread. Using a muffin pan, layer a piece of ham in the center of each cup with the edges extending over the sides (you'll fold them over the top of of the egg when you're done). Gently press a slice of bread into each cup. Add a pat of butter. Add half a slice of cheese (or 1/8 cup of shredded cheese) then break the egg into each cup carefully. Gingerly sprinkle salt and pepper on top. Add the remaining cheese and fold the ham over the top. It probably won't reach all the way; just fold it toward the center of each cup.
Bake for 14 minutes or until the cheese is gold and bubbly and the eggs have set.
MORE MAKE-AHEAD BREAKFAST IDEAS