JAM IS A POPULAR ITEM at our place. Especially strawberry, especially in the morning. So when I saw a recipe for Strawberry Vanilla Breakfast Cookies in my Sneaky Chef to the Rescue cookbook, I jumped at the chance.
So did Phoebe.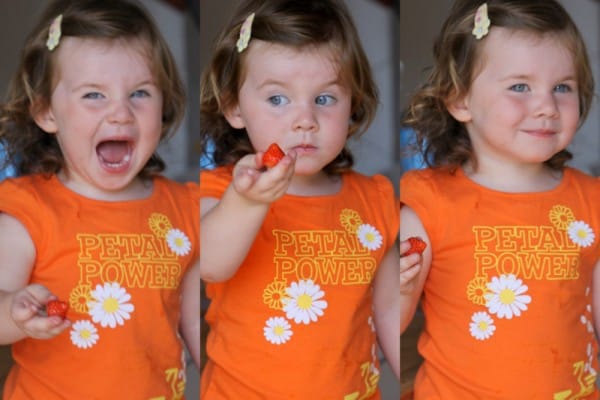 As the original recipe calls for, we started with fresh strawberries. But instead of pulverizing them in the blender, I just used a potato masher to smash them into a lovely, lumpy, juicy pulp. Despite the decadent sounding name, these are really a vehicle for oatmeal and wheatgerm, two healthy but hard-to-convince-people-to-eat ingredients. As usual, I cut the sugar and added honey in its place. I think the switch actually improved the original recipe because the sticky honey helps keep the cookies together before baking, and moist afterward.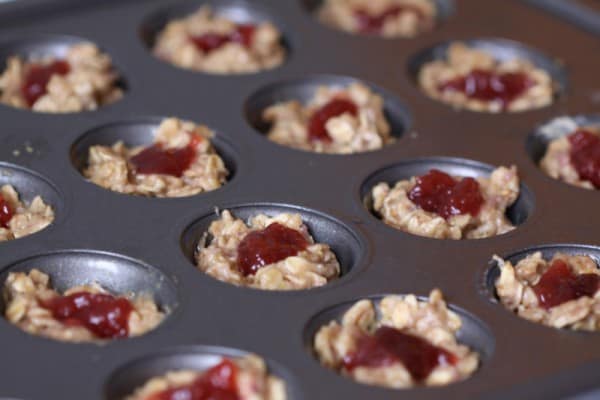 I also used my trusty "no sugar added" jam. This has been a point of confusion for a few readers, mostly because I called it "sugar-free", when technically it's got sweetener. This particular method of sweetening happens to be apple juice but it's still there. So, if you can find something like this, instead of something with artificial sweetener I'd use that. If you can only find something with Splenda, just use regular jam.
We also veered from Ms. Sneaky's instruction by using my beloved mini-muffin pan for half the batch. Instead of thumb-print cookies this group came out looking more like a peanut butter cup–without peanut butter. Or chocolate. Maybe I'm just hungry but somehow that comparison is so clear to me.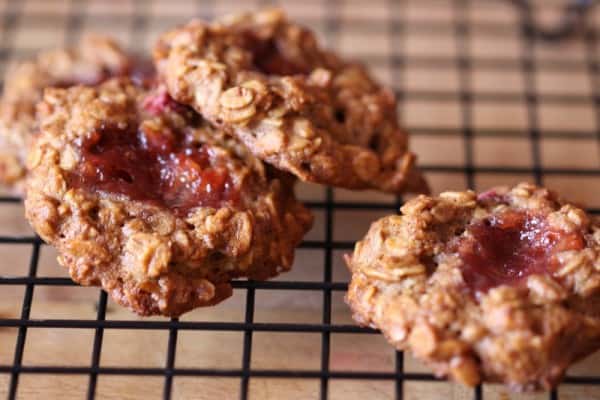 Anyway, they're a hit. Playgroup is over for the summer in Rome so we stored most of our cookies in the freezer. Come breakfast time, I just grab a couple and set them on the counter buy valtrex online while I wrestle with help Phoebe get dressed. Whether there's a shoe-related tantrum or not (and usually there is) at least the breakfast portion of our morning goes smoothly.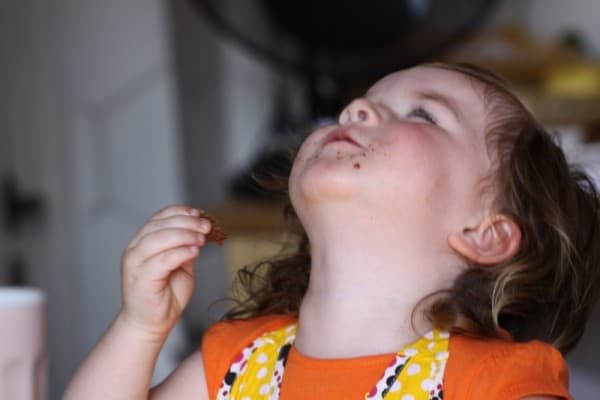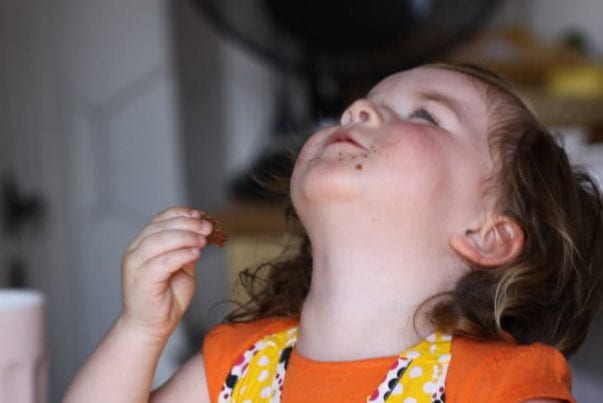 STRAWBERRY OATMEAL BREAKFAST COOKIES
Adapted from The Sneaky Chef to the Rescue
These freeze perfectly and individually, so just pull out a few in the morning for an easy on-the-go breakfast
Try to use organic oats, strawberries and jam if you can find them

For an even easier baking process, use a mini-muffin pan instead of baking sheets
ingredients
6 tablespoons butter at room temperature
2/3 cup whole wheat flour
1/3 cup wheat germ
1 teaspoon baking soda
1/2 teaspoon salt
3 cups old fashioned oats
2 eggs
2 teaspoons real vanilla extract
1 cup mashed strawberries including their juice plus 1 teaspoon water
1/4 cup brown sugar, packed
1/2 cup honey
1/2 cup strawberry jam
instructions
With the oven on at 350 degrees, line a baking sheet with parchment paper or nonstick baking sheets. (If you're using a mini-muffin pan, grease the cups.)
In a medium sized bowl whisk the dry ingredients: flour, wheat germ, baking soda, salt and oats.
Using another larger bowl, whisk together eggs and butter. Add vanilla, mashed strawberries, sugar and honey, mixing until fully combined.
Stir the dry ingredients into the wet and mix until just combined. Don't over-mix.
Drop tablespoons or small cookie scoops onto a baking sheet (or fill mini-muffin cups). Press your thumb into the middle and fill with a pinch of strawberry jam. Not too much or the jam will overflow during the baking process.
Bake for 20-24  minutes. Let cool on a rack. Store cookies in airtight container in the fridge for one week or freeze them in a plastic bag for two months.