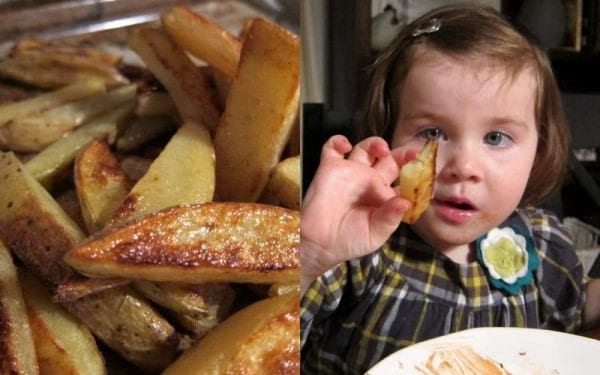 CAN I PLEASE HAVE MORE POTATOES? These are words I like to hear. Especially when the alternatives are, "Her touching me!" or the newest installment in sass, "I don't care". Arms folded. None of that last night though, which was a welcome blessing because Paul worked a little later than usual, leaving me with the kiddies and dinner duty on my own. What I needed was good food, fast. This recipe (along with rotisserie style roast chicken) from Gwyneth Paltrow's cookbook, "My Father's Daughter" covered one of those bases very well: they were very good.
As for speed, I've got my own suggestions. As usual.
We already know that potatoes have moved from Phoebe's list of What Doesn't Work to What Works (see right. And also, yay!) Gwyneth Paltrow's recipe for no-fry fries included a few more steps than I usually take, intended to increase crispiness and overall flavor. She advises to peel first, then cut potatoes into thin sticks (1/3 inches each). Next, soak them in cold water before roasting in a hot oven at 450. These fries were pretty good but not necessarily crispy. This, however, was actually better for Estelle whose two-teeth technique involves sucking all the soft potato goodness out of their roasted outsides. And either way, the ingredients are simple, healthy fare: fresh potatoes, olive oil and a pinch of salt. Potassium doesn't get much tastier than this.
But to make life easier, I'd change a couple of things for those cooking for kids:
Don't peel the potatoes. They don't have russet potatoes in Italy so I always use think skinned yellow potatoes for roasting. No one has ever questioned the peels. Ever.
Slice into wedges and save yourself a few minutes (not to mention precious energy).
Skip the soaking step.
MORE DINNER IDEAS WORTH TRYING: