This Saturday I'll be cooking two honey-rich recipes at our local farmer's market: Honey-Mustard Chicken and these brand new Whole-Wheat Honey Muffins.
It's is my fourth and final appearance of the year and it's been a blast. Hope I get the chance to do it again next spring and summer!
In the meantime, you'll probably want to make these muffins about one thousand times. I sure do.
Cook these beauties as the recipe calls for below, or use the recipe as a base and go wild. Ideas:
Substitute orange juice for milk and add a cup of dried cranberries.
Add 1 1/2 cups of fresh blueberries and sprinkle oats on top.
Stir in 1 cup of dried cherries and drizzle a little lemon juice with powdered sugar on top as a glaze (more instructions for the glaze in our Apple Cookie recipe.)
Go savory (great for packing lunches!) by sprinkling chopped ham and cheddar cheese right into the mix.
In the meantime, this is exactly how I made this batch, and plan to do it again and again…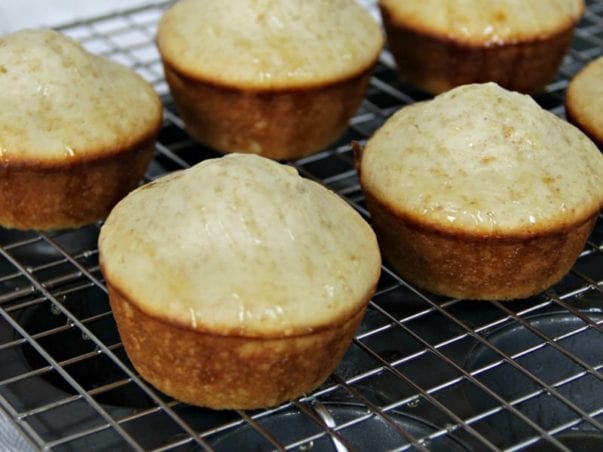 Print
Whole-Wheat Honey Muffins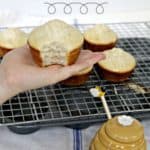 Author:
Prep Time:

5 mins

Cook Time:

15 mins

Total Time:

20 mins

Yield:

12
Ingredients
1 cup whole-wheat flour
1 cup white flour
1/2 cup sugar
3 teaspoons baking powder
1/2 teaspoon salt
1 large egg
1 cup milk
1 cup Greek yogurt (preferably full fat but any kind will work)
1/4 cup honey plus more for drizzling on top
Instructions
Preheat oven to 400 degrees F.
Coat muffin/cupcake pan with nonstick spray.
Mix all the ingredients together in a big bowl.
Use an ice cream scoop with a thumb lever to evenly fill al muffin/cupcake pan.
Bake for 15-16 minutes.
Allow to cool for 3-4 minutes in the pan before transporting to a wire rack.
Tip: Put the wire rack OVER the muffin pan and drizzle honey over the top. This arrangement will cut down on cleanup.