FINALLY, A BAKED GOOD that Phoebe likes! And not a moment too soon. We started a play group this week and I'd been told ahead of time to bring a "healthy snack". I wasn't sure how the group would go but I knew this for sure: the last thing we needed was a lousy snack for our Ladybirds debut. And after the banana-carrot mini-muffin fiasco, the pressure was on.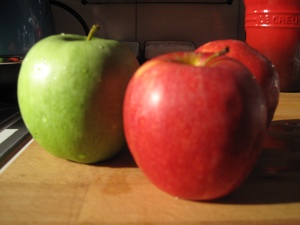 Since our sugar free recipe was a flop, I tried for a low sugar (and low fat) version this time.  It turns out that most muffins call for several cups of sugar and almost as much oil. That doesn't sound like something I want to get Phoebe started on. So through the Web I went, searching, clicking, reading and salivating. Oddly, it was actually pretty hard to find anything  that fit the bill. (If you have better sources, please share them here!) The one I settled on came from Cooking Light. I adapted their Cinnamon-Apple Cake recipe twice and preferred the second try. So does Phoebe.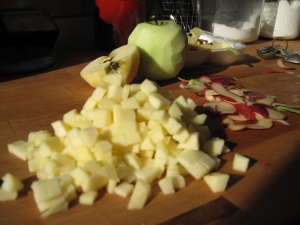 They use only half a stick of butter  plus a couple of smart ingredients to make these muffins work without the oil. Actually the original recipe called for margarine but I prefer butter; even though it's got more fat, it's the real deal which I always think is better. This leads to the second smart addition: cream cheese. Cooking Light suggests fat free cream cheese but again, it seems weird to somehow remove the fat from food (adding who knows what, particularly when the ingredients are in Italian) so I'd only go as far as using light cream cheese. In my first version, I actually substituted the cream cheese altogether with Greek yogurt and threw in a quarter cup of wheat germ to create more firmness. The result was perfectly nice, sort of like a bran muffin but much heavier than the second batch with the cream cheese. I also cut back on the sugar. The first time I added honey, the second time I skipped it. Both generic valtrex herpes medication were good. And both times I also added more fruit. The recipe called for two apples and I used three–two Gala apples and one Granny Smith–all finely diced, all delicious. The result was a hit, not only with Phoebe but for her new playgroup as well. We loved Ladybirds and plan to go again and again. Now, what to do next week…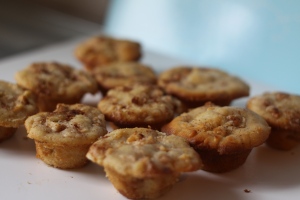 APPLE CREAM CHEESE MINI-MUFFINS
(adapted from Cooking Light)
I like to use a combination of apples, some sweet some tart. Since we're not using as much sugar as the original recipe calls for, the sweeter apples are a good substitute while the tang of something like a Granny Smith adds loads of flavor.

1 cup  sugar plus 2 tablespoons, divided
1/2  cup  butter, softened plus more for pan
1  teaspoon  vanilla extract
6  ounces  block-style cream cheese, softened (about 3/4 cup)
2  large eggs
1 1/2  cups  all-purpose flour
1 1/2  teaspoons  baking powder
1/4  teaspoon  salt
3  teaspoons  ground cinnamon, divided
4  cups  peeled and finely diced cooking apples (about 3 large)
Preheat oven to 350°.
Combine one teaspoon of cinnamon with the reserved two tablespoons of sugar. Put the apples in a bowl and sprinkle with half the cinnamon-sugar mixture. Set aside and let the juices develop.
Put the butter into a mixing bowl and whip for two minutes. When it's starting to get frothy and light, add the sugar, vanilla and cream cheese and blend for another 4 minutes. Don't skip this step, it'll make the muffins lighter in texture. Add the eggs one at a time and beat for about a minute after each one, scraping down the sides of the bowl.
Combine the flower, baking powder and salt into a sieve and gently shake into the butter mixture. Beat for only a few moments until just blended. Use a spatula to fold in the apples and all of the juices from the cinnamon-sugar bowl.
Grease a mini-muffin pan (use butter or spray) and fill to the top. Sprinkle lightly with cinnamon-sugar.
Bake at 350° for 10-12 minutes, depending on the size of your mini-muffin tins.