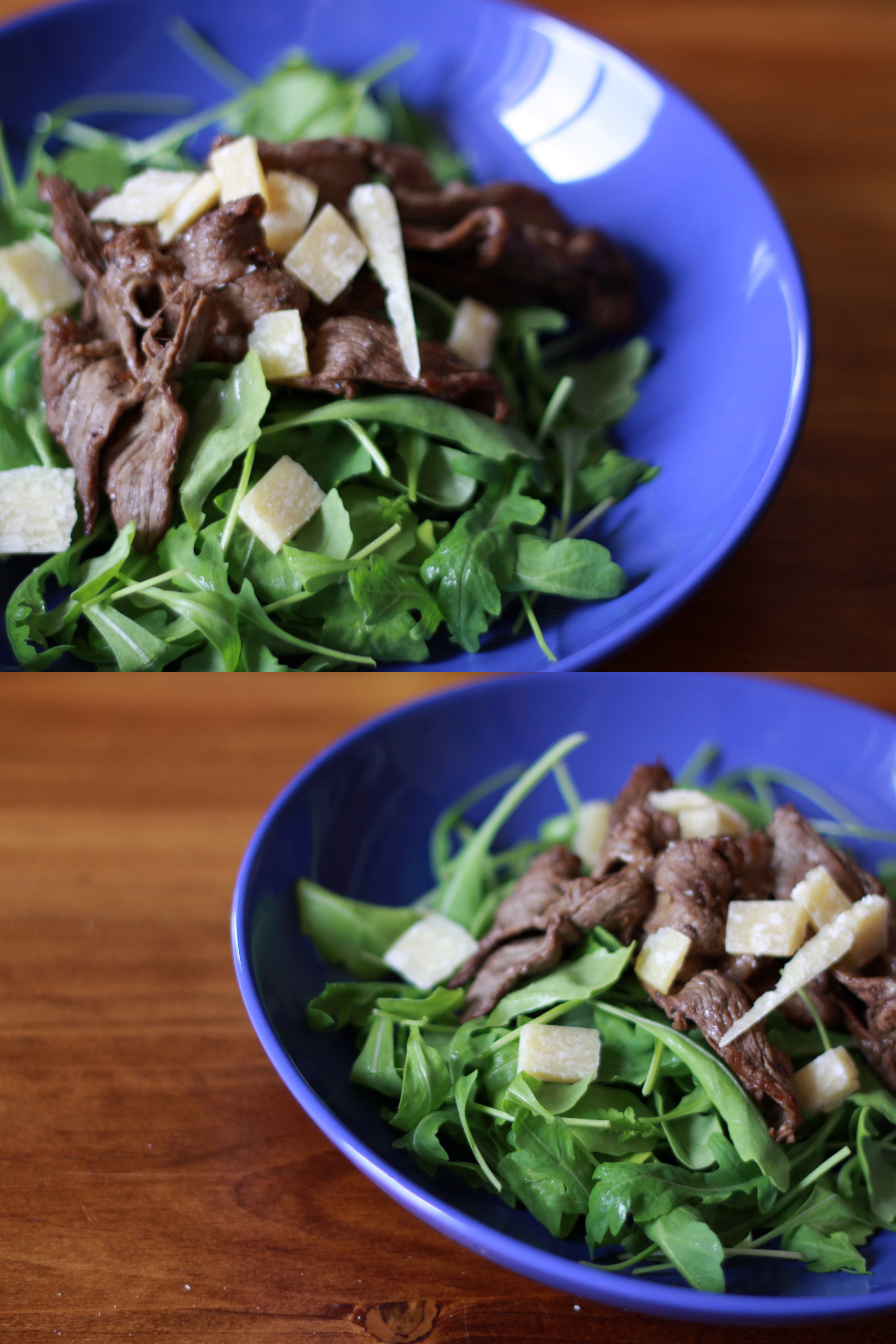 THIS IS A CLASSIC ITALIAN MEAL, so naturally I'd never heard of it. That was before I moved to Rome and discovered that Italian food is more than pasta, tomatoes and cheese. (But they do that very well.) One of my favorite summer meals has turned out to be a version of the Big Salad I ate on a daily basis in NYC. Atop fresh and peppery arugula, comes fast-cooked strips of thin beef and shaved parmigiano cheese. If you're lucky there's also a drizzle of aged balsamic vinegar. It's the perfect mix of hot and cold, crisp and tender, sweet and salty. Mmm.
It also works on another level for me. In a house with two adults, one toddler and one baby, not all palettes are on the same page. But Phoebe loves beef. So I fry up about a pound of meat first. For her I usually add a few cherry tomatoes and of course she gets cheese but I hold the greens. Unless I want to see her spit them out. Which I do not.
The important part of this meal is the cut of the meat itself. Here in Rome you can buy these thin strips of lean meat already packaged and waiting in cellophane at the grocery store. It's actually labeled stracceti, which literally means thin slices. I'm sure you could get a butcher to chop up a pound of lean beef OR do it yourself. I'm told the secret here is to put the beef in the freezer for 30 minutes before you take out your sharpest knife to peel off the thinnest layers possible.
However you arrive at these lovely little strips, they cook in flash. Fry the beef in a hot skillet with white wine, olive oil, salt and pepper for about 5 minutes, stirring or flipping as needed. For a finishing touch add balsamic vinegar for the last minute or so. It's delicious.