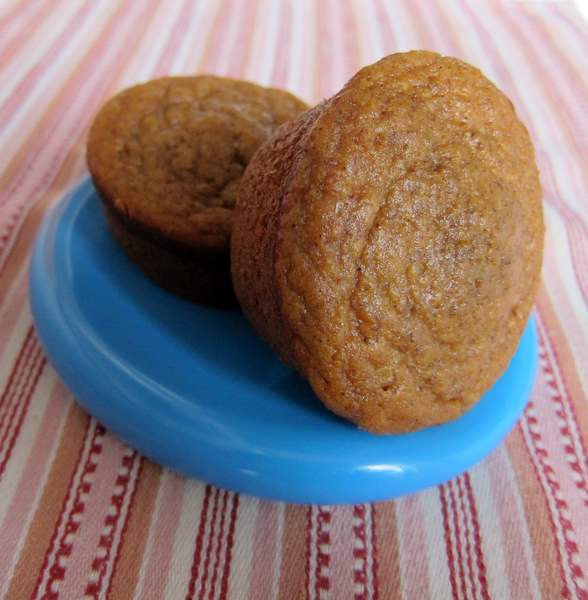 THESE MUFFINS ARE LIKE the Energizer Bunny…they just keep going. No matter what I put in them. And we have the recently-much-discussed Paula Deen to thank for it.
Her original pumpkin bar recipe was easily adapted for the foodlets here but since canned pumpkin is harder to find than boot-cut jeans in Rome, I've also used pureed carrots and now sweet potato. Here's the verdict: These are the only two muffins I could get my hands on to photograph before they were wolfed down by the normally calm baby and toddler I live with. Even though neither one likes sweet potatoes (right now) they both insist on eating one of these full-size muffins for breakfast, another as a snack and would happily have a third for dessert after dinner if given the chance. (We've been offering them a banana or an orange instead. Muffin addicts in the making…) There used to be a mini-muffin version too but those are long gone. So, they like them.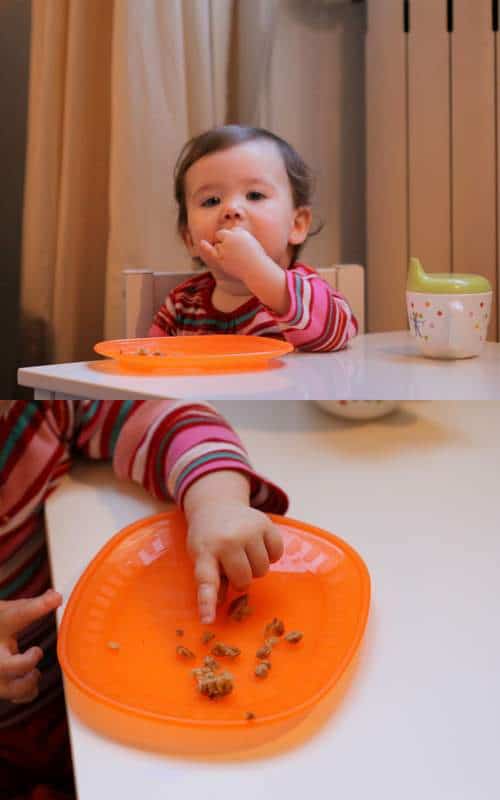 SWEET POTATO SPICE MUFFINS
To roast the sweet potatoes, just put them on a baking sheet lined with parchment paper and into the oven at 350 for about an hour. Poke them with a fork; when the sweet potatoes are tender, take them out and allow to cool (during which time they'll keep baking just a bit). Peel, mash with a potato masher and you're ready.
Ingredients
4 eggs
2 cups roasted and mashed sweet potatoes (about 2 large sweet potatoes)
1/2 cup vegetable oil
1/2 cup apple sauce
2/3 cup sugar
1 teaspoon vanilla
1 1/4 cups whole wheat flour
3/4 cup wheat germ
3 teaspoons cinnamon
1 teaspoon ginger
1/2 teaspoon nutmeg
2 teaspoons baking powder
1 teaspoon salt
1 teaspoon baking soda
Instructions
Preheat your oven to 350 and prepare the pan by greasing with butter or oil, then sprinkling lightly with flour. Or use muffin liners.
Using a handheld beater or standing mixer, beat wet ingredients together until frothy: eggs, sweet potato, oil, apple sauce and vanilla. Add sugar and beat again. Put a sifter over the mixing bowl then add the flour, wheat germ, spices, baking powder, salt and soda. Stir to break up clumps but don't over-mix. When just incorporated pour into muffin pan, filling each cup almost to the top.
Baking times:
Mini muffins: 10-12 minutes
Medium and regular-size muffins: 20-25 minutes
Test with toothpick; if it comes out clean they are ready. Allow to cool completely before removing from the pan.