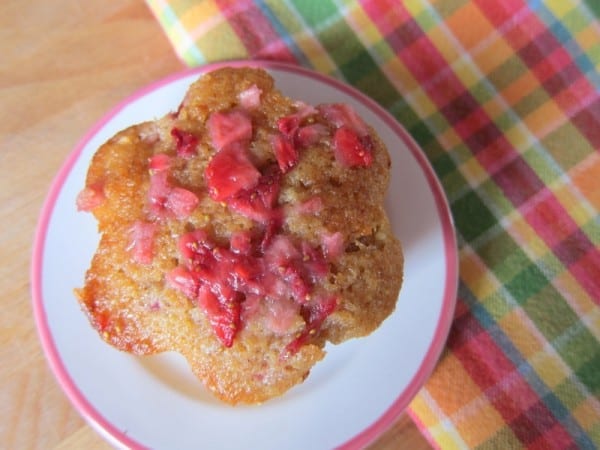 "YAY, THESE ARE GIANT MUFFINS!" That's the refrain from the breakfast table in Rome these days. This weekend Phoebe and I remade a recipe from the Oprah magazine, for baked strawberry-buttermilk doughnuts. Our version is also baked, also full of strawberries but served in the shape of flowers.
We did our usual updates, omitting some sugar, adding wheat germ, substituting applesauce for oil and so on. The results were tasty but not at all in the doughnut family. In our defense, the original recipe suggests baking them in muffin pans, so we did.
Now a note about these pans. I was thrilled to get my new silicon Wilton baking pans, which I ordered in two kid-friendly shapes: hearts and stars. However, they're so sticky! I hadn't expected this, especially since I did butter them. Next time I'll add flour too but honestly, I thought the idea was non-stick… So, I'm on the fence so far. We'll see.
And admittedly, it's a little early in the season for strawberries. I'm positive that this recipe will be even tastier in a couple of months. But for the first berries of the season, I can think of no better way to start each day. We added a fresh berry glaze to the tops, allowing the juices to penetrate the cakes for maximum freshness. After two breakfasts, I can report nary a complaint. Phoebe was so proud of her creation that even a certain Winnie the Pooh got to try one today. After donning a bib of course. Otherwise that would be silly.
FRESH STRAWBERRY MUFFINS
Plain Greek yogurt can be used in place of buttermilk
We used apple cider vinegar
A potato masher works perfectly to pulverize the strawberries instead of dicing
ingredients
1 1/2 cups flour
1/2 cup wheat germ
2/3 cup sugar
1 teaspoon baking soda
1 teaspoon salt
1/2 cup canola oil
1/2 cup applesauce
3/4 cup buttermilk
1 teaspoon pure vanilla extract
2 eggs
1 teaspoon vinegar
3/4 cup finely diced or mashed strawberries (reserve 1/4 cup for glaze)
1/3 cup powdered sugar
instructions
Heat oven to 375 degrees. Using a large bowl, mix together flour, wheat germ, sugar, baking soda, and salt. In a separate bowl, stir together oil, applesauce, buttermilk, vanilla, and eggs. Add dry ingredients in two steps, stirring until just incorporated. Add vinegar, and mix thoroughly. Fold in ½ cup strawberries. Lightly grease a muffin pan. Fill three-quarters full and bake until golden brown, about 15 minutes. (Press your finger tip onto the top of the muffins, if they spring back, they're done.)
For the glaze, mix together ¼ cup strawberries, powdered sugar, and 1 teaspoon water, adding more water if needed. Let muffins cool for 5 minutes (at least) before removing from pan (allow more time if using silicone — up to 20 minutes). Place them on a wire rack and use a spoon to drizzle on the glaze. Alternatively, use no-sugar-added strawberry jam, thinned out with a bit of water. Store in the refrigerator for 5 days or freeze for two months, without the glaze.
MORE BREAKFAST IDEAS TO TRY: