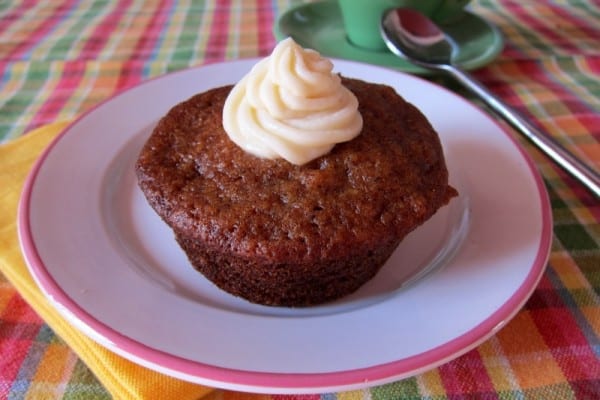 THESE ARE DELICIOUS. I could probably end this post here but I'll  go on at least long enough to share the super simple — and healthy — recipe. It was inspired by a comment from my friend and most loyal Foodlets reader, Lori, who substituted carrots for zucchini in a muffin-baking pinch. Whether orange or green, there's really no better way than a muffin to get your veggies in before noon. (And if there is, please tell me immediately.)
Carrots are typically a no-go in our house so naturally I decided to do a "carrot retrospective" (And when I say these things to my husband he just shrugs and says, "Um, OK." Really, what else is there to say to a deranged determined baker?). Up to the challenge, I'm committed to making something, in some way, that these kids will like–and carrots are going to be a part of it. Enter the word's best weapon in the pro-veggie battle: carrot cake. I simply made a variation of our uber-popular pumpkin muffins and ta-da. Carrots are the new special morning treat. Well, at least these muffins are.
I made two versions; one with cream cheese filling and one without. Phoebe has told me on several occasions that she doesn't like cream. More for me, I say! But when she saw my muffin with a dollop of creamy goodness on top (and didn't even know that it was also full of the stuff) she asked the quintessential breakfast question those of us with an early morning sweet tooth must face, "Wait. Are these cake or muffins?" Lucky for us, they're both! These just happen to be low in sugar, high in fiber and packed with apples, carrots and wheat germ. Not a bad way to start the day.
CARROT CAKE MUFFINS WITH CREAM CHEESE FILLING
These muffins combine the best of what carrot cake offers: a sweet cake with tangy frosting. But the key to keeping the "frosting" healthy is less sugar and less of the filling itself. Instead of a thick layer on top, each muffin gets a dollop inside and a peak on top. The flavor combination is still wonderful–so is knowing that you've fed yourself and your family something good and good for them, too.
[CARROT CAKE MUFFINS]
Makes 18 full size muffins
ingredients
4 eggs
1/2 cup vegetable oil
1/2 cup apple sauce
2/3 cup sugar
1/4 cup honey
2 cups grated carrots (about 4-5 medium/large carrots)
1 1/2 cups whole wheat flour
1/2 cup ground flax seed or wheat germ
3 teaspoons cinnamon
1 teaspoon ginger
1 teaspoon nutmeg
2 teaspoons baking powder
1 teaspoon salt
1 teaspoon baking soda
instructions
Preheat oven to 350 and grease muffin pans or use liners.
Using a whisk and large bowl, beat wet ingredients together until frothy: eggs, oil and apple sauce. Add the sugar and honey or agave and mix. Fold in carrots. Put a sifter over the mixing bowl and add the flour, wheatgerm, spices, baking powder, salt and soda. Sift then stir together, breaking up clumps but don't over-mix. Stop when everything is just incorporated to keep your cakes fluffy.
Fill muffin cups 3/4 full and bake for 15-18 minutes. Touch the top of a muffin to find out if it's done. If it springs back immediately, they're done. Cool on a wire rack. Meanwhile, make the filling.
CREAM CHEESE FILLING
This doesn't make a big batch of filling. If you want to frost the muffins as cupcakes, double the quantities below.
ingredients
4 oz cream cheese, softened (half a regular size package)
1/4 cup butter, softened (half a stick)
1 tablespoon honey
1 tablespoon milk
1/3 cup powdered sugar
1 teaspoon vanilla
instructions
Cream everything together with a spoon. When totally combined, fill a pastry bag fitted with a small tip with the cream cheese mixture. Poke the tip into the muffin top about half an inch, so it's firmly in the muffin but not breaking the top layer. Squeeze the filling bag until you feel the muffin puff out at the sides. (Not too much!) Keep squeezing but gradually, gently pull up until the tip is out. Make a little peak on top of your muffin. Cool in the fridge for 20 minutes before serving.
Refrigerate muffins in an air-tight container for 4-5 days. Or freeze (before adding cream cheese filling), up to 2 months.