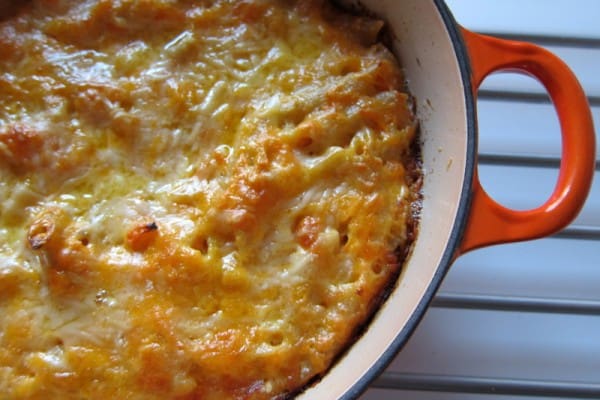 THIS IS IT, MY NEW FAVORITE RECIPE for mac and cheese. I've mentioned Melissa Clark's Carroty Macaroni & Cheese before, but before this week's "carrot retrospective"/insane challenge to get our girls eating more of the orange stuff, I hadn't actually tried it. Two main ingredients are hard to come by in Rome, cheddar cheese and sour cream, but Paul made a commissary run and voila! It's decadent (3 cups of cheese) but also a little healthy (2 cups of carrots plus whole wheat pasta). Right up our alley.
The only update I made was adding more spices; I like things to have strong flavors and routinely double all salt, pepper, herbs and spices in nearly every recipe. More importantly, I find that the kids actually eat more when things are very seasoned. That was certainly true this time.
Plus, Phoebe got into the shutterbug act too. Is it wrong that our two-year-old thinks it's normal to photograph food before you eat it? Hmm. Let's just move on to the recipe…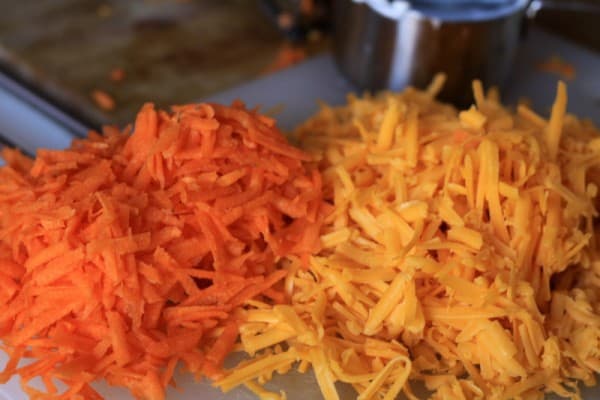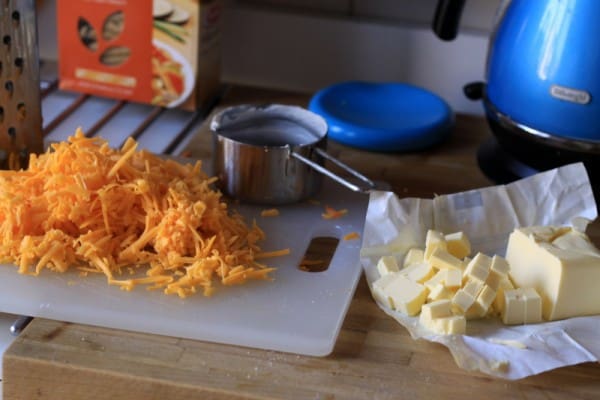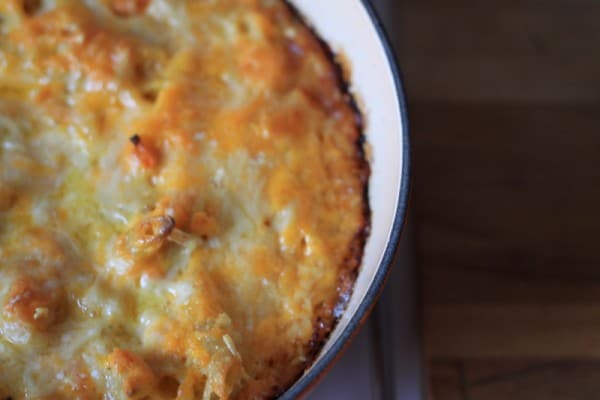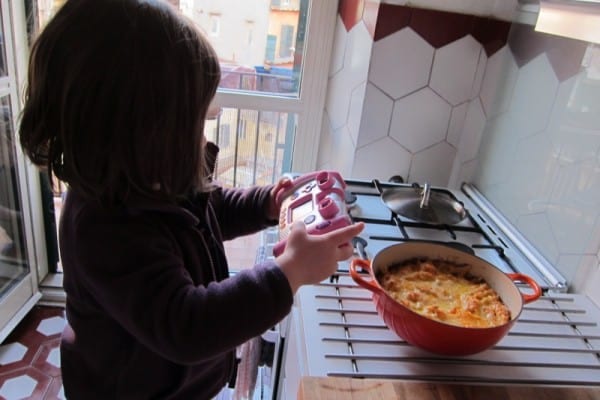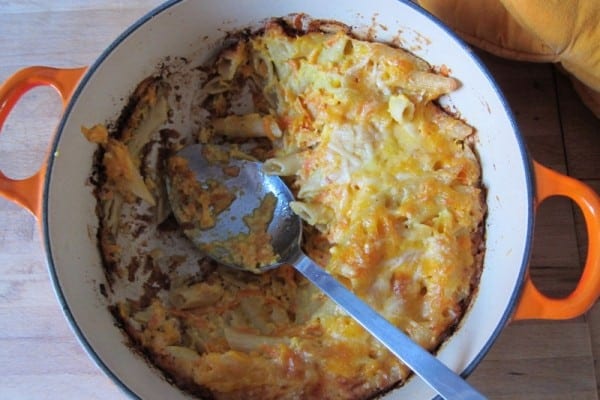 Carroty Mac and Cheese

(From "Cook This Now" by Melissa Clark. Copyright © 2010, Melissa Clark, Inc. Published by Hyperion. Available wherever books are sold. All rights reserved.)

Makes 6 servings

2 cups whole wheat macaroni
2 1/2 cups coarsely grated carrot (about 8 small)
3 cups grated sharp cheddar cheese
1/4 cup (1/2 stick) unsalted butter, cut into pieces
3/4 cup sour cream
1/4 cup whole milk
2 large eggs
1 teaspoon kosher salt
3/4 teaspoon mustard powder
1/4 teaspoon freshly ground black pepper
1/4 cup finely grated parmesan cheese

1. Preheat oven to 400°F and grease an 8-inch square baking pan. Arrange a rack in the top third of the oven.
2. Cook macaroni according to package instructions in a large pot of salted boiling water; add carrot 3 minutes before pasta is finished cooking; drain well.
2. While pasta is hot, stir in all but 1/2 cup of the cheddar and the butter. In a bowl, whisk together the sour cream, milk, eggs, salt, mustard powder, and pepper. Fold mixture into the pasta.
3. Scrape the mixture into the prepared pan. Sprinkle the remaining cheddar and the parmesan over the top. Bake until the casserole is firm to the touch and golden brown, about 30 minutes.

What Else?

If you're grating your cheddar cheese in the food processor, you don't have to wash out the machine before grating the carrots. Or vice versa.
This is one of those macaroni and cheeses with an eggy custard base that puffs as it cooks, and is cut into squares to serve, like a casserole, as opposed to that gooey, creamy, stove-top béchamel sauce version. I know that some people have strong opinions about proper mac and cheese (I'm an equal opportunist myself), but thought I'd let you know what you're getting.
Feed this dish to the kids as is; grown-ups should indulge with a squirt of fiery Sriracha or other hot sauce all over the top.
You can vary the cheese to give this rather plain (if tasty) dish more personality. Gruyère, aged Cheddar, pecorino, and aged Gouda will all add a sophisticated allure that will raise it above mere kids' food.