WE'VE JUST RETURNED FROM A THREE-WEEK TRIP to the US where we plan to relocate at the end of 2012. North Carolina looks like our future destination but first all things related to jobs, houses, schools and the other million details that make a life must align. (Wish us luck!) In the meantime, I've stocked up on magazines printed in sweet, sweet English and have already started experimenting with a few recipes that I've been eying since we boarded the plane. And Miss Oprah, I've loved you forever and this meatball recipe from your first-ever "Food" issue is just one more reason why.
These meatballs are a great nap time project. They're actually quick to put together (throw everything in a bowl, roll into balls and bake on a sheet pan) and cook without interruption in the oven. Plus they're easy to heat again when it's really dinner time. As for my usual substitutes, I used whole organic oats instad of breadcrumbs, adjusted the seasonings and this time used a combination of pork sausage with ground turkey because that's what they had at the store. If I had my druthers, I'd just pick a nice turkey sausage.
To go along with these turkey sausage meatballs, I made a plate of pasta with brodo, a popular thing in Italy. It's broth. And the combination of the two resulted in a familiar taste…ramen noodles!  Super simple to make, this was a combination of whole wheat pasta, extra virgin olive oil, one coure de brodo (you can use a bouillon cube), fresh basil, frozen peas, salt and pepper. Easy, tasty, pretty good for you–not bad, right?
Best of all, everyone ate some. Actually they had quite a bit. But because I wasn't sure how it would go over, I rounded out the meal with a known favorite, roasted cauliflower. I always try to stack the just-eat-some deck in my favor when introducing a new thing by offering a proven gem. That way everyone is sure to eat SOMETHING and likely a little of everything.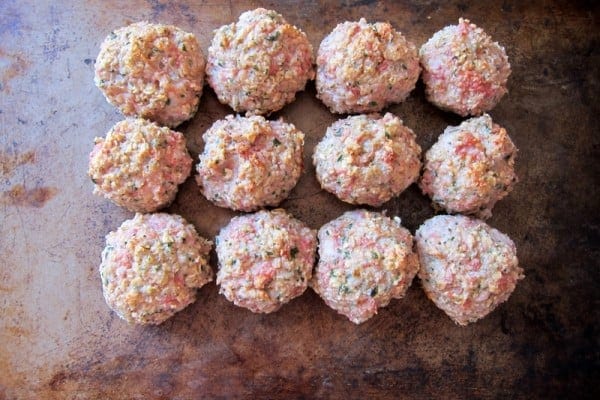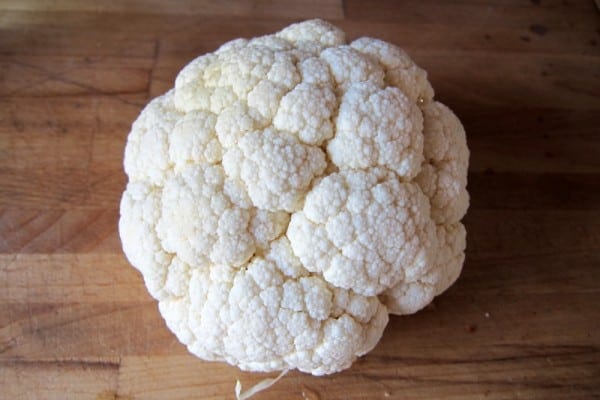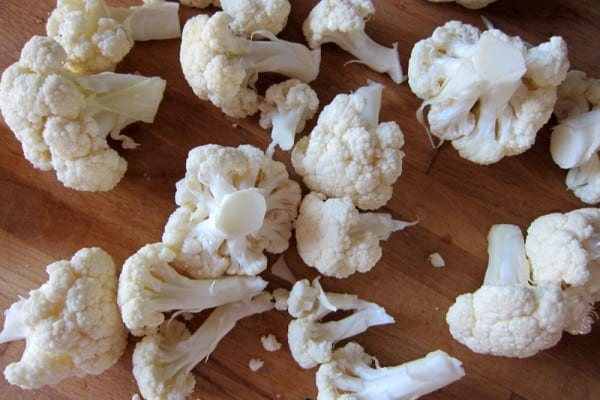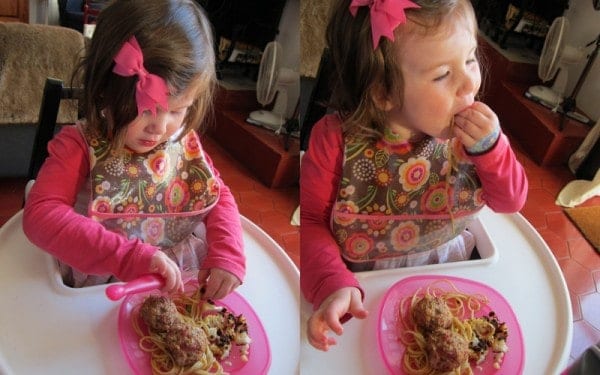 Best of all, these meatballs were a delicious spinach and apple salad for mom's lunch the next day.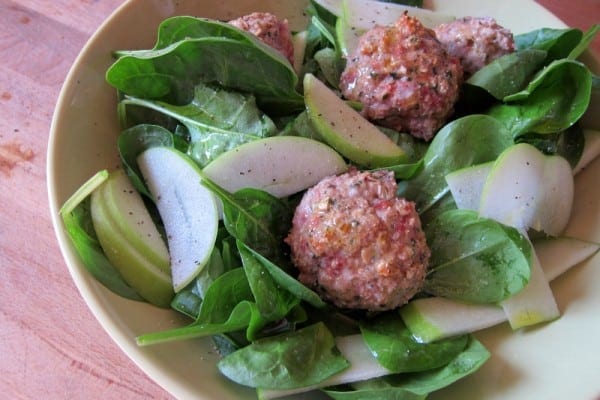 TURKEY SAUSAGE MEATBALLS
Adapted from The O Magazine
(makes 16-18 meatballs, enough for six adults or two meals for a family of four)
ingredients
1 1/2 pounds sausage (turkey or pork)
1 tablespoon salt
1/2 teaspoon ground fennel seed
1 teaspoon salt
1/4 cup white wine
1/2 cup parsley or basil, finely chopped
1 cup whole organic oats
2 eggs
instructions
Preheat oven to 450 and grease a baking sheet. Mix all ingredients together in one big bowl (use your hands, it's easier). Roll into 1 1/2-2 inch balls and assemble in a single layer on baking sheet, close enough together that they're touching. Bake until they're cooked through, approximately 15 minutes. Let rest for 3-5 minutes before serving.
EASY PASTA WITH PEAS
ingredients
1/2 pound whole wheat spaghetti
salt
1 cup frozen (or fresh) organic peas
1 low-sodium bouillon cube
1 cup water
2 tablespoons extra virgin olive oil
1/4 cup fresh basil, finely chopped
salt & pepper to taste
instructions
Bring a pot of water to a boil, add handful of salt then pasta. Cook until al dente, still firm, about 2 minutes less than instructions on the box. In the last minute of cooking time, add peas. Drain pasta and peas in a colander. Using the now empty pasta pot, bring water to a boil and dissolve bouillon. Reduce heat and simmer for 3-4 minutes. Add olive oil and basil then combine the pasta and peas all together. Add salt and pepper to taste (going light on the kids' portions) and serve.