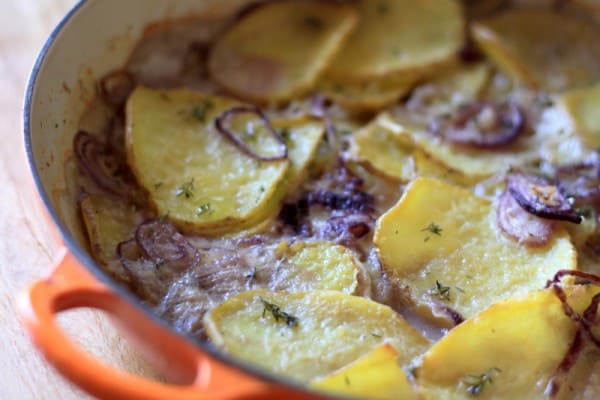 I RECENTLY MADE A HAPPY DISCOVERY. Jamie Oliver's 30 Minute Meals has been on one of our 900 Italian cable channels for quite some time but always dubbed, in Italian. I'd sort of given up on the plucky chef's show until I checked again on a lark the other night. And cheerio! It was in English (I know, I know. I could watch it in Italian and maybe learn more but after working all day and chasing the little guys by night, the last thing this preggie wants to do at 8pm is study a foreign language. Sad but true.) I've seen exactly 1 1/2 episodes now and made my first recipe. These potatoes are so good–and refreshingly I'm not the only one who thought so–that I'll be back to channel 609 again. Even if it's in Italian. Well, depending on how the day goes…
Since Jamie Oliver is actually quite famous for taking on the junk food industry, not to mention school lunches, "healthy" recipes aren't hard to come by here. Both his show and website feature dozens of gorgeous ideas for family meals, all ready within half an hour. And nothing says family friendly like a fast recipe. While his aren't packed with wheat germ, they're fresh and delicious dishes designed to introduce rich flavors that everyone can enjoy together. Like me, he wants his kids to eat food, real food and come to love the ritual of the whole thing.
That's just what we did this weekend. In fact, we even ate out on the terrace for the first time this spring. We kind of had to; it was such a gorgeous day and the food (more on this in upcoming posts) was so tasty that we had to celebrate in the fresh air and sunshine. Plus Phoebe had been begging to eat outside for a couple of weeks and if I've learned anything about successfully eating with kids so far, it's this. Stack the deck in your favor. To the terrace we go…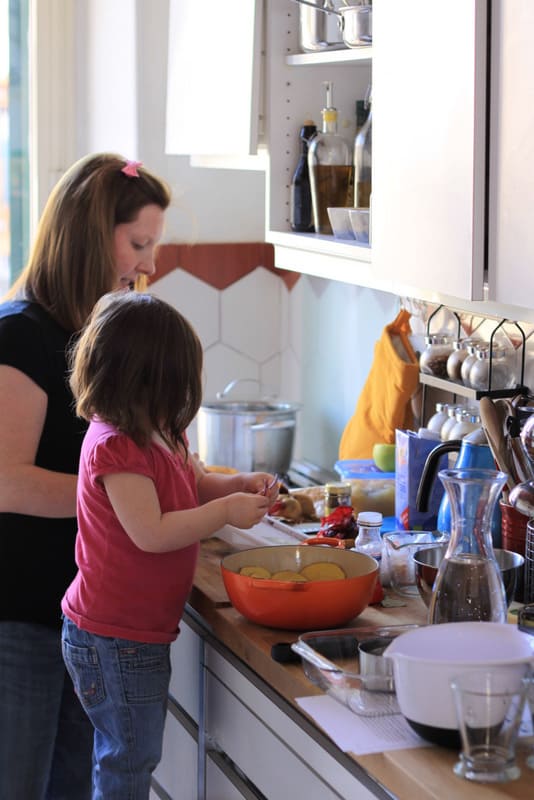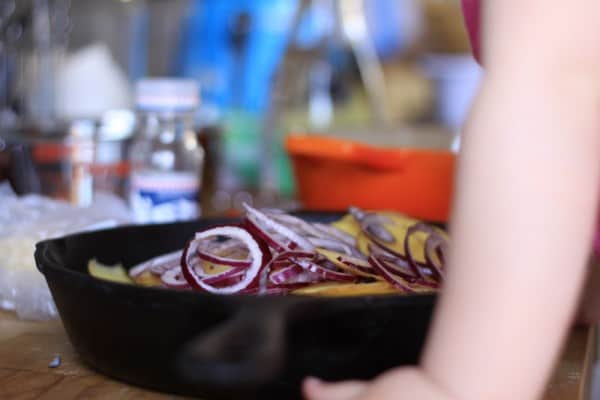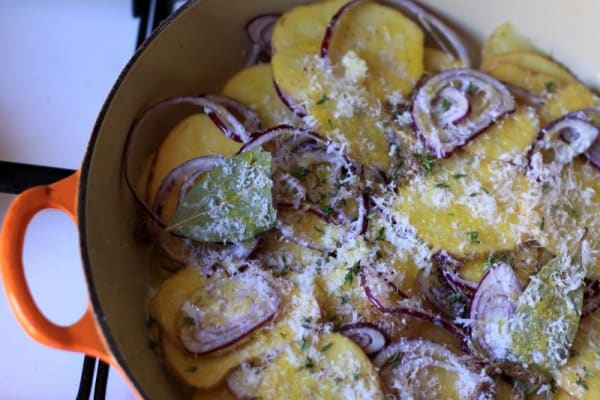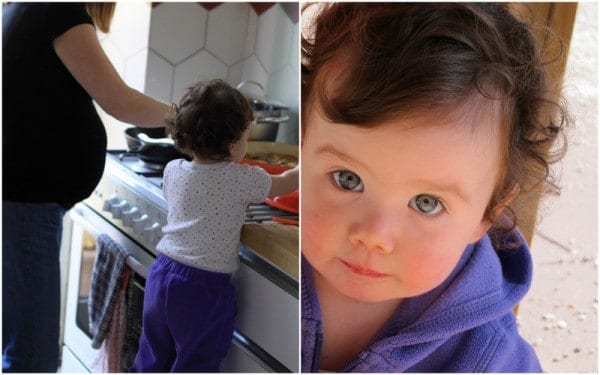 Estelle has four teeth now and she's officially out of the purely pureed stage but we still need soft and chewy foods for her. These potatoes work perfectly for the littlest diners at the table. Remove the onions from their portions if you think they'll object and either blend up a batch or just mash them up into small enough pieces for happy gumming.
Foodlets REcipe Makeover: Jamie Oliver's Scalloped Potatoes
With every recipe makeover, our aim is always making fresh food easier or healthier and sometimes cuter. In this case we made a few updates.
Use yellow potatoes so you don't have to peel them. Time saver!
Half and half is less expensive than cream and has more uses in the kitchen (like, for coffee.)
A dash of purple from a "red" onion makes these potatoes colorful.
We originally used Parmesan cheese because cheddar is hard to find in Italy but I've made these potatoes with both and they're gorgeous either way.
Jamie Oliver's 30-minute Parmesan scalloped potatoes with onions
Ingredients
1 tablespoon butter
1 ¼ lbs. yellow potatoes
½ medium red onion, sliced
1 clove garlic, minced
½ tablespoon chopped fresh thyme
½ cup chicken broth
½ cup half & half
1 bay leaf
½ cup grated Parmesan or cheddar cheese
Salt and pepper to taste
Instructions
Slice the potatoes into thin slices using a mandoline.
Preheat your oven to 425 deg. F. Heat a large iron skillet over a medium heat and melt the butter. Add in the onion and cook till soft (about 5 minutes). Next add in the garlic and thyme and cook for a few seconds. Add in the potatoes, chicken broth, half and half, and bay leaf. Season to taste.
Bring to a boil.
Cover the pan and cook over a gentle heat for another 10 minutes.
Sprinkle the cheese on top and place the iron skillet in the oven. Cook till the cheese is bubbling and slightly browned. (Tip: Put a cookie sheet under your pan in case of a bubble overflow!)
Take out of the oven and check for seasoning.