I love this BBQ chicken so much that I've served it every week for the last three weeks straight.
You can prep it days in advance or in the middle of a busy morning to eat later that night. Both make delicious results.
For the marinade, make a shortcut and use your favorite Italian dressing from the store, or make your own with four easy ingredients. Ditto for the BBQ sauce.
Whatever you do, make this chicken for dinner before it's too cold to grill. (If such a season exists. I know about you hardcore grillers and I'm in awe!)
Now, if you really want to knock everyone's socks off, through a few baked potatoes on the grill while you're at it. (The same technique even works with sweet potatoes!)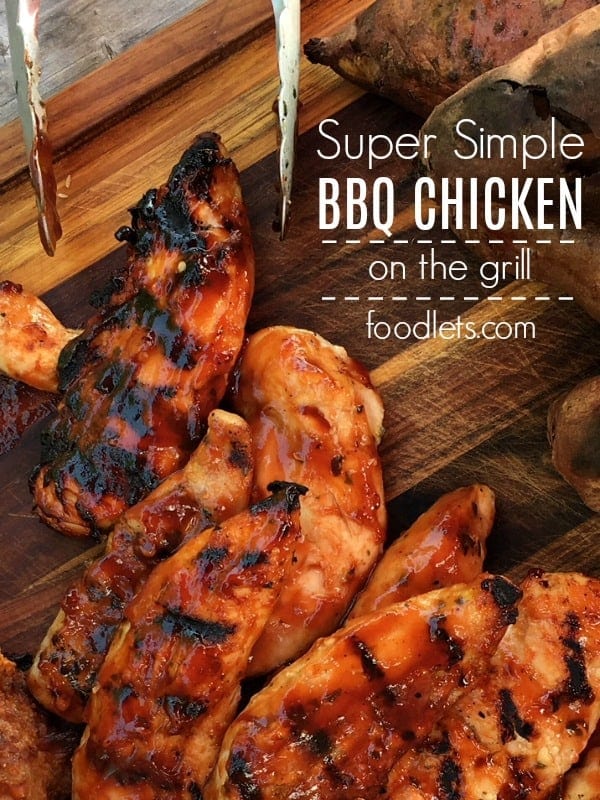 Print
Super Simple BBQ Chicken Tenders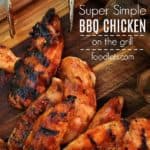 The recipe below includes separately measured ingredients to make both vinaigrette and BBQ sauce. You could substitute one or both with your favorite store-bought brands.
Author:
Cook Time:

12 mins

Total Time:

12 mins
Ingredients
(for the marinade)
1/2 cup olive oil
1/4 cup vinegar (any kind: white, white wine, apple cider…)
1 teaspoon salt
1/2 teaspoon pepper
Optional: 1 teaspoon chopped fresh or dried herbs of your choice (basil, parsley, thyme, oregano…)
2-3 pounds chicken tenders
(for the BBQ sauce)
1 teaspoon garlic powder
½ teaspoon smoked paprika
½ teaspoon salt
¼ teaspoon freshly ground pepper
2 tablespoons olive oil
⅓ cup mustard
⅓ cup honey
2 tablespoons ketchup
Instructions
Marinate chicken at least 4 hours in advance or up to 2 days: Combine olive oil, vinegar, salt, pepper and herbs if using. Place chicken in a casserole dish with a lid (or zip-top bag) and pour marinade over the top. Flip after 2 hours. Refrigerate until ready to cook.
Prepare BBQ sauce. In a small bowl, combine garlic powder, paprika, salt, pepper, olive oil, mustard, honey and ketchup. Stir well.
Cook chicken: Heat grill on medium-high. Remove chicken from fridge and allow to come to a warmer temperature (cold meat doesn't cook evenly). Rub off excess marinade with a paper towel or simply scrape each chicken tender against the side of your dish. Using tongs, place each chicken tender on the grill. Close the lid. Cook for 2 minutes. Flip, use a brush to baste each piece with BBQ sauce. Flip. Baste this side. Repeat one more time on both sides.
Chicken is finished when the internal temperature reaches 170 degrees F. About 12 minutes.
Place on a platter and cover with foil for 5 minutes before serving.
Happy grilling!