These are basically the cutest cookies I've ever made.
With only a few ingredients, they're actually so simple that kids can make them. For real.
I love simple recipes like this that make a big impact. They're confidence boosters for young (and not so young) cooks. Plus the end result tastes like a marshmallow married cotton candy. #cantlose
What you need to make rainbow meringue clouds
Egg whites
Cream of tartar
Sugar
Small mixing bowls
Sheet pan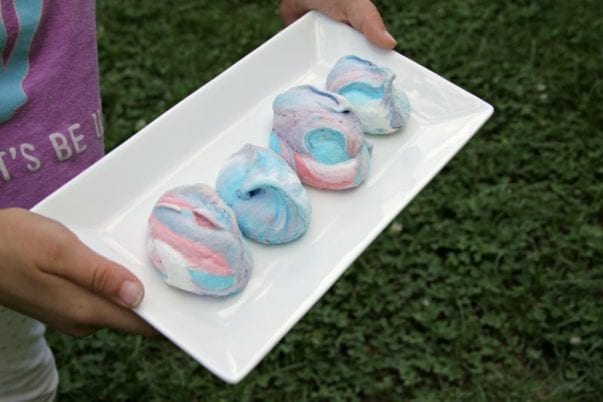 How to make rainbow meringue clouds
Print
Rainbow Meringue Clouds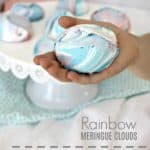 Author:
Prep Time:

20 mins

Cook Time:

90 mins

Total Time:

1 hour 50 mins

Yield:

20
Ingredients
4 egg whites
1/2 teaspoon cream of tartar
1 cup sugar
food coloring
Instructions
Preheat oven to 300 degrees F. Line a baking sheet with parchment paper.
Add egg whites and cream of tartar to a large mixing bowl (or stand mixer), and whisk on medium speed, slowing adding sugar. Turn the mixer to medium-high speed and continue whisking until the egg whites turn into stiff and glossy white meringue. About 7 minutes.
Color the meringue. Use a spatula to separate the mixture: Put 1/3 into each of the smaller bowls and leave 1/3 in the mixing bowl. Add a drop or two of food coloring and very gently stir until the color looks well blended.
Use the spatula to scoop out the 2 colored meringue mixtures, carefully placing them back into the same bowl with the white mixture. With the spatula, draw two circles around the mixing bowl cutting through all the colors to make swirls. Use the ice cream scoop to drop meringues on the parchment-lined baking sheet.
Bake for 25 minutes in the oven. Turn the oven off and let the meringues cool for another 50 minutes.