You know how we're supposed to eat 5 servings of fruit & veggies a day? Adults should eat 5 servings, kids should eat 5 servings.
Most of us aren't.
In 2013, the CDC found that most American adults and teens get somewhere around 1 serving of fruit and up to 1.6 servings of vegetables a day. At best, this would be a combined total of 2.6 servings for everybody. Not 5.
For kids, the news doesn't get any better. Another CDC report from 2014 shows:
Sixty percent of children did not eat enough fruit to meet daily recommendations in 2007-2010, and 93 percent of children didn't eat enough vegetables."
So, that's almost all of the kids.
But we can turn this bus around. And it's easier than it sounds. This suggestion will sound almost silly because it's so straightforward but here it is: Just serve fruit and vegetables all the time. At every meal. In all sorts of dishes. Don't hide them, just serve them.
Here are 12 mix and match ideas for getting kids 5 servings of fruit and vegetables a day. These photos feature food I happened to have on hand, so it's certainly not an all-inclusive list. Just a bunch of ideas for getting at least this many servings of fruit and vegetables into those kids every day. (You'll also see there are plenty of opportunities to get even MORE fruit and veggies into a day.)
Portion size
Not all experts say the same thing but the clearest guidelines come from the CDC, which recommends 1-2 cups of fruit and 1-3 cups of vegetables for kids each day. And another government agency, the NCDA, came up with an easier way to count up all the produce: aim for 5 servings daily.
For small kids like mine (ages 1-6), it's easy to eyeball a serving that's about the size of their hands.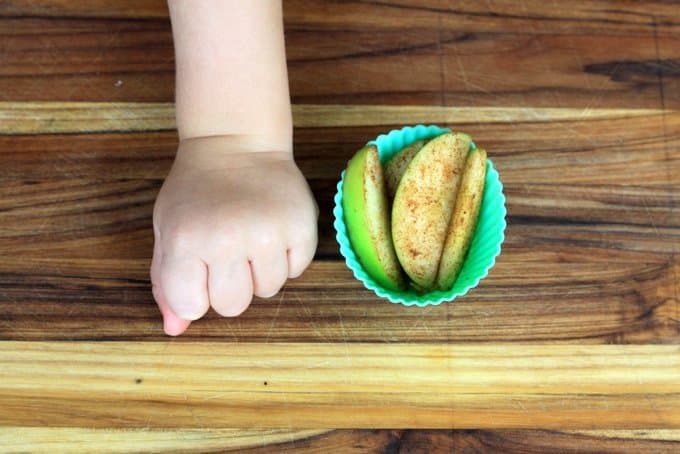 Or about as much as they can hold in one hand.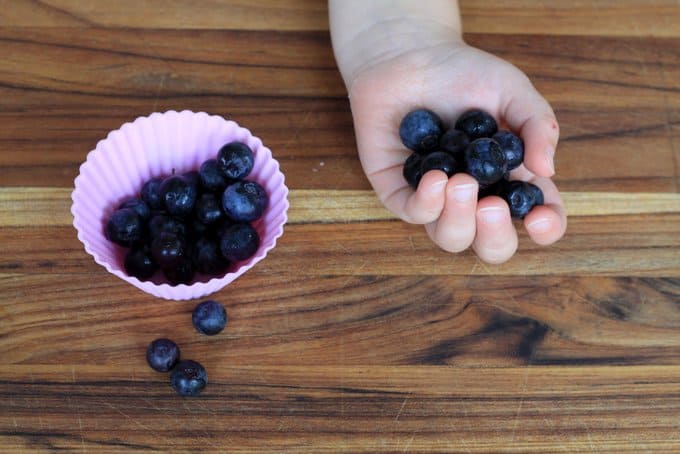 In order to get to the recommended 2-3 cups of produce a day, we're calling a small child's serving something like this:
half a large banana
a small apple (or half a large apple)
a quarter cup of raisins (dried fruit is concentrated so a little goes a long way)
4-5 strawberries
4-6 baby carrots
half a sweet potato
1/2 cup cooked greens, like spinach or kale (Note: Even for our kids' favorite sauteed spinach with garlic, that's quite a bit to eat. So you may need to settle for–or start with–half that amount and give them a little more of another veggie or fruit in the day.)
So with those measures in mind, here are a dozen pictures of 5 servings of fruit and vegetables for small kids.
12 Pictures of What 5 Servings of Fruit & Veggies a Day Looks Like for Kids
1.  Start any day with a fruit parfait–raspberries layered with plain yogurt–and you'll have happy faces. (Or get more decadent with a little honey.) A nice little Granny Smith is an instant morning snack. Serve cucumber slices with lunch. Our homemade white bean hummus with baby carrots–or any veggie–makes an ideal afternoon snack. Filling and satisfying without destroying an appetite for dinner. Speaking of dinner, I love orzo. It's a quick-cooking pasta that flavors easily, in this case it's Lemon Orzo with Peas (with or without the cod mentioned in the original recipe).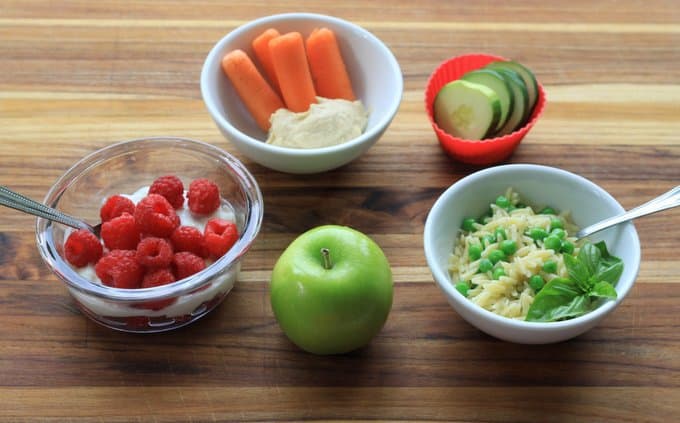 2. Try a fruit-based smoothie for breakfast (Or throw in some veggies! Matchstick carrots and frozen spinach are easy add-ins). This one is a fresh banana, frozen strawberries and milk. Our easy grape caterpillar is a fun addition to lunch. And if you're spending an extra minute on something special, I always keep things simple elsewhere, like these sliced cucumbers. A plain ol' banana makes a perfect afternoon snack and dinner includes oven roasted golden potatoes.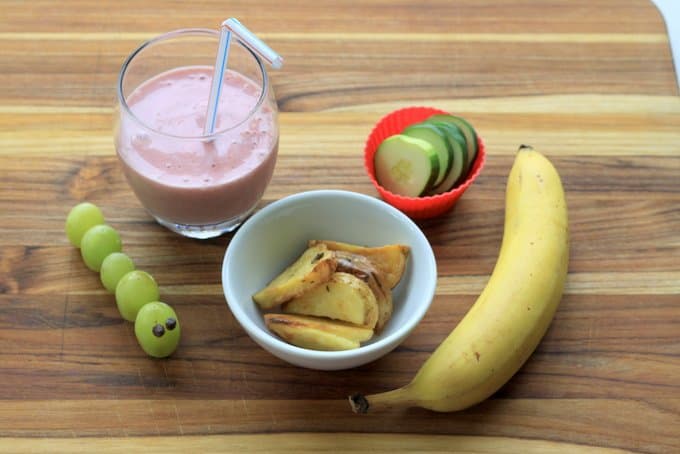 3. Serve zucchini muffins, or any of our healthy muffins, for breakfast (they freeze beautifully too!) Then it's cinnamon sprinkled apples for snack (not cinnamon sugar, just cinnamon). At lunchtime, I like to serve one familiar thing, watermelon. And one new idea, salad on a stick. Add a little Ranch for kids to dip in and you'll be surprised how much salad gets eaten. Roasted sweet potatoes, sliced in quarters and sprinkled with cinnamon are a new favorite side dish for dinner.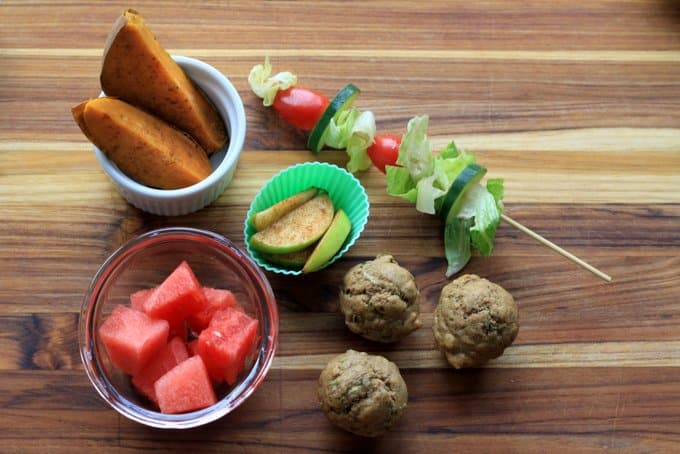 4. When breakfast is something simple like toast, nothing's a faster add-on (or more full of fiber) than a couple of prunes. These apple slice-peanut butter "sandwiches" are a great snack, or addition to lunch boxes. Ditto for the sliced cucumbers. Roasted baby carrots take about 2 minutes to prep before tossing in the oven for dinner. And remember that orzo? We transformed the leftovers into a dinnertime favorite later in the week: Pasta with Sausage & Cauliflower.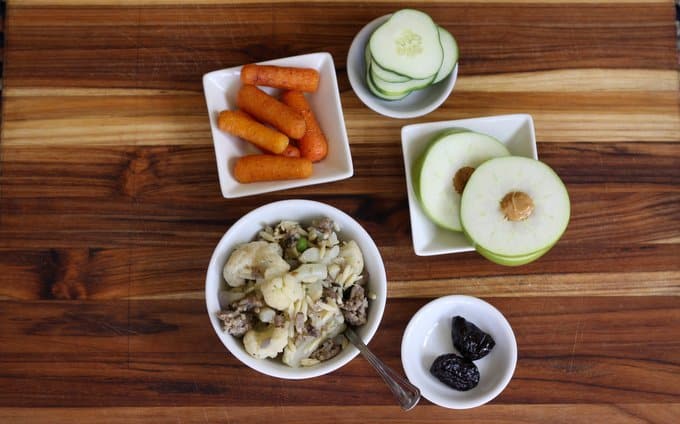 5. Here is yogurt and fruit for breakfast again (or try one of our two other favorite overnight versions: Chia Seed Pudding topped with fruit and Fresh Fruity Summer Porridge made with oats and yogurt.) Baby carrots with hummus for a snack. Then pack the lunchbox with a handful of blueberries and a grape caterpillar (get the so easy instructions here). Serve cinnamon apples for snack–that's just apples sliced and sprinkled with cinnamon–and you've got 5 servings in BEFORE dinner.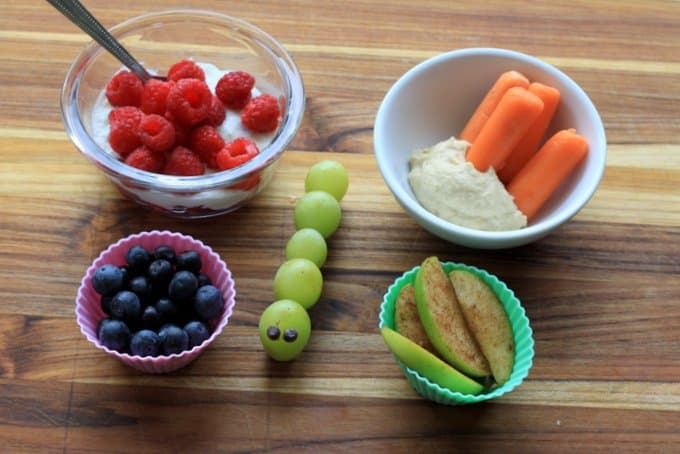 6. Sliced bananas on o-shaped cereal are a classic (ditto for peanut butter toast with sliced bananas on top). Can't beat a blueberry smoothie for snack. Serve a handful of raisins with lunch and another handful of grapes for snack. Then it's roasted carrots for dinner. We love roasted carrots with a drizzle of maple syrup, or sprinkled with cinnamon.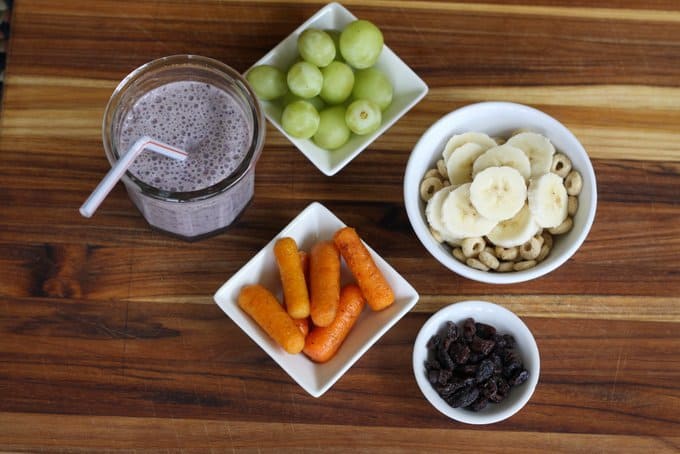 7. In this example, breakfast is plain yogurt with fresh fruit again. Grapes and cheese are threaded onto Extra Long toothpicks for a snack (and could certainly be served in a cup). Throw a handful of blueberries in with lunch and give the kids an apple for their afternoon snack. Serve oven roasted broccoli, a dish even veggie-phobes can't resist, for dinner and you've got it.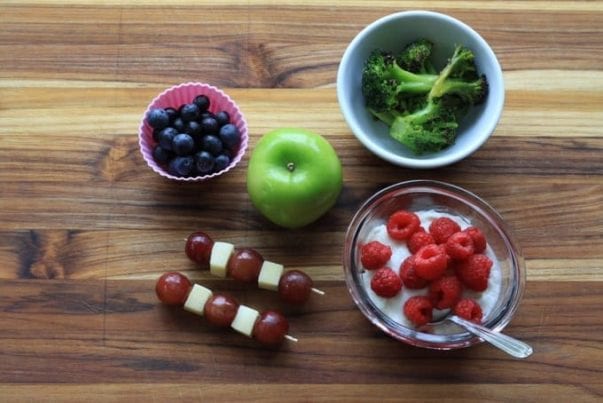 8. Apple slices with peanut butter make an excellent breakfast. Let the kids sprinkle the raisins in between the layers of apples, or eat them separately. And yes, veggie pizza is lunch. (Or try our awesome Easy Veggie Calzones.) One slice will be about half a serving, so if your kids don't eat two pieces, you'll want to punch up the produce elsewhere (More cucumbers! More apples!). Cucumber slices are a great snack to munch on while things like hot pizza cool off–and they can also become the "bread" as Sliced Cucumber Sandwiches. Last, Pasta with (Tons of) Cauliflower, Parmesan & Sausage makes a surprisingly crowd-pleasing dinner.
9. It's hard to beat a handful of blueberries sprinkled on top of regular cereal or oatmeal for breakfast. Save your mini muffins for snack and serve that salad on a stick at lunchtime, followed by cinnamon apples in the afternoon. Roasted potatoes with rosemary, garlic and lemon are a major favorite with all of our kids, the perfect side dish for dinner.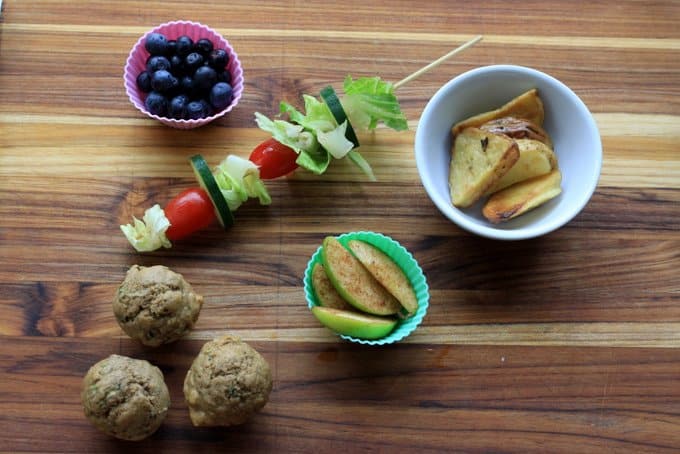 10. This time it's zucchini muffins for breakfast, along with a banana (which is actually 2 servings for small kids). Throw in cinnamon apples for lunch–these are apple slices dusted with cinnamon to prevent browning and add flavor–and give 'em a fruit & yogurt popsicle for snack. Serve the same oven roasted broccoli (or roasted cauliflower) for dinner.
11. Yogurt with fruit for a kid-friendly breakfast again here. Followed by a whole apple for a morning snack. (Don't underestimate how easy and filling a Granny Smith apple is to send for a snack at school.) Fresh cucumbers and a cheerful grape caterpillar are perfect at lunch–or use the cucumber slices as "bread" for sandwiches our kids love. And our favorite sweet potatoes round out any kid-friendly dinner.
12. Serve prunes with breakfast and pair watermelon with a little cheese at snack time. Sliced cucumber and peppers plus cold pizza makes the perfect packed lunch. And again, you've got 5 servings of fruit and vegetables in way before dinner time!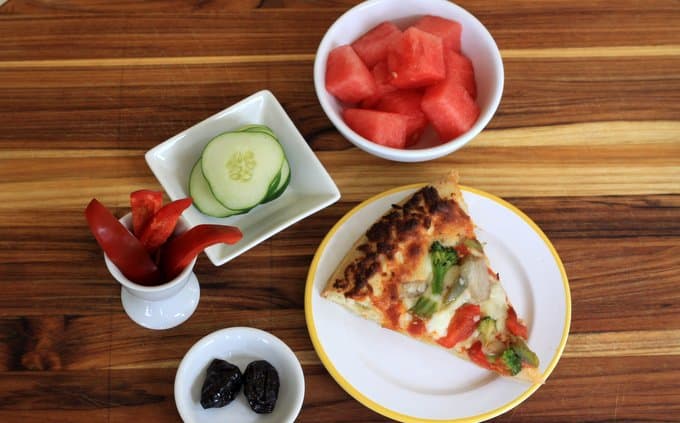 A hidden benefit to serving tons of fruit and veggies (fresh, frozen and dried) is that you end up eliminating things like crackers and snack bars simply because there isn't enough time in the day to eat them.
The kids are busy munching on the good stuff instead.
If you liked this post, like Foodlets on Facebook or subscribe to our newsletter and you'll never miss a new idea or healthy recipe for kids.