GETTING ENOUGH VEGGIES CAN BE TRICKY. For all of us.
"Americans just don't eat as many fruits and vegetables as we should," NPR says. "And when we do, they're mainly potatoes and tomatoes — in the not-so-nutritious forms of french fries and pizza, according to a report from the U.S. Department of Agriculture."
Sound familiar? I've never once had to convince our kids to eat fries or pizza. They're naturals. Practically gifted.
But the article isn't even talking about little guys. This is us. NPR found that most adults eat about 1.5 cups of vegetables a day. That's about half of the 2-3 cups per day we need.
"And more than half our veggie intake comes from potatoes and tomatoes, whereas only 10 percent comes from dark green and orange veggies like spinach, carrots and sweet potatoes."
I get it. It's not always easy to fit veggies in since there's typically a bit of prep, plus after all that peeling, cooking and cleaning up, who says the kids will even like what you made? Take heart! Here's an orange food that takes 2 minutes to prep, 25 minutes in the oven and as much time to savor as you like. Our kids eat them every single time.
Let's find out if this one works for you too.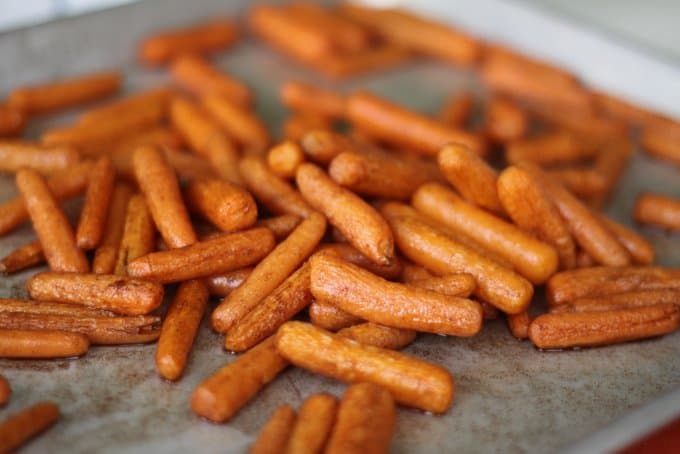 1. Preheat oven to 425 degrees F and start with a bag of baby carrots. I like organic. They're already peeled and cut.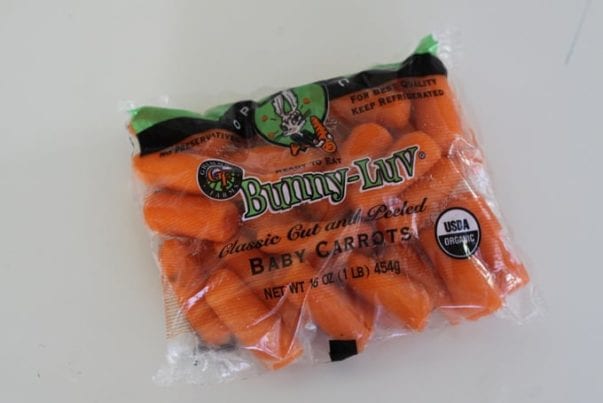 2. Pour them onto a baking sheet and add 2-3 tablespoons of olive oil.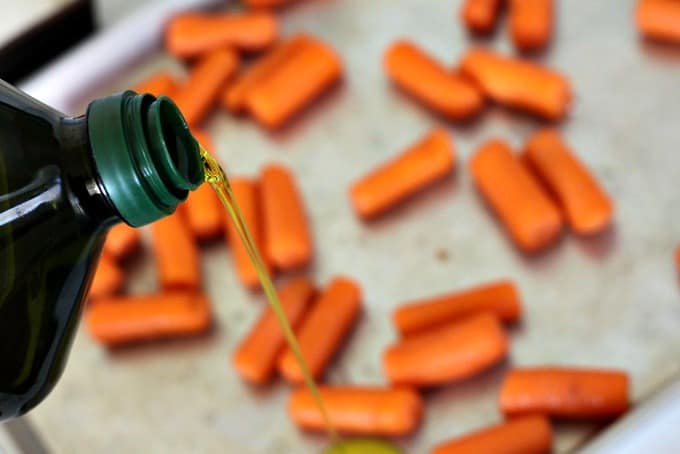 3. Add a drizzle of pure maple syrup or honey, about 2 tablespoons. Or just sprinkle on about 1/2 teaspoon of cinnamon instead.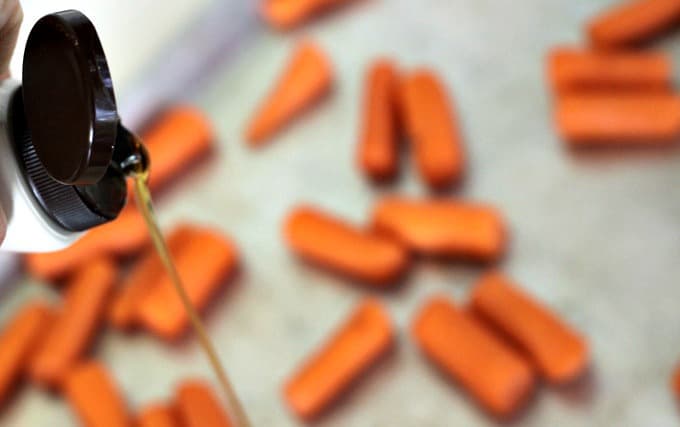 3. Plus 3/4 teaspoon of salt.
 4. Use your hands to slather the carrots in all the maple syrup, oil and salt. Set the carrots apart so they cook evenly.
5. After about 20 minutes, shake the pan to move your carrots around, then remove from the oven once they're brown on the edges and tender inside. About 25-35 minutes.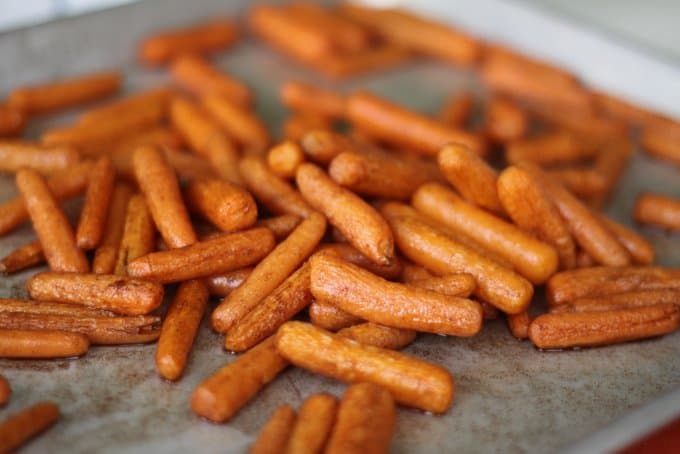 Don't forget to like Foodlets on Facebook and sign up for our newsletter (at the top of this page) so you'll never miss a simple recipe or tip.
And if you've tested out this recipe, what do you think? Let us know! I'd love all the details too:
How many kids do you have? 
How easy was this dish to prepare? 
What did the kids say? Thumbs Up, Middle, or Down?
Would you make it again?