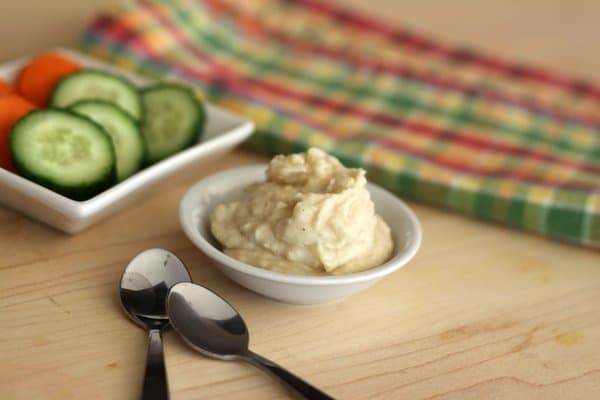 YOU KNOW HOW YOU'RE ALWAYS TRYING/BEGGING/PLEADING to get the kids eating more veggies? This is one new way to do it, no bribes needed. 
For most kids, this is a new food and ours were no different, so I used a couple of our "new food methods": Everything was served on special little dishes and I asked them to try a bite then rate it for me (thumbs up, thumbs in the middle, thumbs down). How did it go? Phoebe (4 yrs) said it was too spicy (and it did have a kick to it, see garlic note below) but ate all the cucumbers and one carrot. Estelle (2 yrs) said she liked it and crunched on a few things. George (1 yr) devoured it with his hands. No veggies involved.
And that's how it goes. You can serve something special and you have a chance that it'll work. The wonderful thing about this dip is that it's easy to make and it's very healthy, so there's not a lot to lose if it doesn't go well–you can always enjoy it yourself for lunch. Which leads me to the last thing I love about this dip: it's also very tasty. Try it out and let us know how it goes! (And if all else fails, throw a few whole wheat crackers on the plate too.)
Simple White Bean Hummus
ingredients
1 12-ounce can white beans, rinsed and drained
juice of 1 lemon
1/2 small garlic clove finely grated with a microplane (optional–this will add a bit of spice) OR 1/2 teaspoon garlic powder
2 tablespoons olive oil
1/4 teaspoon salt
1-2 cracks of fresh pepper
instructions
Combine everything in a food processor and blend. Store in an airtight container in the fridge for up to 1 week.