THIS WAS OPRAH'S IDEA, these super simple snacks. In a recent issue of O magazine, the one I read cover to cover with so much longing for the actual Oprah show that I practically ate every page–Oprah! Where are you? Now that I am finally, for the first time in my life, actually at home every day at 4pm…you're gone?–I found this recipe. I know, the show's been off the air for some time now but it still hurts. Sniff.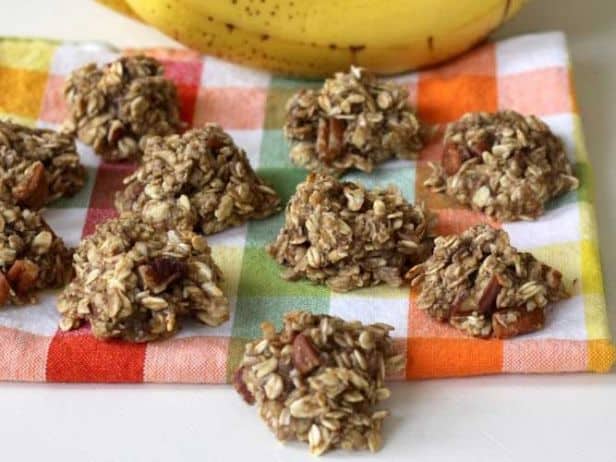 Anyway, pulling myself together long enough to tell you about these banana oat bites because we made them as a snack for Phoebe's preschool class today and this is major: it's the first time ever that our snack container has come home completely empty.
Her teacher even reported a number of kids who aren't typically into trying new foods devouring them on the spot. A hit, I say and a sugar-free one at that. (And there's more where these came from. From muffins, to smoothies and more, we've got dozens of low-sugar snack ideas right here.)
The only ingredients you need are ripe bananas (notice the brown spots, must-have for flavor and sweetness) and old-fashioned oats.
Then you can add whatever you want.
We used chia seeds one day because the preschool is a nut-free zone. But with another bunch of bananas aging on my counter, and two toddlers who are steamed because they didn't get a single cookie, we made another batch and added pecans to the simple mix. I think Oprah would approve.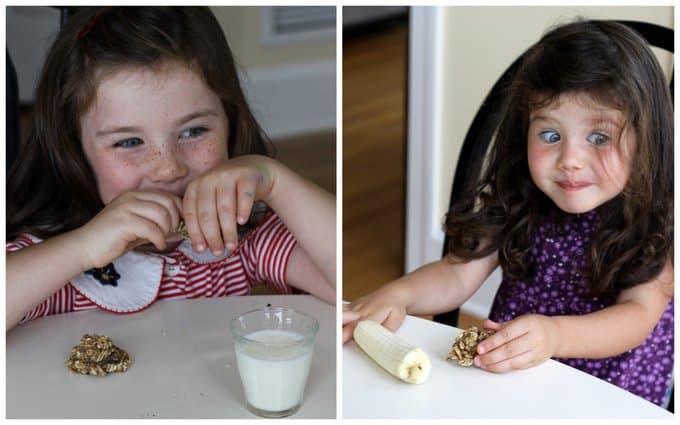 p.s. Phoebe told her class about our new rating system, "Thumbs Up", "Thumbs in the Middle" or "Thumbs Down", and everyone at her table gave these a Thumbs Up!
Print
2-ingredient banana bites (and neither one is sugar)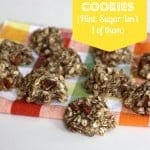 Author:
Yield:

12 cookies
Ingredients
2 very ripe bananas
1 cup old-fashioned oats
optional: 1/4 cup of any of these: dried cranberries, walnuts, peanut butter, raisins or chia seeds
Instructions
Preheat oven to 350 degrees F. Prepare baking sheet with a non-stick silicone liner or parchment paper.
Mash the bananas with a fork, add the oats plus other add-ins and stir. Once it's all incorporated, drop 1 1/2 inch balls on the baking sheet and press down (like peanut butter cookies but without the fork). They won't rise or change shape in the oven so make them the size and shape you want now. About 2 inches across works best. Bake for 12 minutes.
Store in an air-tight container in the fridge.
Like this one? Be sure to LIKE FOODLETS ON FACEBOOK so you'll never miss a new idea or tip.