SOME KIDS LOVE EATING VEGETABLES. And, this may totally surprise you, some don't. But almost all kids love condiments. Sweet, salty, gooey? Check, check and check! For a fast vegetable dish or a nutritious snack, I set out a bunch of organic baby carrots plus three "dipping sauces". These can be anything.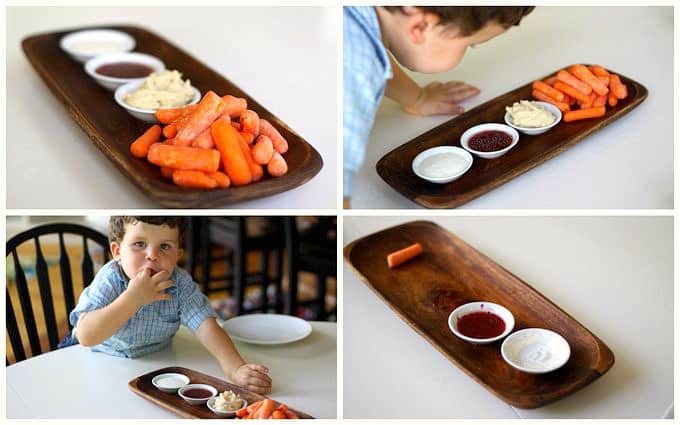 From hummus  (homemade or from the store) to salad dressing to "Ranch" dip straight out of a bottle, or updated with half Greek yogurt to dilute the saltiness and add a bit of protein — but honestly it's such a small amount here that even I don't bother sometimes.
Let the kids taste each one and do a little contest about who likes which one best. A perfect place to practice the Thumbs-Up, Thumbs-Down rating system, which is a sanity saver if you can institute at dinner and eliminate all traces of "yuck" and "gross" from your family table forever. Or at least a few minutes.
As you can see, this one works pretty well here. Almost all the carrots are gone and even one of our dipping bowls disappeared with it. Only one of these things surprised me and I'll tell you right now, it wasn't the missing bowl.
For more ideas on introducing veggies to veggie-phobes, get our top 10 tips here, plus a few of our favorite kid-tested vegetable recipes:
Like this post? Like Foodlets on Facebook, follow Foodlets on Pinterest or sign up for our newsletter at the top of the page! You'll never miss a kid-tested recipe or tip.