*Updated* IT'S OFFICIAL. We now have 3 school-aged rascals in our house now. That, plus a seriously long school day (8am to 3:15), means a big change around here: three kids bringing school lunches every day.
I've been making healthy, diverse and colorful lunches for these rascals for a while now and here are the techniques that make it all much easier.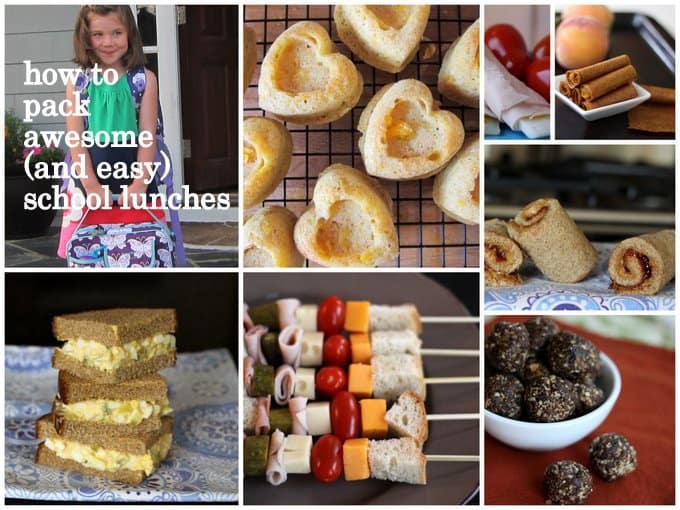 Get a bento Box. Whether it's a fancy PlanetBox (below), an EasyLunchbox or a regular little Ziplock four-compartment box (available at every grocery store), this sets you up for easy packing. Just put something in each compartment. The variety will give your child more chances to find something he or she likes, plus eating a diverse diet is the best you can do anyway.
Fill every section with something different. Try to vary the colors and textures if you can. Here's what you want to include:
Protein: Don't limit yourself to sandwiches (unless your kids love sandwiches and in that case, stick with it! #notbroken). Think hardboiled eggs, cottage cheese, cheese & crackers, trail mix, edamame, hummus with pita bread, turkey and cheese roll-ups…
Veggies: Sliced cucumbers, cherry tomatoes (technically fruit but who's counting), small bell peppers with seeds removed…
Fruit: Grapes, strawberries, blueberries, fresh pineapple wedges, melon, banana chips, prunes, dried apricots…
Grains: Mini pretzels, homemade muffins, whole-wheat crackers, mini bagels with jam.
Repeat ingredients twice (or more!) a week. Use the same ingredients in different ways a couple times in the week. There's less waste and more variety. For example:
Monday: Peanut Butter & Strawberry Wraps
Tuesday: Turkey Sandwiches on Rolls
Wednesday: Peanut Butter Rollie Pollies
Thursday: Peanut Butter & Strawberries on Rolls
Friday: Turkey & Cheese Roll-Ups

The secret to being able to do this is having a pretty easy game plan for shopping and baking ahead of time.
THE SHOPPING LIST: There are a few things I always pick up to have on hand for lunches. If I don't use them right away, I can always freeze to use later on.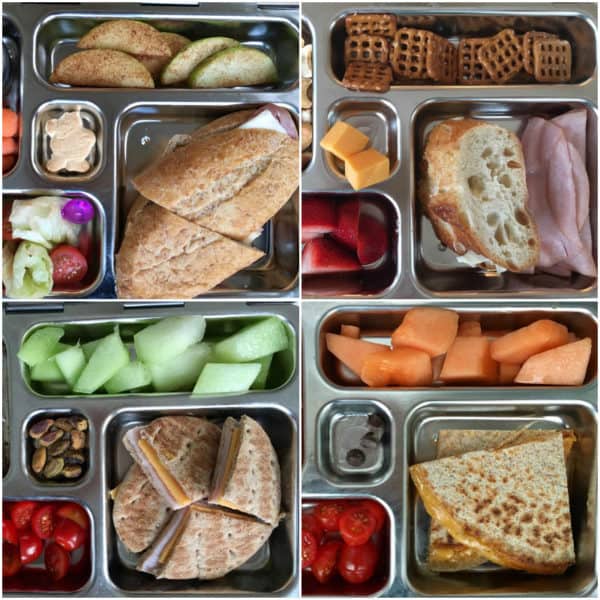 Long toothpicks, regular toothpicks or wooden skewers. Any time you put fruit, veggies or even the makings of a sub sandwich on a stick it's immediately more fun. (Somehow dinner leftovers work perfectly for lunches – especially when they can be threaded on a toothpick!)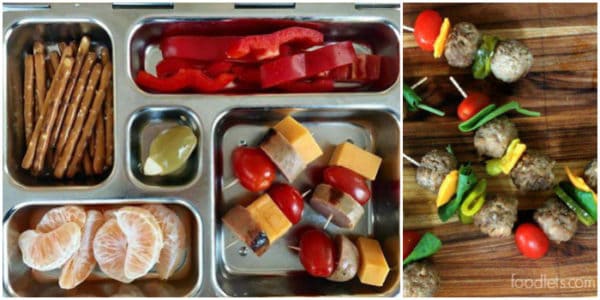 Turkey, salami and ham. I like nitrate-free but you could use any brand or variety your kids enjoy. I use these for regular sandwiches but also for rollie-pollies, sandwiches on a stick (cut up the rolls you bought earlier for these) and turkey and cheese roll-ups.
Cheese. I buy a big block plus a few sliced varieties. The block works great for cutting into shapes or cubed and onto a skewer. The slices work for rollie-pollies, cheese and crackers and regular sandwiches.

Nuts. Unsalted peanuts, almonds and trail mix are perfect ways to round out a meal if your school allows nuts.
Dried fruit. Raisins, low-sugar cranberries, prunes, apricots. I use these alone or as the makings for other stuff (see below).
Baby dill pickles. Crunchy = yummy. (We even make our own occasionally but so far haven't found a winning recipe. If you have one, please send it to me immediately!)
Whole-grain crackers. When I'm really in a pinch I do cheese and crackers plus sliced salami. Even mini pretzels or those organic crackers would be great too.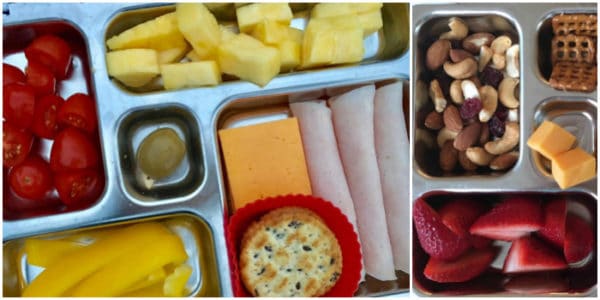 Granola bars. Another excellent filler or snack, just be sure it's the kind without tons of sugar and ingredients you can actually read.
Mini veggies. Mini cucumbers, mini bell peppers and cherry tomatoes (red, yellow or orange) are all easy to serve alone, together, on a toothpick, along with cheese…
TONS OF FRUIT.
THE PREP LIST: I like to have a couple of easy homemade items each week that I can rotate through during the week. But not ALL of them. I pick two and that gets us through the week. Usually a pair from this list:
Fruit leather. A project kids can help with during the weekend which means they're sure to actually eat it at school.
Quick breads. Similar to muffins but even easier to make–and just as full of good-for-you ingredients. Our favorite is apple spice quick bread.
Oat and jam bars. I love making a batch of strawberry jam bars on the weekend to serve as breakfast or to round out lunch. Our whole-wheat jam tarts work beautifully too.
This is hardly the end of the list so I'd love to hear what works for you too. What are your go-to lunch ingredients, tips and tricks?
This post contains affiliate links to Amazon and PlanetBox, which helps support foodlets.com at no extra cost to you.