I DON'T KNOW WHO ATE MORE OF THIS, ME OR BABY GEORGE (or what that says about either of us). But what I do know is that we packed this apple spice loaf with as many good-for-you ingredients as we could, and it was still so delicious the older kids were asking about it long after the whole thing was gone.
As you know by now, I love me some muffins. And we always do our best to adapt popular recipes for reasons of health and happiness–mine and the kids' as well. The reason I mention this is that many quick breads are loaded with sugar, oil and nothing but white flour with a bit of fruit thrown in. A tasty treat but not great for growing bodies (or those that are trying to go in the other direction, ahem.)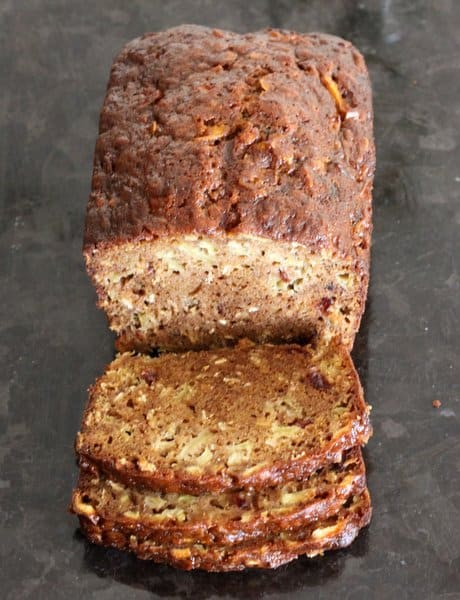 We've made homemade apple bread before — the kind that's really a regular loaf of bread that you make toast out of — and it's always delicious. But this one is more of a spongy, cakey, little taste of good-for-you delight.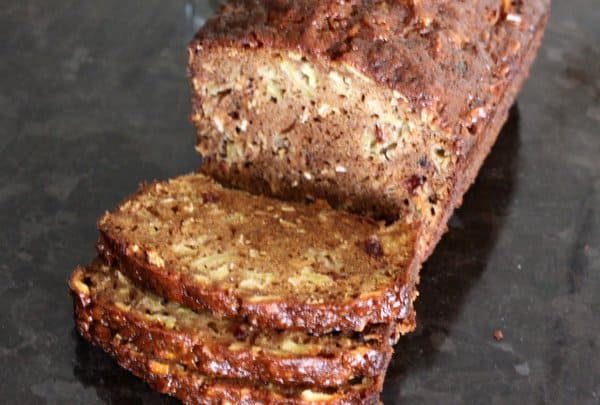 Just ask George.
HEALTHY APPLY SPICE QUICK BREAD
Adapted from About.com Southern Food
Makes 2 standard loaves using 9×5 inch pans
ingredients
4 eggs
2 teaspoons vanilla
1 cup applesauce
1/2 cup honey
1 cup raw sugar
1 1/3 cup flour
1 cup whole oats
1/3 cup oat bran or wheat germ
1 1/2 teaspoons baking soda
1 teaspoon salt
1 teaspoon ground nutmeg
3 teaspoons cinnamon
1/2 teaspoon ground cloves
4 cups coarsely chopped apples (Golden Delicious, Granny Smith or both)
1 cup dried cranberries
instructions
Butter pans and preheat oven to 350. In a large bowl, beat the eggs with a whisk for one minute. Then add the rest of the wet ingredients: vanilla, applesauce and honey. Stir to combine. Then pile on the dry ingredients before stirring again: flour, oats, oat bran or wheat germ, baking soda, salt and spices. Stir gingerly until nearly combined then add the apples and cranberries. The dough will be very thick.
Pour into loaf pans and bake for 40 minutes, checking on them around 35 minutes. All ovens vary and because we've added more liquid to the mix, I don't want you to over-bake these. They're done when the tops are firm and a toothpick comes out clean.