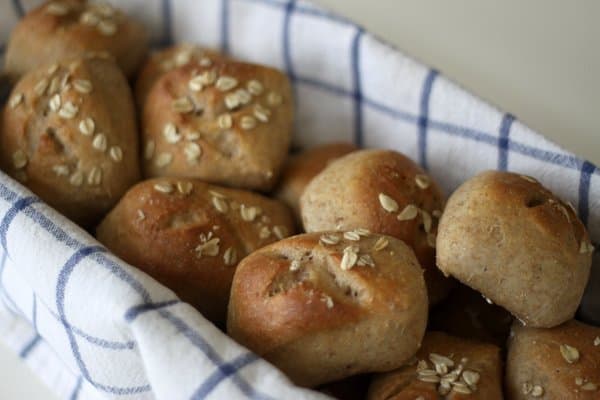 WELL, WE DID IT AGAIN. And I actually can't believe it. After a week that included 1-2-3 then 4 and 5 different household members succumbing to the nastiest little tummy virus in the South, we had another dinner party this weekend. It sounds counterintuitive (and a little crazy) but the house needed a good scrubbing anyway. Plus, I've found that nothing brings me and my crew out of a collective rut like good company. And that's just what we had.
So we cleaned, we cooked and we had so much fun, in spite of a few tender tummies. There's a great line in Bridget Jones' Diary (which felt like a perfect summary of my single days in a way that Sex and the City never, ever could) where Bridget attempts to throw a dinner party for friends. She has a delightful time planning, fantasizing really, about all the laughs her guests will have over clinking forks and sparkling glasses, the oohs and ahhs to come her way. "Bet I will become known as brilliant cook and hostess," she muses. Then about an hour before everyone's due to turn up, there she is frantically flailing around the kitchen (warning, naughty language in this clip)…and hating her guests. I remember laughing out loud reading that circa 2001, right from the lumpy cushion of my love seat, the one I had perched beneath a loft bed in my New York City apartment. I used to have those moments pretty much every time.
Now I'm a little better at planning and much better at cooking. And not to sound like a smug-married but I also have a secret weapon these days, a husband who helps clean, set the table and occupy the kids. It was after he whisked everyone out of the kitchen yesterday that I whipped up my first batch of homemade rolls. Using my bread maker for the kneading (a trick my mother-in-law has mentioned many times) followed by the regular oven for baking, they turned out beautifully. Plus the whole house smelled like baking bread and really, if there's anything that'll impress guests, well the rich yeasty smell of rolls has gotta be better than serving blue soup.
Bonus: I threw the leftovers in the freezer. Those will become mini sandwiches for the small fries later this week, filled with ham and cheese.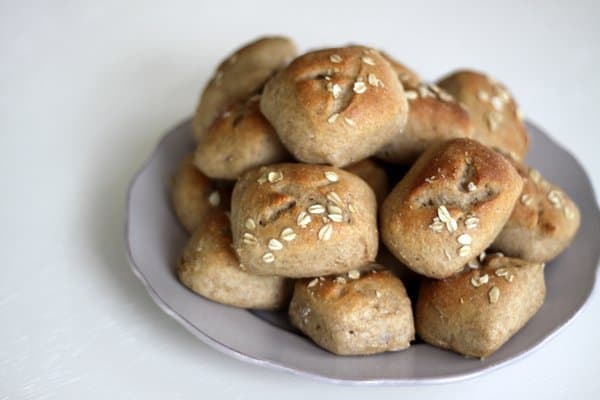 Homemade Whole Wheat Rolls with Yogurt & Oats
Adapted from Real Mom Nutrition's Oats & Yogurt Bread Machine Rolls
*I like to mix plain organic flour with whole wheat flour in a 1-2 ratio. That's how I store my flour in the pantry so it's ready for recipes like this. Another tip from my mother-in-law, I use 2 packets of yeast just to ensure that everything really rises.
ingredients
3/4 cup oats + 2 tablespoons
½ cup very hot water
1 cup plain yogurt
1½ tablespoons butter, melted
3 tablespoons honey
1½ teaspoons salt
¾ teaspoon baking soda
6 teaspoons ground flaxseed
*2 1/2 cups whole wheat flour blend
*2 1/4 teaspoons yeast
1/4 cup heavy cream
instructions
Take your bread machine bowl out of the machine and combine the oats with the water. I used my kettle to basically boil the water. Let sit for 15 minutes. Pile in the rest of the ingredients EXCEPT the cream and extra 2 tablespoons of oats.
Turn the bread machine on to the "dough" setting and let it work. Mine took about an hour and a half.
When it's done take out the dough, punch it down and boil your water again. Turn the dough out onto a Silpat baking sheet or a baking sheet lined with butter and cornmeal. Flatten dough into a big circle, about 2 inches thick, and cut squares with a butter knife. These will be your rolls. Mold and shape the edges a little then make a criss-cross on top of each one, brush with cream and sprinkle the remaining oats.
Pop the whole pan into the oven, covered by a clean towel, and let rise. This takes an hour. Sally from Real Mom Nutrition has a brilliant tip here, pour the hot water into a bowl, she says, and set it on the rack under your rolls. This will warm them up for the rising process. I'd already used the oven that morning so I just put the rack in and that worked great too.
When the rolls have doubled in size, turn on the oven to 375 degrees F and bake for about 15 minutes, until golden on top. Then invite friends over immediately.
*To make ahead, cook 2-3 minutes less then store cooled rolls in the freezer (inside a zip-top plastic bag). Pop them in the oven when you're ready to serve, about 2-3 minutes again.