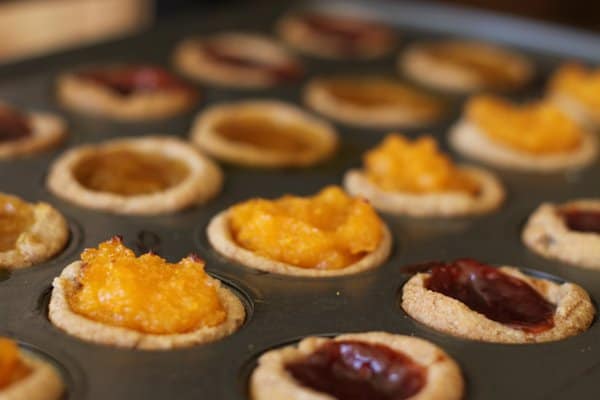 WHEN GRANDMA COMES TO TOWN, our kitchen goes into overdrive.
Paul's mom and dad were here for a visit over Thanksgiving and made one of Paul's childhood favorites, apricot tarts. It's an old recipe, the original could have, maybe come from a newspaper but this version has definitely been passed around church groups, through family members and lucky me, I'm the newest one to have it.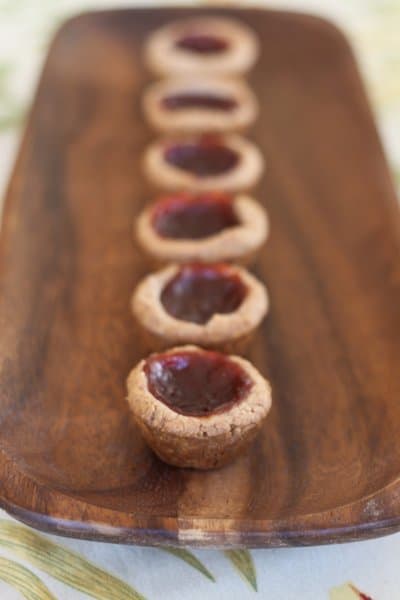 Like most of his mom's cooking (take her amazing zucchini lasagna), these whole wheat tarts are pretty healthy.
And at least as important, they're easy to make.
The girls had a great time helping form dough in the mini-muffin pan. Recipes like this one with little pockets of action where small kids can help are more and more on my mind these days.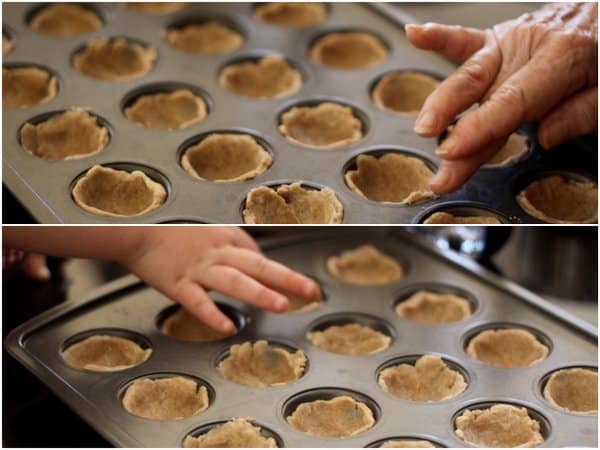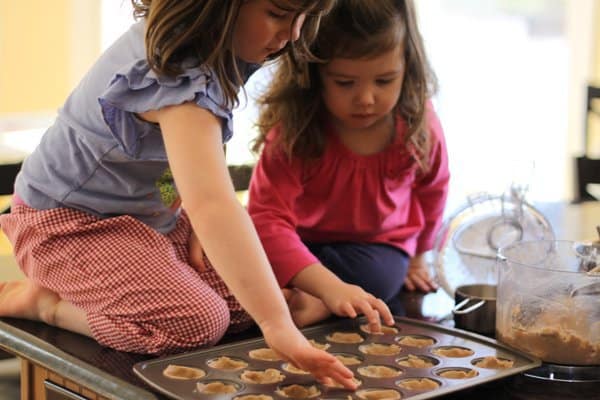 Then there's George who practically hyperventilates every time he sees them.
Seriously, I had to hide the container from him because he'd burst into tears if I didn't hand over another tart STAT.
So, I'd say these are a hit.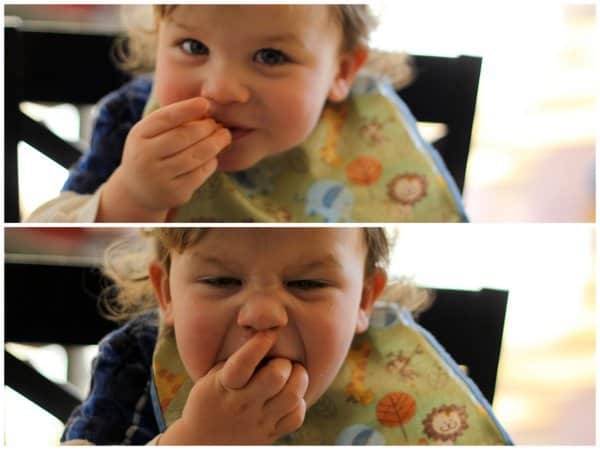 There's no sugar in the dried apricot version, though we also made a couple with jam too.
I'm way more excited than I should be about the Kirkland Organic Fruit Spread from Costco right now–mostly strawberries with a pinch of sugar thrown in–so we filled a bunch of tarts with that, plus the Kirkland orange fruit spread too.
You could make these with anything though: prunes, raisins, on and on.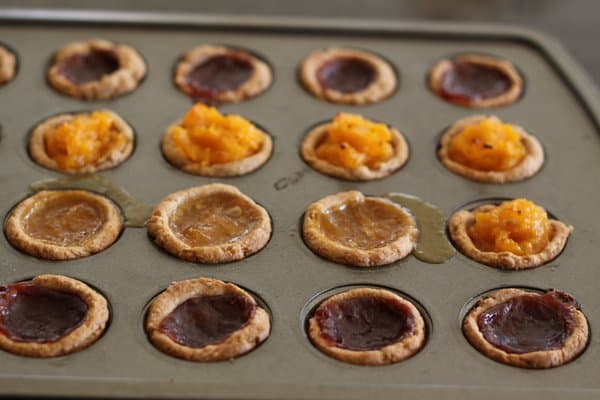 We also do a lot of tea parties when "Ginga" is here, and these tarts made for the perfect snacks.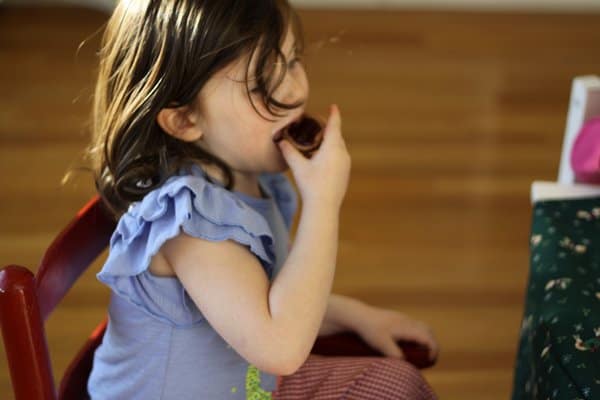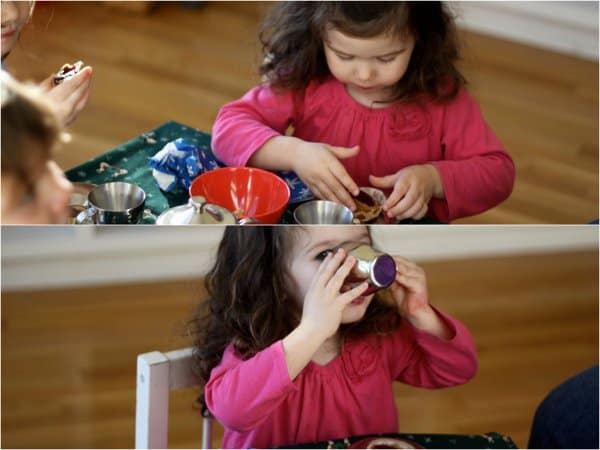 Even Grandpa got to take a break from building the new play set with Daddy to try a few. We like to keep our guests busy! (BTW, if you're good at drywall, you're definitely invited for a springtime visit when we finish off my garden shed-turned-studio. If you'll work for tarts, you're in.)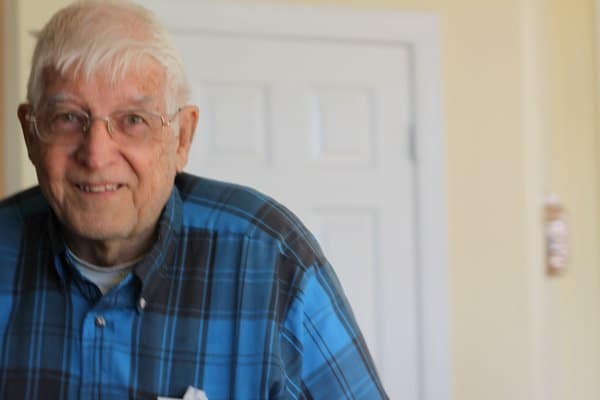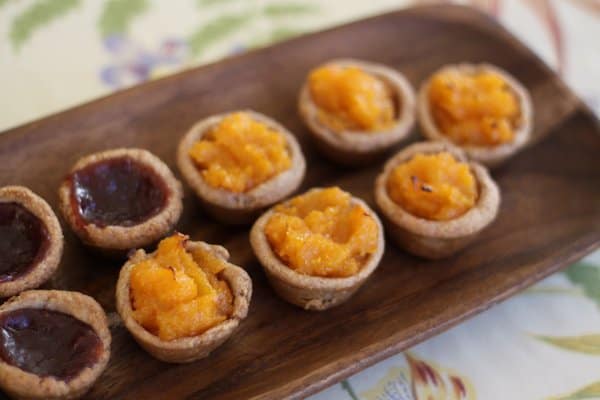 whole wheat dried apricot tarts (or jam tarts, or prune tarts, or...)
Ingredients
12 oz. dried apricots (about 1½ cups)
2 cups water
OR skip the apricots and water and use 1½ cups jam
8 oz. cream cheese, softened
2 sticks butter, softened
2 cups whole wheat flour
optional: 2 tablespoons chia seeds or ground flaxseed
Instructions
To make the apricot filling: In a small or medium saucepan combine the apricots and water then bring to a simmer for about 20 minutes, allowing the apricots to get fluffy. (You can also just leave them in the pan and come back to them any time you like. They're very forgiving if you need to work around things like nap time.) If you're using jam, your work is already done.
To make the tarts: Preheat oven to 350 degrees F.
Mix cream cheese, butter and flour (plus chia seeds or ground flaxseed if using) until everything is uniform.
Make 1-inch balls (kids are excellent at this) and press into mini-muffin pans.
Fill the tarts with apricot filling (or jam) and bake for about 20-25 minutes. They should start to look golden, slightly browned and the jam version will be bubbly.