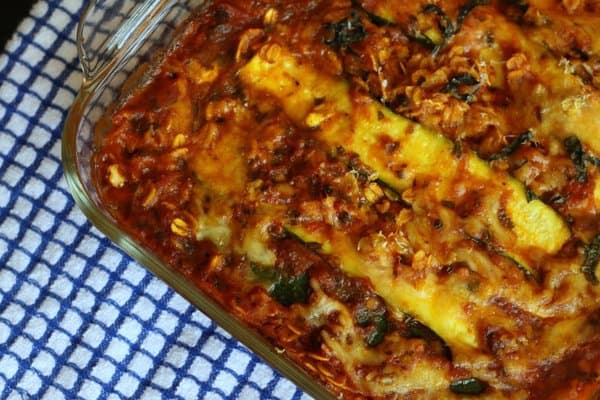 THIS IS THE STORY of the time Estelle ate a whole pan of zucchini. She's two years old, and very petite. Neither fact slowed her down. We were in Florida visiting Paul's family over Easter when his mom whipped up this amazing side dish for dinner. Plate after plate, scoop after scoop. She just kept saying, "More keeny, peas!" The rest of us were lucky to get any, so you can be sure I brought this recipe home.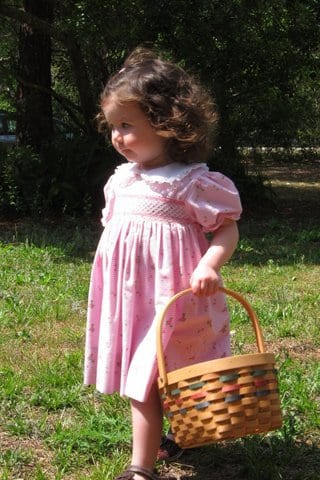 The fascinating thing about Charlene's recipe was the total lack of one. She laughed when I asked about it and showed me a little list that someone had given her, one that causally mentioned ingredients and a loose suggestion of how to assemble them. I kind of love this type of "recipe" because it allows for ample updates but the gist is this: lasagna with strips of zucchini in place of pasta.
Actually everyone enjoyed it a lot. And there are many, many ways to do it. Charlene breaded the zucchini and baked it ahead of time (dredge thinly sliced zucchini in eggs, then into seasoned breadcrumbs and bake at 400 for about 25 minutes). Use these strips as your "pasta" when layering them between marinara sauce and cheese.
A second option came up when we were cooking through the More Peas, Thank You cookbook recently: Use salt to draw the liquid out of the zucchini ahead of time, and add a layer of cooked quinoa to create more of a main dish (quinoa = protein). (And we also tried a simpler version ourselves without the zucchini, more of a quinoa casserole.)
Then I decided on a third: Don't bread them ahead of time, buy valtrex canada online don't cook quinoa ahead of time. Instead just add whole oats to the pan to soak up the extra liquid. They fluff up with all the tomato and zucchini juice, offering a really satisfying bite. It's still a side dish this way but very easy and very full of zucchini and tomato–two things we hope to eat a lot of when the summer bounty starts to roll in. And when I say "we" I mean all of us, but we'll have an extra scoop set aside for E.
ZUCCHINI LASAGNA
ingredients
2 large or 3 medium zucchini
2 cups of marinara sauce (I used the "Organics" brand from Kroger but you could certainly make your own)
1 cup of whole oats (uncooked)
2 cups shredded mozzarella cheese
1/2 cup Parmesan cheese
2 teaspoons oregano
1/2 teaspoon salt
1/4 teaspoon pepper (3-4 cracks from a fresh mill)
instructions
Preheat oven to 375.
Use a knife or mandolin (on a thick setting) to horizontally slice zucchini. Then layer everything 3 times in a 9×9 pan, starting with sauce. The order isn't crucial but this will work: Add a thin layer of marinara sauce, then sprinkle a very thin layer of oats. Sprinkle oregano, salt and pepper then add enough strips of zucchini to cover the pan once. Add 1/3 of mozzarella cheese. Cover with 1/2 the remaining marinara sauce. Add 1/2 the remaining oats. Season again with oregano, salt and pepper. Then another layer of zucchini, and cheese. Cover again with the last of the marinara sauce, last of the oats and seasoning. Add a third layer of zucchini. Top the zucchini with any remaining mozzarella cheese and the Parmesan cheese.
Bake until browned and bubbly, about 45 minutes.