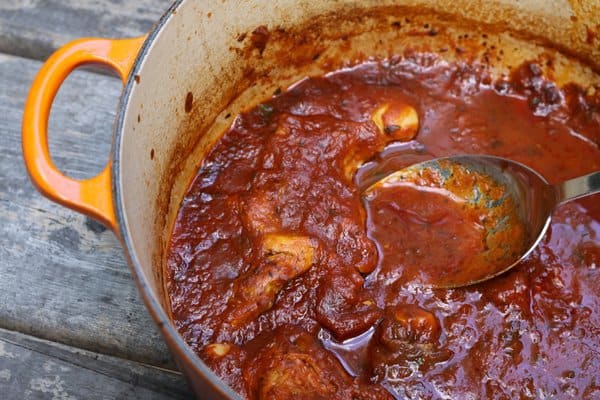 PROJECT "CLEAN OUT THE PANTRY" is officially underway! That's right. We are finally, finally, at long last and just in time, moving into our new house. Which is good because I was going to pack up anyway, headed straight for the loony bin. Six months of temporary living among too many moving boxes and too few creature comforts (Sofa? TV? I will buy you soon…and maybe never leave either one of you!) have left this constantly crabby lady mommy blogger a bit unnerved.
Now the real deal begins. To make life a little easier, it's my mission to cook down the pantry so we're not spilling half-open bags of quinoa all over the North Carolina suburbs. Skimming through an otherwise ignored issue of O magazine*, I saw a bunch of recipes from none other than Michael Pollan who was promoting his new book. (You know him because he came up with this: "Eat food. Not too much. Mostly plants.") Oprah says this chicken is what the world's most famous food expert cooks for dinner and I said why not try it for these turkeys?
I'm loving a couple things about this recipe: It's easy to make ahead of time and just as simple to double up, cook and freeze half for another dinner. Also, it uses tons of bottles, jars and cans of ingredients that have been lurking hopefully in my pantry since we arrived from Rome this winter.
I changed a bunch of things from Mr. Pollan's recipe, which was originally based on a dish by chef Jean-Georges Vongerichten who heads up a very fancy restaurant with a location in NYC's Trump Tower. (Back when I lived in New York, I spent an embarrassing amount of time trying to date a lawyer who used to go there with his parents when they were in town. Since I wasn't invited to any of these clandestine meals, I probably should've realized something was amiss… But let's not get bogged down with crazy dating stories because that could take days and the kids would be hungry by then.)
For my family-friendly version I made the whole thing smaller, used spaghetti sauce from a jar (I'm a little worried about canned tomatoes these days, are you?) and boneless chicken thighs because they're easier to cut up for the little guys. Plus the organic brand was on sale at the store a while ago so I bought valtrex online three packs and threw them in the freezer for a night such as this.
I also tried a little trick I've mentioned before. When cooking rice, add frozen peas, spinach, green beans or any other veggie you can wedge in there, during the last few minutes of cooking time. For this dish, I threw in a couple handfuls of edamame because Phoebe loves it and I always try to add something they really do like when experimenting with a new recipe.
I'll tell you this though. The whole thing wasn't really a huge hit. I liked it. Paul liked it. The kids sort of picked at it. I guess they've never been to Jean-Georges. That's okay, restaurants in Trump Tower can wait. Right now we've got movers to pay.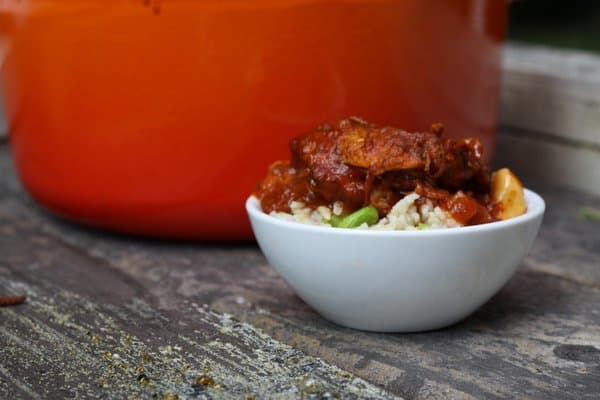 CHICKEN BRAISED IN TOMATOES & VINEGAR
ingredients
1-2 tablespoons extra-virgin olive oil
1 1/2-2 pounds (doesn't have to be exact) of boneless, skinless chicken thighs
2 teaspoons salt
1/2 teaspoon pepper
1/4 cup finely chopped sweet onion or shallots
1/2 cup red wine vinegar
1/2 cup water
1 cup spaghetti sauce (your favorite brand, about half the jar)
4 cloves garlic, peeled
instructions
Heat the oven to 300 degrees. In a dutch oven, warm the oil. While it's heating sprinkle half the salt and pepper on the chicken and add to the pan. Brown evenly on both sides, about 8 minutes total. Remove chicken, turn down the heat to low and add onions or shallots. Cook for 2 minutes then add vinegar. Let it simmer for 10 minutes, evaporating slightly. Add water, spaghetti sauce and garlic, cook down for a couple of minutes then put chicken back in (pour in the juice too). Arrange the chicken so it's as submerged as possible. Cover with a lid or foil and bake for 40 minutes. The chicken will come out fork-tender.
Serve with rice or noodles.
*Remember reading magazines? Back when a one-year-old didn't waddle over and yank the pages out of your hands, when the other kids weren't trying to kill themselves while you simply took a few minutes to find out which bathing suit was going to cut 10 pounds off your figure this summer? Someday I'm going to sit on a sofa, with the TV on and simply, leisurely thumb through this massive stack of magazines. It may take 17 years to get there but still…