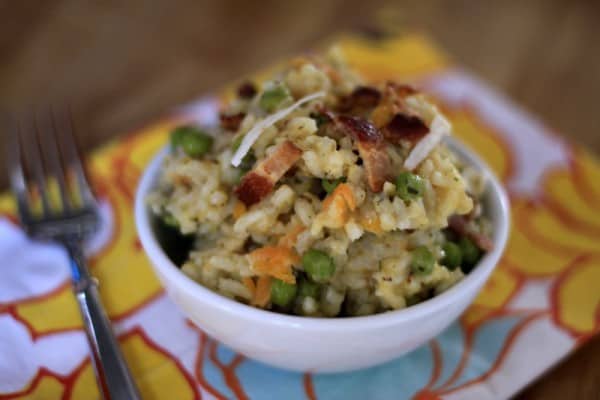 SPIN-OFFS ARE A VERY BIG PART OF MY master plan (rubs palms together yet controls the urge to laugh maniacally. Probably because that would be weird. Anyway...). Estelle LOVES rice these days so without driving everyone crazy, I'm going to try as many variations as I can, as often as I can. Also, Phoebe thinks its "little pasta" so she likes it, too. Questionable parenting tactics aside, I see no need to clarify. On with the rice!
This baked risotto recipe is a wish come true; after discovering what a hit rice was with 13-month Estelle (thank you, stove top rice with chicken and broccoli), I've been looking for more, more, more ever since. We made traditional risotto with sausage and mushrooms, which was also popular at the table but oh, the stirring. Twenty minutes of stirring. I don't know about you but I don't have much "free" time and what little I have is not best spent tending to rice over a hot stove. Not if I'll be taking two half-pints–plus one extremely large belly–to the park after nursery school. Not if I'm going to be nice about it.
But Oprah, dear sweet Oprah, saved the day. I've tried a few things, like our fresh strawberry muffins, from the new "Food" issue of the O Magazine but this has been the biggest hit so far. And the easiest. There are four more variations suggested in the same issue and you betcha, we're trying them all. Tonight's risotto will feature sausage and a blend of Arborio rice plus barley (yes!). We'll let you know how it goes. In the meantime, try this for an easy, one-pot meal complete with built-in veggies. (Admission: Phoebe picked out each and every one of her peas…and fed them all to Estelle. One by one, by hand. Estelle is going through a super pro-peas phase right now and the whole thing was so cute I didn't really care that P missed out on her green veggies this time.)
BAKED RISOTTO WITH BACON AND PEAS
Adapted from The O Magazine
The wine evaporates, leaving a tangy taste behind but if you don't want to cook with wine for kids, use 1/2 cup of water and a tablespoon of apple cider vinegar instead.
Chopped frozen spinach is a great substitute for peas in this recipe. Use whatever you have–and whatever your family likes.
ingredients
4 strips bacon
1 medium onion, shredded
1 large or 2 medium carrots, peeled and shredded
1 1/2 cups Arborio rice
1/2 cup white wine
4 cups chicken or vegetable stock OR bullion with hot water
1 teaspoon salt
1/2 teaspoon pepper
1 cup frozen peas (or spinach)
1/2 cup basil or parsley, finely chopped
3 tablespoons unsalted butter
1 1/2 cups grated Parmesan cheese
instructions
Preheat oven to 400 degrees.
In a large skillet or Dutch oven with a lid, cook bacon over medium heat until crispy. Remove bacon to a plate lined with paper towels (when cool, crumble or dice with a knife). Pour off all but 2 tablespoons of bacon grease, turn heat to medium-low, then add onion. Cook for about 5 minutes. Add carrots. Cook for an additional 5 minutes. Turn heat to medium and add rice. Cook for 2 minutes, just allowing rice to become golden brown. Add wine or water with vinegar, stir and allow to reduce, about 3 minutes. Add chicken or vegetable stock or bullion and water plus salt and pepper. Cover with a lid and put in oven for 20-25 minutes.
When the rice has absorbed nearly all the broth, take out and stir. Add peas (or spinach) and put back in oven without the lid, for an additional 5 minutes. Remove from oven, add basil (or parsley), butter and 1 cup of Parmesan cheese. (Save the remaining 1/2 cup to garnish each bowl.)  Stir and put in bowls. Add grated Parmesan cheese plus crumbled or diced bacon bits and serve.