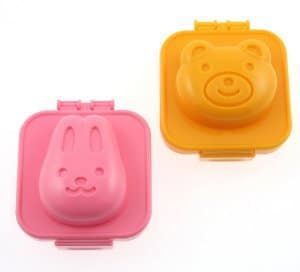 I LOVE IT WHEN THINGS WORK OUT. And when you're shopping online, that's not always the case, right? Recently I went crazy took advantage of our new access to online shopping in the U.S. and tried out a dozen things I'd had an eye on in Italy (like this and this). But these little egg molds are two of my new favorites.
You peel a medium or large size hard-boiled egg and put it in the mold. Close the top and let it sit for a minute (the directions suggest plunging in ice water but we skip that part and it still works great.). Open it up and voila. A bear. A rabbit. An adorable breakfast.
Easy to use? Yes. Phoebe, who is 3 1/2, can do it herself.
Dishwasher safe? Of course.
Affordable? $4.48 for a pack of 2, on Amazon (at this time).