Who among us has ever said, "Yep, my kids get ALL the fruit and vegetables they need. And then some."
Not you? Me neither. Not once.
It's hard to get enough of the good stuff into kids, and before you think I'm throwing a shame spiral your way know this. The blame, or at least the origin of it, lies elsewhere.
We've got Mother Nature to thank. (And also, you know, Doritos.) But hear this: Every single baby is simply born craving fat and sugar.
That's because once upon a time, those things were hard to come by. If you were lucky enough to score a few bites, your brilliant body would've known to start storing that stuff ASAP because who knew when the next opportunity would come around?
Here's how Cleveland.com puts it:
Humans are evolutionarily wired to prefer fatty and sweet tastes because they are a very efficient source of energy, and our bodies are wired for survival," says Lisa Cimperman, dietitian at University Hospitals Case Medical Center.

People who had genes that didn't wire them for these preferences, or genes that made them "wasteful" of the calories they ingested — think high metabolism — were more likely to starve in lean times.

So we now have a complete digestive system, a legacy of our evolutionary past, that is geared to find and hold onto calories, which is a dangerous modus operandi in a land of Haagen-Dazs.
But times have changed.
Fat, sugar and their friend salt are available to most of us most of the time now. Chips, granola bars, even imposters like healthy sounding fruit chews, line up like little soldiers at every single check out in every single store. Even the Home Depot offers Snickers bars and single servings of BBQ chips in case you get hungry on your mulch run.
All this when the the very things we're SUPPOSED to be eating — vegetables and fruit — are basically MIA in the convenience aisles.
How many fruits and veggies should we be eating? For adults the American Heart Association recommends six to 10 servings. Every day!
And kids? Let's just start with 5 servings. In fact, the CDC says our kids are actually eating more fruit these days but vegetable intake is still really, really low.
But help, and hope, is on the way!
In order to get at least 5 servings of vegetables and fruits into the kids every day, I serve veggies straight up to the rascals but also add them into unsuspecting dishes. Eggs. Smoothies. Even popsicles.
That's where muffins like these come in.
Our new favorite healthy muffins are adapted from Super Healthy Kids, with our version coming in a little less sweet and easier to make as well.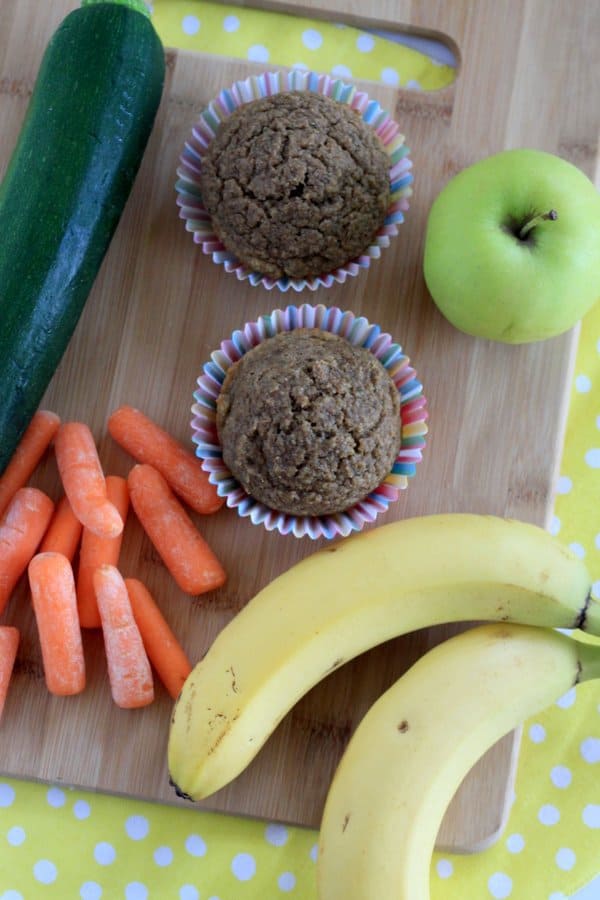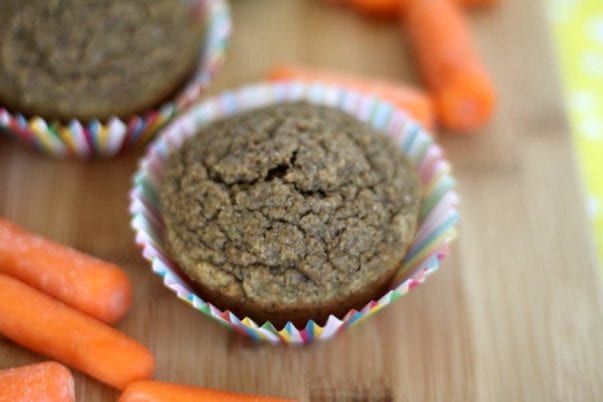 Magic Muffins (The Healthy Hidden Fruit & Vegetable Muffins My Kids Love!)
A food processor will make quick work of mincing all the fruit and veggies.
Ingredients
½ cup broccoli florets (frozen broccoli works great, but try to thaw ahead of time)
1 medium zucchini cut into chunks
1 cup shredded carrots OR 10 baby carrots OR 1½ medium carrots, peeled
1 medium apple, cored
1 medium banana
½ cup unsweetened applesauce
¼ cup plain Greek yogurt
½ cup sugar
4 tablespoon butter
2 large eggs
1 teaspoon vanilla extract
2 cups whole-wheat flour
¾ teaspoon baking soda
½ teaspoon salt
2 teaspoons cinnamon
Instructions
Preheat oven to 350 degrees F and prepare 2 muffin pans with liners, butter or spray.
Combine the broccoli, zucchini, apple, carrots and banana in a food processor and pulse until everything looks uniformly ground.
Add the applesauce and yogurt, and pulse one more time. Set aside.
In a large mixing bowl, use a firm spoon or beaters to whip the sugar and butter together.
Add the eggs one at a time, mixing after each one.
Pour in the vanilla and mix again.
Combine your vegetable mixture with the butter mixture in your mixing bowl, stirring gently.
I like to put a strainer over the top of my mixing bowl to add the dry ingredients but if that's not possible, just start adding them anyway: flour, baking soda, salt and cinnamon.
Mix until JUST incorporated.
Fill muffin pan about ¾ full, using an ice cream scoop.
Bake for about 23-25 minutes. The muffins are done when you can press on them with an index finger and the tops spring right back.
My Favorite Muffin Making Gear
After watching the umpteenth episode of Barefoot Contessa, I finally broke down and bought an ice cream scoop with a release lever. It's AMAZING. Every single muffin is the same size now. Every time. Plus the handles come in all sorts of cute colors.
And I have a non-stick muffin pan, which means I never have to pry muffins or cupcakes out of the pan, only to loose half of it, then spend the next two days alternately soaking, scrubbing, and vowing to never bake again. This one by Wilton is my absolute favorite.