MY KIDS WERE BORN IN ITALY so they know their way around a pizza. But calzones were new to them. I loved these veggie calzones for their individual portions and portability.
Plus they're basically a pocket to fill with vegetables.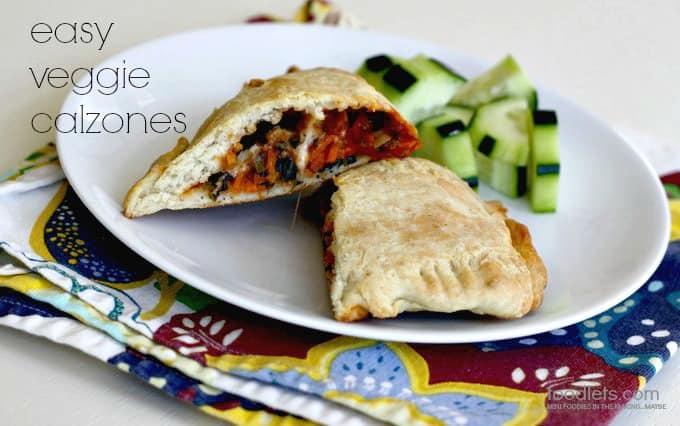 Lots of kids have trouble eating veggies at dinner, partially because that's the only time of day they see the stuff. I'm guilty of eating this way myself. So I'm trying to sprinkle vegetables into our meals throughout the day, for all of us.
Sweet potato muffins work at breakfast. We've got tons of deliciously kid-friendly vegetables for dinner. But for lunch we're usually just doing raw veggies (sometimes with dip, other times as a sailboat), which is great. But in the interest of variety, we decided to change it up.
So with spring break in full swing, we set out on an ambitious lunch. I took a shortcut on this experiment and bought a mix of just-add-water-and-oil pizza dough. You could make your own, or try another quick idea: The Pioneer Woman uses store-bought "frozen un-risen" dinner rolls.
THE TECHNIQUE
Cook fresh or frozen veggies in a pan, add tomato sauce plus seasonings and simmer.
Smear on dough, add cheese.
Bake.
Then we ate.
At least the kids did. I expected to eat enough discarded bits and pieces from each tiny person's plate to more than make an adult sized lunch.
But there wasn't a crumb to spare.

One word of warning, they're VERY hot when the veggie calzones come out of the oven so allow for time to cool off. Time when little guys aren't wiggling in their seats dying for lunch.
I fed mine cucumber slices until the filling wasn't going to require an ambulance.
Then made plans to cook these again immediately. A much bigger batch.

Easy Veggie Calzones
Below is the ratio to make 3 large calzones, for 3 hungry kids. Multiply for your needs. I had about ½ a cup of sauce more than I had room for in the calzones so I served it on toast. Result: the best lunch I've had in ages.
Ingredients
1 package (or batch) pizza dough
1 tablespoon olive oil
2 cloves of garlic, minced
1½ cups vegetables: I used a combination of "matchstick" carrots, frozen chopped spinach and diced bell peppers
1 cup tomato sauce
½ teaspoon salt or soy sauce
¼ teaspoon pepper
½ teaspoon dried oregano
½-3/4 cup shredded mozzarella cheese
Instructions
Preheat oven according to instructions on pizza dough package, or your own recipe. Allow dough to rise (or thaw) while the oven warms and you make the filling.
In a large skillet, warm the oil on medium low heat. Add garlic and cook for about a minute.
Add vegetables, stirring often and cook for about 5 minutes, until everything starts to wilt.
Pour in tomato sauce, salt (or soy sauce), pepper and oregano and lightly simmer for about 5 minutes, just to get the flavors going and reduce your tomato sauce a bit. It should be thick enough to scoop out easily; if not, continue at a low boil for a couple more minutes. Stop here if you're making this ahead of time and simply store in the fridge or freezer. Otherwise, start filling your calzones.
Roll out dough and cut into 3 triangles, which will be double the size of your final calzones.
Add filling and top with cheese but don't forget that you'll need to get the tops all the way across your mountain of filling, so don't overfill.
Pinch the edges all the way around.
Bake for about 10 minutes, or again, according to your package or dough recipe's instructions.
Allow to cool and serve.
Store in an airtight container for up to 3 days in the fridge (for excellent room-temperature school lunches!)
FOODLETS RATING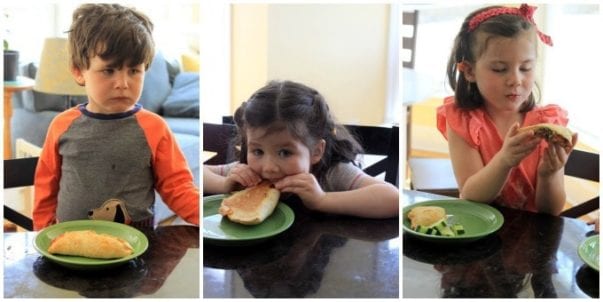 George (2): After RELUCTANTLY trying it, Thumbs Up!
Estelle (4): Thumbs up!
Phoebe (5): "Oh, look at all the yummy spinach in there!" (Seriously, she said this. She also had a meltdown later in the day when a dispute arose over a Raggedy Ann doll, but this particular moment was a win!) Thumbs up!