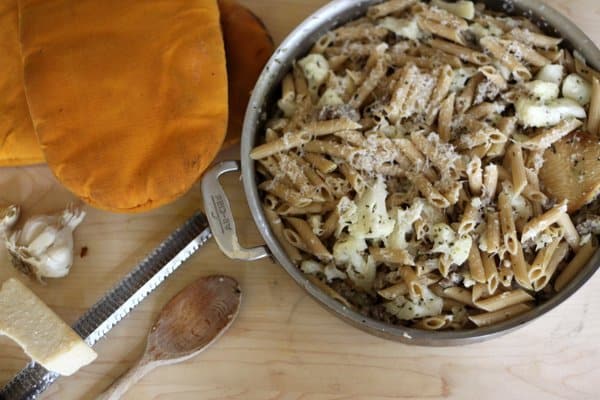 IT'S NOT ALWAYS EASY TO GET KIDS EATING veggies. Especially those with a funny smell when you cook 'em. That's right cauliflower, we're talking about you. The good news is, we've discovered three ways to make cauliflower an easy sell at dinner. Roasted cauliflower, baked into macaroni and cheese, and this way right here.
I wrote about this basic idea–pasta + sausage + cauliflower or broccoli–while we were still in Rome. Back then I used spaghetti and followed the original Food Network Magazine recipe very closely. Fast forward two babies… There are now three mess makers small kids eating at once and penne has become our pasta of choice. It's smaller and easier to handle, plus you can always find a whole-wheat version. Done!
The secret to this dish is cooking the cauliflower in the pan at a hot enough temperature that the edges get a LITTLE brown, almost starting to crisp. Roasted cauliflower is a family favorite and this method takes the best of that flavor and adds sausage and parmesan cheese. Even if you're a toddler, especially if you're a toddler, how bad can that be?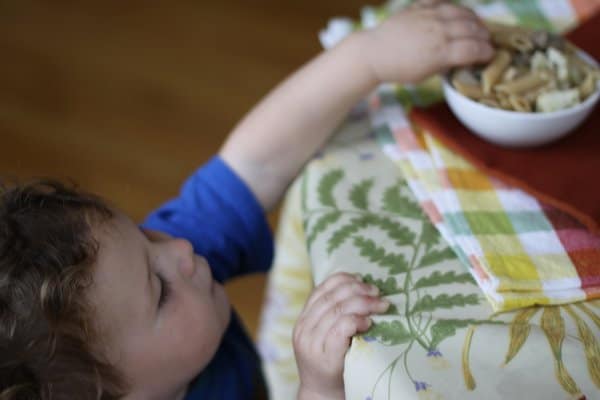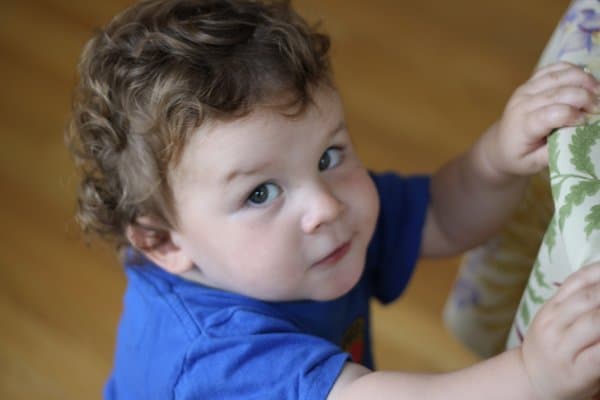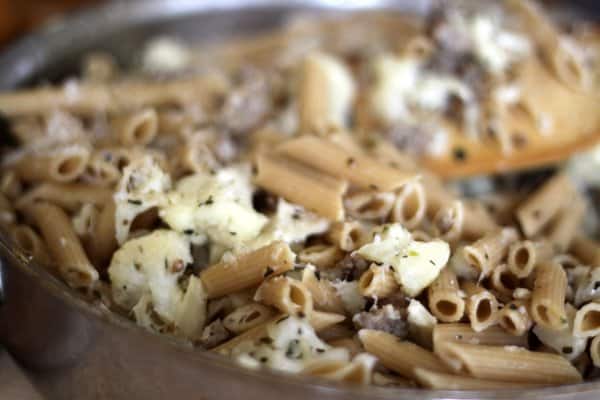 Easy Penne with Cauliflower, Sausage and Parmesan Cheese
ingredients
1/2 box whole wheat penne
3 tablespoons extra virgin olive oil
1/2 – 1 pound sweet Italian turkey sausage, casings removed
1/2 large onion, grated or very finely diced
1 medium/large head of cauliflower or broccoli cut into small florets
1 teaspoon dried oregano
1 teaspoon dried thyme
1 teaspoon garlic powder
1/2 teaspoon salt
1/4 teaspoon pepper
1 cup freshly grated Pecorino or Parmigiano-Reggiano cheese plus more for sprinkling
instructions
Start preparing the past first. You really will need some cooking liquid for the pan so get it going now but this is key: REDUCE cooking time by 3 minutes from what the package directions say.
Once the pasta has started cooking in the pot, move on to the rest.
Fire up a very large skillet. On medium heat, add the oil then sausage. Give it 2 minutes to start browning, then grate in the onion. (Or dice in very small pieces). Continue until meat is cooked through and onions soften, about 5 minutes. Remove the meat and onion from the pan, setting it aside. Turn up the heat to medium-high and add cauliflower to the same skillet. For 5 minutes, stir occasionally, allowing the edges to start browning a bit. Add dried herbs (oregano, thyme, garlic, salt and pepper) and stir again. Now add the meat mixture back in. Stir. Then add the cooked pasta plus 1/2 cup pasta cooking liquid. Stir and allow to simmer, thickening as the water evaporates. When everything is evenly coated with sauce, remove from pan. Add grated cheese then stir just before serving. (And add more pasta cooking liquid as needed.)