Two people in my house love fish. Two people in my house think they don't like fish, then try it. Then decide they love fish. They are preschoolers and do this every time.
One person may never love fish. Hint: He shaves.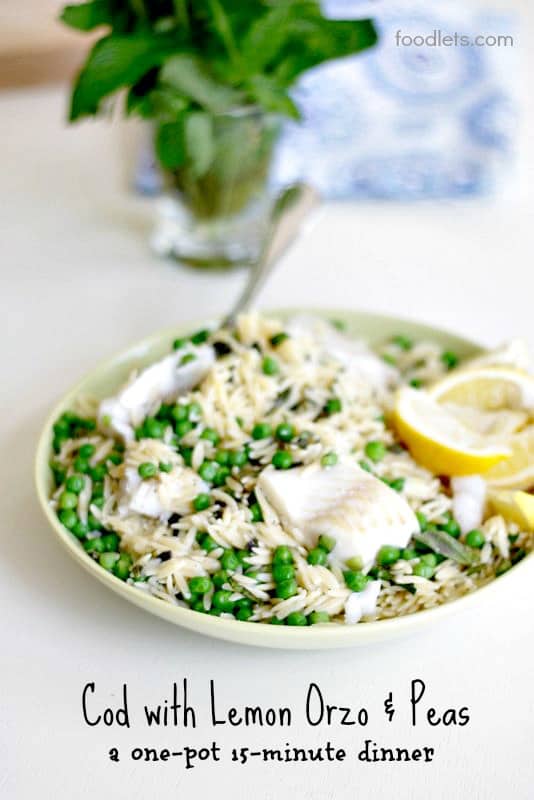 When it comes to seafood, my husband is in the same camp as Jim Gaffigan, who says things like, "What is the difference between an anchovy and a sweaty eyebrow? Because whenever I see an anchovy, I think someone has attacked Tom Selleck." Seriously, just look at his face here.
Not. Loving. The. Fish.

But for the rascals? There is hope.
Hope that they'll continue to love eating fish. And this dinner is a delicious (and easy) step in that direction.
I got this original idea straight out of Parents magazine. Then I did my own things here and there.
Now it's a dish of our own, and one that'll be in regular rotation.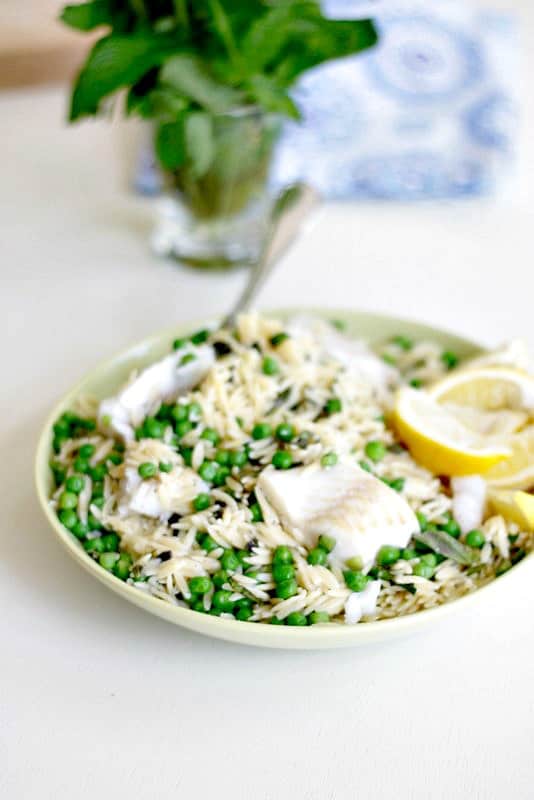 Here's how you can make it too.

Cod with Lemon Orzo & Peas: A 15-Minute, One-Pot Dinner
Ingredients
2 cups orzo
1 pound frozen (or fresh) cod fillets
1 cup peas (or chopped spinach)
2 lemons: zest and juice one lemon, slice the other to serve with the meal
¼ cup extra virgin olive oil
½ teaspoon salt
¼ teaspoon pepper (a few cracks of fresh pepper will do the trick)
2 tablespoons fresh herbs such as thyme, basil, mint or a combination, cut finely
Instructions
Using a colander insert, fill a large pasta pot with water and bring to a boil. Add orzo and cook according to directions, about 9 minutes. Pull up the colander insert, draining the orzo but KEEP THE COOKING WATER. Place the fish into the water and cook for about 4 minutes. Add peas during last 2 minutes. Meanwhile, prepare the lemon seasoning.
Combine lemon zest, lemon juice, olive oil, salt, pepper and herbs. I like to do this in the bottom of the serving dish I'll eventually be using. Whisk together. Combine with orzo as soon as it's out of the water. Let the juices soak in.
When fish and peas (or spinach) are ready, gently combine everything on the platter. Use one lemon slice to squirt over the top of the dish, then set the rest on the side of the platter for everyone to grab along with a serving of pasta.
PS. We'll probably need to follow it with steak night. Because, harmony. I live with someone who said, "YES! Exactly! when I shared
this quote from, you guessed it, Jim Gaffigan
: "The best compliment you can give fish is to say it's not fishy."
Don't forget to like Foodlets on Facebook and sign up for our newsletter (at the top of this page) so you'll never miss a simple recipe or tip.
And if you've tested out this recipe, what do you think? Let us know! I'd love all the details too:
How many kids do you have? 
How easy was this dish to prepare? 
What did the kids say? Thumbs Up, Middle, or Down?
Would you make it again?