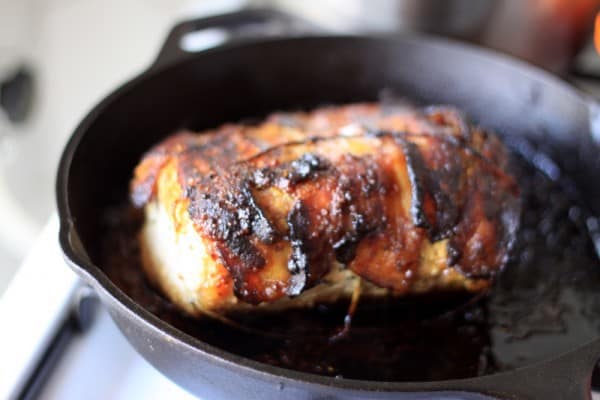 IT'S EASY TO BE JEALOUS OF GIADA. After growing up in a famous family, Giada De Laurentiis is now an acclaimed cookbook author, Today show contributor and Food Network star. She's also gorgeous, happily married and mother to an adorable mini-me named Jade. And let's not forget the biggest kicker of all: she's a wonderful cook. But that's where the rest of us reap a few rewards (finally, the blessings are passed around!) At least my family did when I made this amazing bacon-wrapped pork for dinner.
This is not the kind of recipe that's easy to make with kiddies underfoot though. Your hands get all bacon-y and there's a hot pan sizzling away, so it's better to prepare during naptime or, say, when your husband is playing hide and seek with the little guys.
The first step is to create a honey mustard sauce and slather it all over the pork. Next, wrap bacon around the roast until one side (the top) is totally covered; secure with twine. I tied it horizontally because I thought it'd keep more bacon in place. (It did.) The original recipe, Honey Mustard Pork Roast with Bacon, doesn't require searing but I always think it's a good idea for tasty meat, especially when that meat is bacon.
I also added water to the pan as it cooked in the oven. This is a wonderful trick for keeping meat moist. Every 20 minutes or so, no matter what kind of roast you're doing, add 1/4 cup of water, wine, broth or any combination to the roasting pan. Hoping to eek out just a bit more flavor, and take advantage of those delicious drippings, I also whipped up a quick gravy. (Recipe and instructions below.)
We paired our pork with roasted asparagus and Parmesan scalloped potatoes with onions. Eating out on the terrace for the first time this spring, this was about as good as it gets!
You might wonder how toddler-friendly a pork roast can really be and to that I'll say this. We gave each girl a few bites on pink plates. Phoebe, a known meat fan, liked it. Estelle, she of the super stuffy nose, didn't. So it goes but this meat was so tender and juicy that it fell easily into the category of delicious food that's simply a pleasure to eat. I don't care if they grow up to be gourmets but I do hope to have a few years together where we're all enjoying some great meals around a table. I'd also like to have lots of laughs, grace and good conversation.
Part of my strategy is preparing fresh meals full of flavor (and occasionally molding everything into the shape of a star, flower or favored shape of the moment. No one's above plating gimmicks around here!) I'm not into forcing people to eat but I do hope they'll appreciate a few standouts along the way. From personal enjoyment to expressing gratitude, eating as a family is as much about civility and community as it is nutrition. And let's face it, nothing says love like bacon.
Grazie Giada!
QUICK MUSTARD SAUCE
All of the ingredients in this sauce were used in the pork recipe above, or they're pantry staples like milk, flour and butter. Just chop a little extra rosemary and keep the remaining ingredients available for the sauce after your meat has cooked.
ingredients
pan drippings from any roast (pork, chicken, beef)
1/4 cup flour
1/4 cup white wine
2 tablespoons dijon mustard
1/2 teaspoon fresh rosemary
1/2 cup milk or cream
2 tablespoons butter
salt & pepper to taste
instructions
After the roast has come out of the oven, transfer the meat to a cutting board and cover with foil. Let it rest while you prepare this easy gravy.
With all the juices, chunks and drippings intact, put the whole pan over a burner set to low heat.  Add flour and cook for one minute. Splash in the wine, mustard and rosemary and stir with a whisk until no lumps remain; cook for 2-3 minutes until the wine reduces. Add the milk and butter, stirring to fully incorporate everything. Taste the sauce and add salt and pepper as you like.
Got leftovers? One of my favorite ways to use extra pork is making Ham, Cheese & Apple Melts later in the week. This is a 2-in-1 Dinner (Cook Once, Eat Twice!)