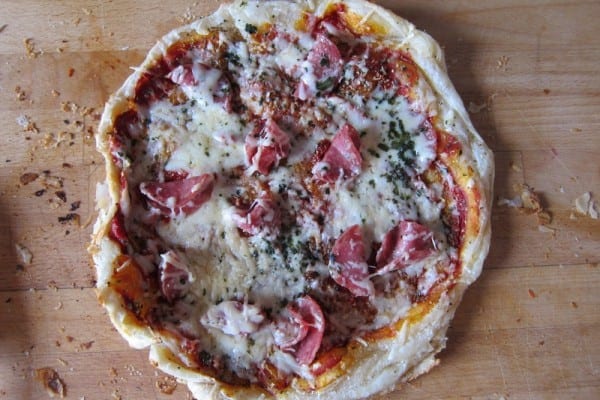 BARBARA KINGSOLVER, in the gorgeous memoir, "Animal, Vegetable, Miracle", says her family eats pizza every Friday. Homemade pizza (her husband whips up the dough), and while toppings always vary, never having to think about "What's for dinner?" just simplifies their week. I think it's brilliant.
But this particular pizza idea came from Jamie Oliver. He also makes his own crust. (I buy my crust, and sometimes even puff pastry, because I'm not confident about finding the correct kind of self-rising flour at my Italian grocery store. But you could! And I also hear that Trader Joe's has wonderful prepared crusts in all kinds of tasty flavors, even whole wheat.) Whatever you decide, do this: put the dough into a skillet instead of a baking sheet. Toast it over medium heat for about 5 minutes before adding toppings. The result is a guaranteed crispy crust. Now, THAT'S brilliant.
Mr. Oliver is a chef and while this recipe was part of his 30 Minute Meals series, he moves with more confidence and efficiency than I do. Plus, his spicy jalapeno toppings were a bit advanced for my crew who are both under the age of three. So I changed a few things. It's the technique though, that makes this idea a keeper. We've done it twice so far, including a two-pizza dinner earlier this week: pepperoni with provolone & basil and another with salami & red peppers.
Since the cooking method is the real star here, I'll describe it instead of offering a "recipe". Use whatever dough and toppings you like but by all means, try this for a fast, delicious dinner soon!
Start with a skillet on medium heat and a drizzle of extra virgin olive oil. Turn your oven to 450 degrees. Once the skillet is warm, simply roll your dough onto it, crimping or folding the edges around the pan. After a couple of minutes, smear 1/4 cup of tomato paste onto the crust. Sprinkle with oregano, salt and pepper. Then add your cheese. I used provolone because it was in my fridge but we've also used mozzarella. Try 1/2 cup of whatever you like. Then add the other toppings. If you're doing meat, crimp or fold it to add texture. These are relatively small and thin-crusted pizzas so don't overload them. Top with Parmesan cheese if you like, and fresh basil. Drizzle the whole thing with a bit more olive oil and transfer to hot oven. Bake for about 5 minutes, until the cheese is bubbly and crust is brown.
Since this is a salty, gooey dish, I like to serve crunchy raw veggies as a side and cut fruit for dessert. Bonus: let your little guys help and chances are, they'll eat more veggies at the prep counter than they do at the table. Fine with me!