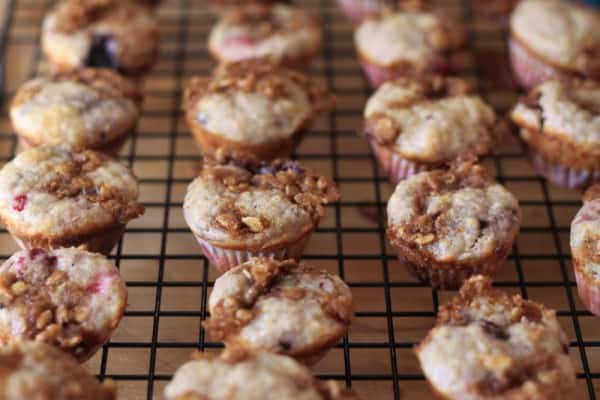 IT WAS A BAREFOOT CONTESSA KIND OF WEEKEND in our kitchen. We made muffins, lots of muffins, based on a recipe from "Back to Basics". As always, we made healthier changes. As always, they were delicious.
First, we used a bag of frozen mixed berries, because the only thing in season right now are early strawberries and we wanted more variety. Plus, I love frozen fruit and veggies, always picked at the height of their ripeness and perfectly preserved until you're good and ready to use them.
Phoebe was on hand this time but more and more often, we've got another miniature set of hands (and super sticky fingers) at our prep counter. Estelle is all over any activity involving a wooden spoon. They each have a stool to perch on–and scare me to death every time they move an inch, visions of toppling children running on a loop in my mind–where they stir, whisk and most of all, taste everything. Nerve-wracking and slow-going, it's actually really sweet to have them in the kitchen with me and I think it'll help them feel comfortable in the kitchen on their own some day. At least that's the dream. For now, we have muffins.
One quick thing about our updates. The muffins themselves have very little sugar but I made the crispy topping according to the decadent instructions in the original recipe (except I did add some organic whole oats…I just can't help myself). It's probably possible to lighten up streusel topping but instead, I made it with full flavor, full sugar and full fat BUT only added a scant amount to each muffin. That's a trick I learned from some wonderful Italian bakers a while ago. If you don't want to tamper with the butter cream recipe, for example, you could always just use less of it. And I used Greek yogurt plus regular milk because they don't make buttermilk in Italy and I didn't have enough lemon juice to properly convert regular milk — I think buttermilk would've been better. More tangy, so I'll add that note below.
MIXED BERRY MUFFINS WITH CINNAMON CRISP TOPPING
Adapted from Back to Basics by Ina Garten
makes 4 dozen mini muffins plus 1 dozen regular size muffins
 ingredients
2 1/2 cups whole wheat flour (or a blend of whole wheat and white)
1 cup wheat germ
3/4 cup sugar
4 1/2 teaspoons baking powder
1 teaspoon baking soda
1 teaspoon salt
*2 cups greek yogurt (or 2 cups buttermilk and no regular milk)
*1 cup milk
zest of one lemon
1/4 cup melted butter
1/4 cup pureed white beans
2 large eggs at room temperature
2 cups frozen or fresh berries, any variety
for the cinnamon crisp topping
1/2 cup flour
1/4 cup whole oats
1/2 cup brown sugar
2 teaspoons cinnamon
1/4 teaspoon salt
4 tablespoons (1/2 stick) cold butter, diced
instructions
Preheat oven to 375 degrees. Generously grease a muffin pan (either miniature or regular size) with butter and flour.
Using a large bowl, sift dry ingredients: flour, wheat germ, sugar, baking powder baking soda and salt. Create a well in the middle of the bowl and start adding the wet ingredients: yogurt plus milk or buttermilk, lemon zest, melted butter and beans. Stir a few times, very loosely incorporating the ingredients. Add eggs and mix until everything is just combined. Fold in berries, stirring very gently. Do not over mix. (The batter should be light and airy.)
Fill muffin cups nearly to the top.
For the topping, use a medium size bowl to combine all ingredients. Working quickly, use your hands to squeeze the butter through the ingredients by the fist full. When everything starts to clump together, it's ready. Sprinkle modestly on top of each muffin and push down so it really sticks well to muffin tops during the baking process.
Cooking times: 10 mins for mini muffins, 15 mins for regular size