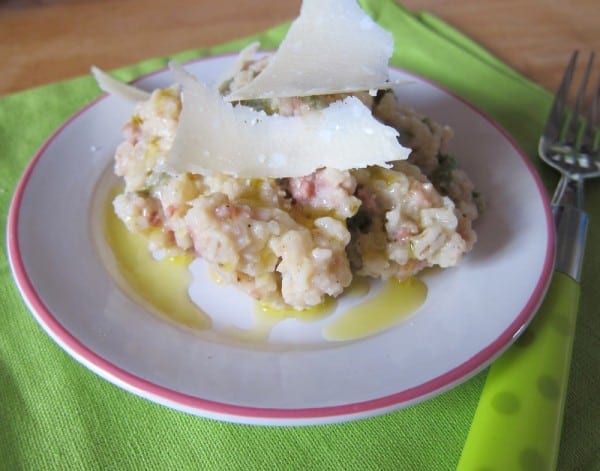 AS THREATENED PROMISED, baked risotto has made its way into our weekly repertoire and here's why: the kids love it! Plus, a baked version of this traditional Italian dish is easy to make before they even get home from nursery school. Sitting on the stove, it's ready to be warmed again at dinner time. No muss, no fuss and more importantly no afternoon whining… Ta-da!
Again, I followed the technique found in the latest issue of O (The Oprah Magazine), which to my delight, involved stirring exactly once. But I also added barley to this recipe to make it more filling and nutritious, too. Here goes.
BAKED RISOTTO WITH SAUSAGE & FRESH GREEN BEANS
ingredients
3/4 pound sausage (chicken, turkey or pork)
1 medium onion, shredded
1 large or 2 medium carrots, peeled and shredded
1 cup Arborio rice
1/2 cup barley
1/2 cup white wine
4 cups chicken or beef stalk
1 teaspoon salt
1/2 teaspoon pepper
2 cups fresh green beans, chopped
2 tablespoons unsalted butter
1 1/2 cups grated Parmesan cheese
instructions
Preheat oven to 400 degrees.
In a large skillet or Dutch oven with a lid, cook sausage over medium heat until browned. Remove sausage to a plate lined with paper towels (when cool, dice with a knife as needed for little eaters). Pour off all but 2 tablespoons of grease, turn heat to medium-low, then add onion. Cook for about 5 minutes. Add carrots. Cook for an additional 5 minutes. Turn heat to medium and add rice and barley. Cook for 2 minutes, just allowing rice mixture to become golden brown. Add wine or water with vinegar, stir and allow to reduce, about 3 minutes. Return sausage to the pan and add chicken stock (or beef stock or bullion) and water plus salt and pepper. Cover with a lid and put in oven for 20-25 minutes.
When the rice has absorbed nearly all the broth, take out and stir. Add green beans and put back in oven without the lid, for an additional 5 minutes. Remove from oven, add basil (or parsley), butter and 1 cup of Parmesan cheese. (Save the remaining 1/2 cup to garnish each bowl.)  Stir and put in bowls. Add grated Parmesan cheese plus extra virgin olive oil to serve.
Meanwhile, my usual helper is sacked out! Seems like a good night for comfort food.