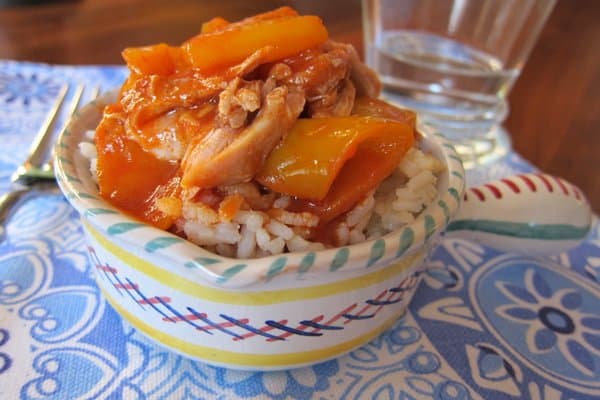 THIS WAS A GREEN EGGS AND HAM kind of night. Phoebe didn't even want to try one bite and certainly had no intention of eating a pepper. But then she did. "Mmm. That's good!" I couldn't help myself. I had to call her on it! After all this time (after all, we've had nearly 3 years together), she still doesn't trust me when I say, I think you'll like it. Hmpf. I have a feeling this trend will continue for the next 15 years or so…
Anyway, it's a nice dinner and one that's very simple to make. Pollo alla Romana is actually a classic Italian dish, served in a tomato-y broth with stewed peppers. My version had a little American influence by way of barbeque sauce, just to add more smokey flavor and sweetness. I served it over brown rice and made extra rice for a cold salad the next day (coming up next!)
Because it's a slow-cooking recipe, you can get it on the stove during nap time (or any other "free" time you have in the afternoon) and let it slowly simmer until the brood is ready at the table. Up to three hours (and a little longer if you just turn it off; the pan will stay very warm, especially if it's covered.) You could probably throw the whole thing into a real slow cooker and simmer it for about 4 hours, with the same result. (And if you do, please tell me how it turned out!)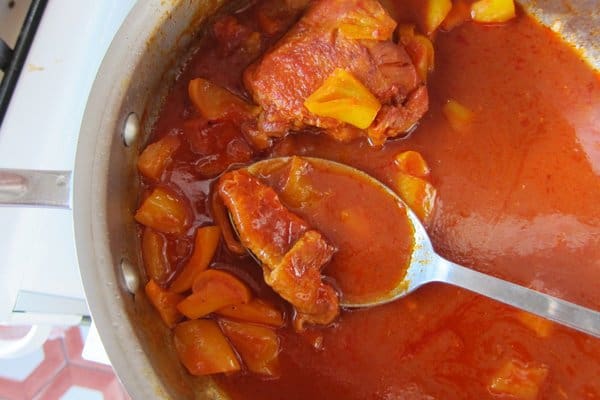 ROMAN CHICKEN WITH PEPPERS
This recipe serves four medium size portions because our group is very small; double quantities as needed.
Serve over brown rice.
ingredients
4 chicken thighs (with or without the skin, your preference)
Salt & pepper
2 tablespoons olive oil
2 medium peppers (red or yellow), cut into bite size pieces
1 cup tomato sauce
1/2 cup BBQ sauce
instructions
In a saute pan with high sides, pour oil and heat over medium-high. Season chicken with salt and pepper. Brown chicken on both sides, about 5 minutes each. Remove chicken to a plate. Turn heat down to medium, pour off all but about 1 teaspoon of drippings and add peppers. Cook until they start to carmelize, getting dark patches on the edges and starting to soften all over. Add chicken back to pan plus tomato sauce, BBQ sauce and 1/2 cup of water. Season with more salt and pepper, to your family's liking. Bring to a boil, turn heat down to the very lowest setting available and cover with a lid. The chicken and peppers can gently cook here for up to 3 hours. Stir occasionally. The chicken will just get more tender over time.
And just for inspiration…a few recent shots from Rome itself. And more here.