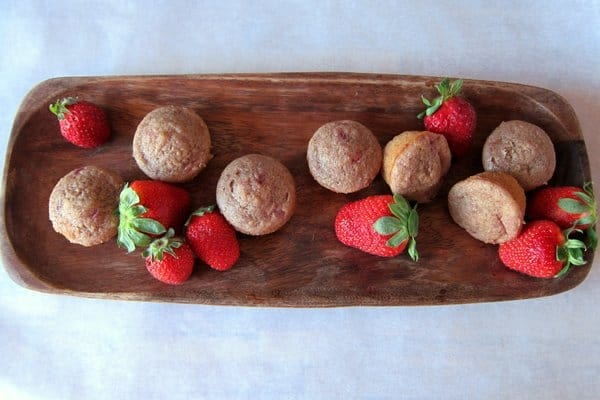 WE CAN'T GET ENOUGH fresh strawberries! Hoping to soak up the best of the season, we're experimenting with new recipes all the time. This one was quite tasty–and thanks to the magical combo of a freezer and a zip-top bag, we're still enjoying them a week later. Well, those of us who aren't cutting FIVE teeth right now certainly are…
Combining ideas from two recent strawberry dishes, baked oatmeal with balsamic strawberries plus fresh strawberry muffins, Phoebe and I put together one of our best batches yet. These minis are so sweet and tasty, yet full of stick-with-you grains by way of wheat germ, they work as well for a snack as they do to start out the day. We actually serve them with sliced strawberries, just for an extra shot of fresh flavor. No complaints so far…
STRAWBERRY MINI MUFFINS
Substitute half the oil with applesauce for a healthier version
Buttermilk isn't available in Rome, so I used regular milk plus the juice of half a lemon and let sit for several minutes to thicken
ingredients
1 cup mashed strawberries
1 teaspoon balsamic vinegar
1/2 cup sugar (use 1 teaspoon with strawberries)
1 1/2 cups flour
1/2 cup wheat germ
1 teaspoon baking soda
1 teaspoon salt
1 cup canola oil
3/4 cup buttermilk
1 teaspoon pure vanilla extract
2 eggs
1 teaspoon apple cider vinegar
instructions
Heat oven to 375 degrees and grease mini muffin pan using butter or oil and flour.
In a large bowl, use a potato masher (or blender) to mash fresh strawberries. Add balsamic vinegar and one teaspoon of the 1/2 cup of sugar. Let sit while you combine the rest of the ingredients.
Into a medium size bowl goes the flour, wheat germ, sugar, baking soda, and salt. Mix. To the large bowl with the strawberries, add wet ingredients and stir to combine thoroughly: oil (and applesauce if using), buttermilk, vanilla, and eggs. Add dry ingredients in two steps, stirring until just incorporated. Finally, add apple cider vinegar and mix thoroughly.
Fill muffin cups nearly to the top and bake 8-10 minutes. (Press your finger tip onto the top of the muffins. If they spring back, they're done.)