We're on "vacation" this week, on the southern coast of Italy. It's our first trip with all three rascals so I'm out of the kitchen. So far, I'd say everything is gorgeous and exhausting, sometimes both at once. Meanwhile, I saved up a couple of fresh ideas to post while we're gone. Be back soon…trust me, I'm not sure I have the stamina to do this for longer than a week! 🙂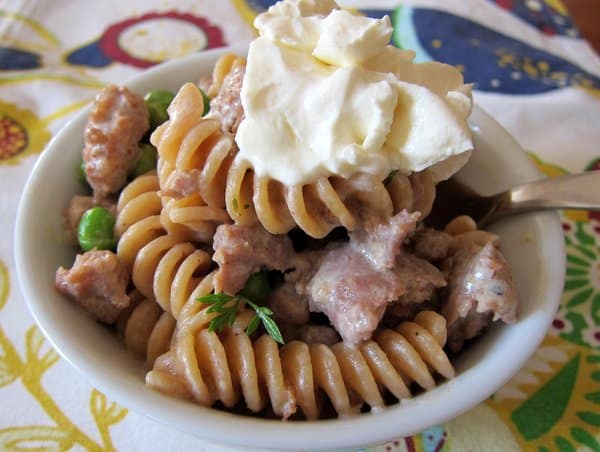 SOME KIDS JUST DON'T LIKE VEGGIES EXCEPT…peas. If this sounds familiar, this idea's for you. Try an updated (meaning simple yet satisfying) version of stroganoff.  This 5-ingredient dish will be done in 20 minutes but that's not the best part. Between the tangy, buttery flavor of sour cream and the world's most kid-friendly veggie, it's bound to be as big of a hit at your place as it was here.
I've been using a lot of turkey sausage lately because it's full of flavor (no need to add lots of extra salt or seasonings) yet still pretty lean. There was also half a container of sour cream from our Father's Day onion dip. (German sour cream from the FAO commissary which I only mention because it cracks me up. Every time. Sometimes the adventure of living in Italy creeps up in the most unexpected places, like my refrigerator.) Rome isn't a great place to find Mexican fixin's, so stroganoff became our next recipe to try.
But it needed to be simple, easy and pretty healthy. So I used whole wheat pasta, turkey sausage and a bit of sour cream to finish it off. Delicious, easy and very tasty. One curious note: the kids both ate an entire portion on the first night but when I served leftovers again, they weren't having it. Maybe the pasta got too soft, maybe they were tired of the same flavors. Who knows, but just a word to the wise…this might be a dish that's better the first time around. (I, of course, enjoyed it both times. Baby weight? What baby weight?)
Also, a quick note about portions for pasta. We are two adults, one toddler and one preschooler (and one baby who is on a milk-only plan for now); I always use half a box for any pasta recipe and we always have leftovers (for my lunch the next day-hooray!). I'd rather add more fresh ingredients, which have more flavor and nutrients than pasta, plus our portions are fairly modest (about 1/2-3/4 cup for the kids and 2 cups or so for adults). Particularly when we're having another vegetable side dish. If you have a bigger family or bigger appetites, use the whole box and beef up the amount of remaining ingredients but no need to fully double everything.
Along with the pasta, we had sauteed carrots with garlic and butter. I'm trying to double up on veggies these days and used the same method as I did with green beans: slice the carrots and saute them in a few tablespoons of water plus a swig of olive oil. Include minced garlic if that works for your crew or leave it out. Stir several times to ensure even cooking but since carrots are thicker than green beans, I like to put a lid on the pan for 2-3 minutes just to get the steam working on them too. In the last minute, add a pat of salted butter. All together, the carrots should cook no longer than 10 minutes so they're tender but still very firm–and even more tasty.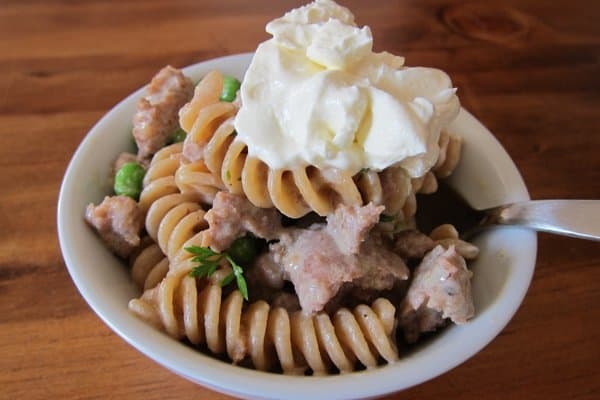 SAUSAGE STROGANOFF WITH PEAS
Use whatever shape of short pasta your family likes.
Low fat sour cream will work but I prefer the regular version (which is hard enough to find in Italy!). Definitely don't use non fat.
You don't even need to thaw the peas, though it's easy enough to put them in a cup on the counter while preparing the rest of your ingredients. They'll be room temperature by the time you need them.
ingredients
3/4 pound turkey or pork sausage
1/2 pound (1/2 box) whole wheat spiral pasta
1-1 1/2 cups frozen peas
1 cup sour cream (low fat or regular — not no fat)
2 tablespoons fresh parsley (optional)
Salt & pepper
instructions
Bring a large pot of water to boil. Add 2 tablespoons of salt (optional) then cook pasta according to package instructions MINUS 2 MINUTES. Drain but reserve 1 cup of cooking water.
Meanwhile, brown the sausage. If you have more than 1 tablespoon of fat rendered from the sausage, drain off the excess. Combine the pasta and sausage into one pan (use the one that will hold both easily) then add pasta, peas, 1/4 cup of reserved cooking water plus 1/2 cup of sour cream. If it's too thick, add more water but do so in small quantities (if you add too much water and it becomes runny, just turn up the burner again and boil off some of the water.) Stir and let simmer together for 1 minute.
Serve in bowls with a teaspoon of sour cream on top. Add parsley if using plus salt and pepper as needed.