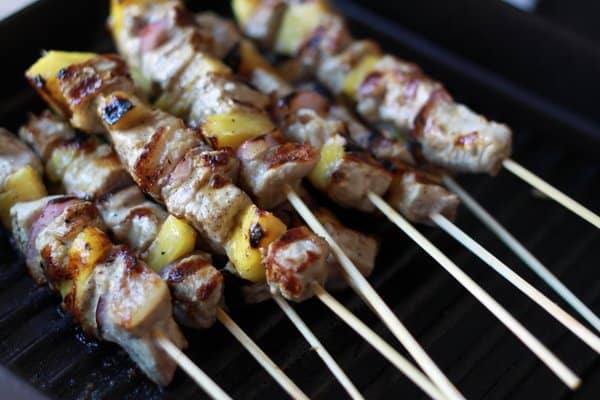 IF YOU'RE FROM THE WEST COAST, YOU EAT HAWAIIAN PIZZA. If you're not, you think it's weird. Happily, I fall into the former category.
In the small town where I grew up in Washington state, we had one pizza place, Rome Pizza. And the only pie my family ever ordered was Canadian bacon and pineapple. That's because my brother and I thought pepperoni was "too hot". On the extremely rare occasion that we picked up a pizza to go, my mom and I would swing by on the way home from my weekly dance lessons, held in a second-floor studio just up the street. Sitting in the front seat of our red 1960-something Mustang, there was no place I'd rather be than holding that pizza. With the massive box resting on my lap I could feel the heat through my tights and used to beg for just one bite of that sweet smelling pizza.
I always had to wait.
But it was worth it.
This delicious combination inspired last night's skewers.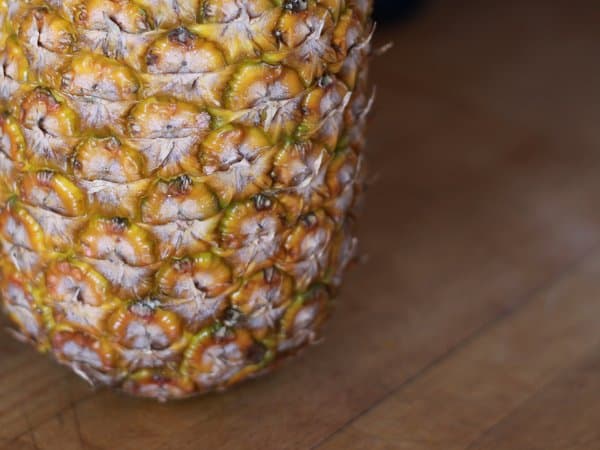 I knew this dinner would be good. And it was. But the skewers are slightly tedious and probably not something you want small kids doing (raw meat + sharp skewers) so I recommend assembling them ahead of time.
I did not.
As a result, both girls were climbing all over the counter trying to get involved. And by "get involved" I mean, eat most of the pineapple. Eventually I put the green beans in front of Estelle instead who happily munched away while Phoebe and I wrestled over who was going to spear the next piece of "pie" onto a skewer.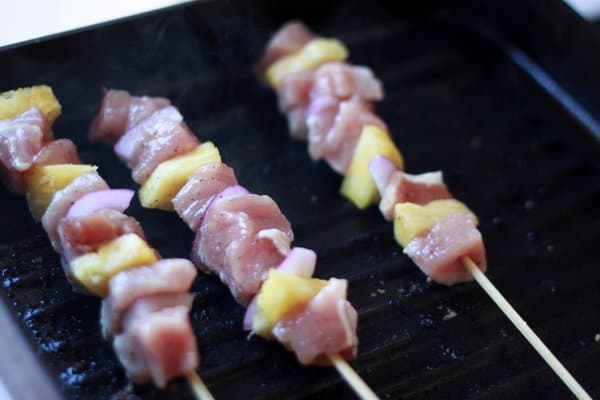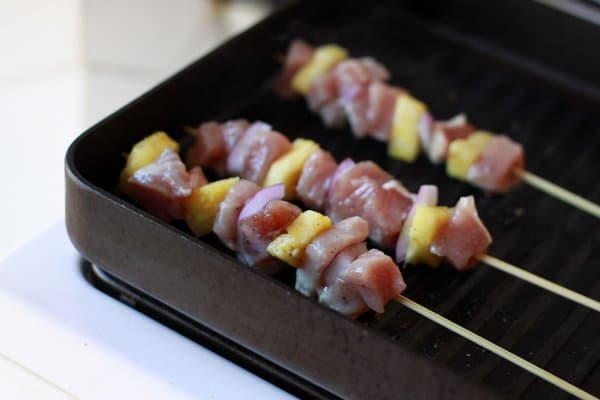 Once put together, the skewers can be cooked outside on a grill (if you have one and don't hate them like I do) or inside on a grill pan (if you have one and love them like I do). The pineapple juice seeps into the pork a bit, plus the whole thing caremlizes on a hot grill making them savory and salty and sweet all at once. All you add is salt, pepper and a splash of olive oil since the meat is so lean. Stack any combination or pattern of pork, pineapple and red onion (optional).
I used pork chops because they were on sale. You could use any cut of pork, chicken or turkey. Just cube the meat into about 1 inch by 1 inch pieces. Ditto for the pineapple. (Note: It's easier to cut the meat if you put in the freezer for 10-20 minutes ahead of time. Don't freeze the pineapple.)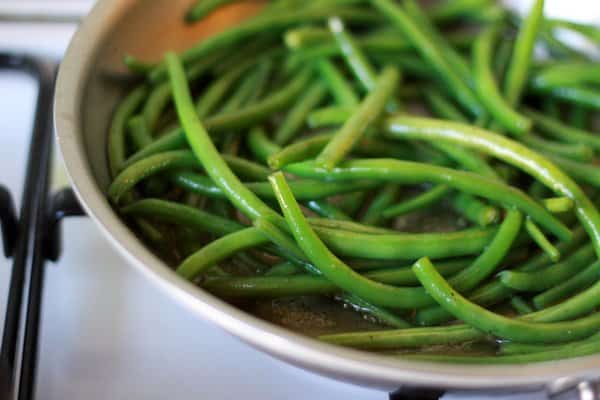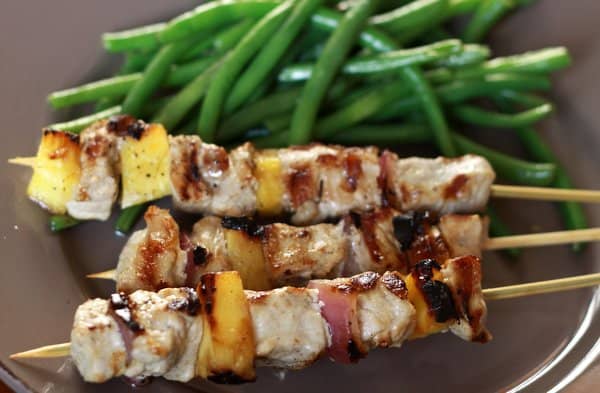 Like arrosticini, the kids loved eating them right off the stick. And we paired our kebabs with fresh green beans. My favorite method for this summertime veggie is simple: add a few handfuls of beans to a skillet with about 1/3 cup of water and 2 tablespoons of olive oil. Sprinkle salt and pepper and turn up to medium-high. Once it starts bubbling, flip a few times with tongs. As the water evaporates, your beans will be left in lovely olive oil, perfectly seasoned and still crispy after about 8 minutes.
It may be hot in Rome but this time our dinner was still a hit. And honestly, we were due!