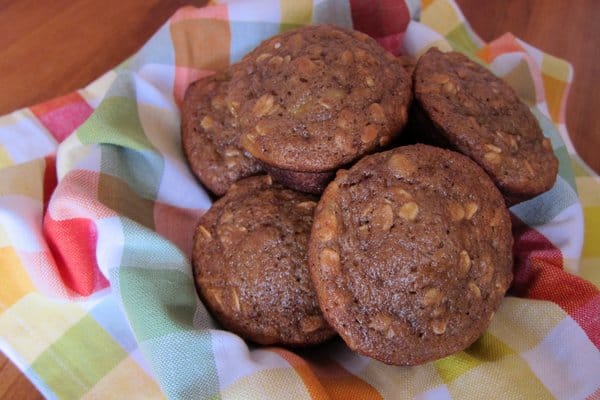 WE WERE GOING ON VACATION just as the first opportunity to volunteer at our church came my way. We go to Rome Baptist Church here in Italy not because we're necessarily Baptists (though my husband grew up in the Baptist church) but because the sermon is in English. And they're nice folks. Anyway, it seems like I'm always very pregnant or very busy with babies when it's time to visit a convalescent home or help with the homeless ministry. But this time, a group of athletes was coming to town to do a bit of mission work in Villa Borghese and they needed to be fed. Amen! It would have to be a make-ahead meal since we'd be on the southern coast of Italy by then, so I volunteered for breakfast and froze a batch of muffins.
As usual, this project was inspired by a delicious sounding recipe for Banana Crunch Muffins from Ina Garten, my Barefoot Contessa. As usual it called for way more butter and sugar than I like to serve, especially for the first meal of the day. So we cut back on both and skipped the coconut entirely because it's not available here. And granola, the key to her muffins' crunchiness, is also too sugary and fatty to include without making this a major indulgence. You could definitely make some better-for-you granola at home, but I didn't have time so I went to Plan B. Just use oats, cinnamon and nutmeg, getting the appeal of granola without the extra steps. I'll make this again and next time I'll use granola (hopefully). I might even make them a third time using quick cooking oats; for these I used whole organic oats and they did offer a bit of crunchy texture. I liked her idea to use both mashed bananas and chopped, so you'd have the great banana background flavor plus a bite of banana every once in a while. Last, I left out the nuts because I don't know this group and wanted to avoid allergic reactions (sending someone to the Emergency Room definitely cuts back the "helpful" quotient.)
Thanks to a text on the road from our pastor's wife, I have it on good authority that the athletes enjoyed their muffins. On the home front, I can vouch for the fact that ours were long gone, before we even packed up the car.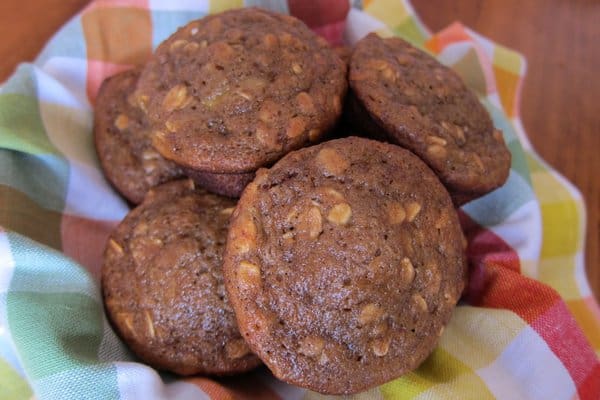 BANANA OAT MUFFINS
I don't use muffin liners anymore. Too much muffin gets stuck to the paper so instead I just use a paper towel and a couple of pats of butter to quickly line each muffin cup. Vegetable oil works too (and in a pinch I've used olive oil as well.)
You know this but it bears repeating: to get good flavor use very, very ripe bananas. Nearly black are best.
ingredients
3 medium size bananas mashed, 1 banana chopped
4 eggs
1/3 cup butter (softened, room temperature)
2/3 cup apple sauce or apple butter
1/2 cup honey
1/2 cup brown sugar
1 teaspoon vanilla
1 cup whole oats
1 cup whole wheat flour
2 teaspoons baking powder
1 teaspoon baking soda
1 teaspoon cinnamon
1/2 teaspoon nutmeg
1 teaspoon salt
instructions
Preheat oven to 350 degrees and butter muffin cups.
Using a stand mixer, combine mashed bananas (but not the chopped banana) with eggs, breaking one at a time into the mixture. Mix until well incorporated and slightly frothy. Add butter, apple sauce, honey, brown sugar and vanilla and mix. Add oats and stir again. Remove the bowl from the mixer and use a sifting cup or metal sieve on top of the mixing bowl to add dry ingredients (without dirtying another bowl): flour, baking powder, baking soda, cinnamon, nutmeg and salt. Stir to combine. Fold in chopped banana.
Fill muffin cups nearly full and bake for 15-20 minutes; 10 minutes for mini muffins. Test with a toothpick or press your index finger on the tops. If it feels firm and springs right back, the muffins are done.