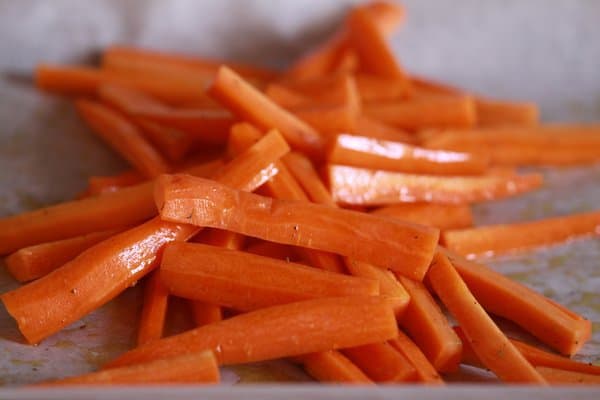 WE'RE ON A CARROT KICK these days and since it seems you can never go wrong with roasting veggies, I thought I'd try it out. And…it's true. Roasted [fill in the blank] is always good. Carrots included.
Like all other roasted veggies (at least those covered on this bleary-eyed busy mom's beat), this is such an easy way to produce delicious flavors. And the kids can either eat them with a fork or pop them in your mouth like fries. Not a bad way to sell the orange stuff.
OVEN ROASTED CARROTS
ingredients
3/4-1 pound carrots, peeled and cut into strips
2 tablespoons olive oil
1 teaspoon salt and 1/2 teaspoon pepper
juice from 1/2 of an orange
instructions
Preheat oven to 425.
Peel carrots and cut them into strips. (First cut them in half right through the middle, horizontally, so they're not so long and easier to handle. Then cut them in half lengthwise, and again.) Pile them on a baking sheet covered in parchment, add oil, salt and pepper. Use your hands to mix them around and coat the carrots in oil. Then spread them out and put the sheet in the oven.
Cook for bout 20 minutes, flipping once halfway through. When the carrots have nice caramel, crispiness on the edges, take them out. Squeeze orange juice on the hot carrots and serve.