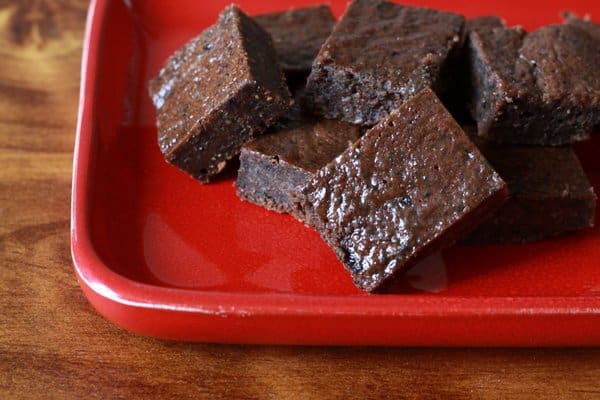 THERE'S SOMETHING FANCY GOING ON HERE and it's not brownies. We've got a couple of new features on Foodlets and one of them is the "Your Favorite Posts Right Now" list, which now appears on the right side of every page. This measures the most clicked on posts of the last 30 days, and vying for the top spot all week have been A Sweet Shop Birthday Party and How to Make a Boxed Brownie Mix Healthier in Seconds. These seem like hot topics so I say let's do more of both, starting with brownies. Here are my favorite ways to make even a box mix healthier.
Occasionally Paul picks up a brownie mix from the FAO commissary, otherwise this post wouldn't be possible because Italians don't know what brownies are. And they certainly don't have a mix for something like this. That's why I bring them to every dinner party or social event that we're invited to. Wiping the rich crumbs from their faces, the other happy guests always ask how to make them. Once when I tried to explain to an elderly woman that I started with a mix and added extra stuff, she was more confused than people usually are when I'm trying to speak Italian. This is partially valtrex because my Italian is still terrible but also because the old guard here is definitely into cooking from scratch. This is partially because Italian desserts aren't nearly as rich or sweet as most American sweets but also because they don't have Betty Crocker on their side.
Since I'd like to take every chance I can get to slide a little extra healthy food into these kids (why not?) I've been experimenting. Box mixes are so forgiving, that's part of why they're so popular. It's actually kind of hard to screw the whole thing up. They're full of sugar and fat and you can't take that out BUT you can add some good stuff too. Here are my favorite ways to do it.
4 Ways to Make a Boxed Brownie Mix Healthier
Substitute applesauce for oil
Add 1/4-1/2 cup wheat germ
Add 1/2 cup of vegetables; I've used pureed beets and spinach.
Add 1/2 cup of fruit; I think berries work best. Our favorites are blackberries, raspberries or a blend of both.
I've done this lots of times in different ways and spell out more details here: Healthier brownies from a mix.
We've also made lots of brownies from scratch, like these Spinach Berry Brownie Cups and Gwyneth Paltrow's Fudgy Chocolate Brownies too.