As our BFIM continues at its glacial pace, I am thrilled to present this guest post from a friend, fellow mom to kids under 4 and former colleague (one who used to run Food Network.com, ahem!), Marie Facini. Now if you need me, I'll be desperately trying to find a big pot somewhere…
GUEST POST by Marie Facini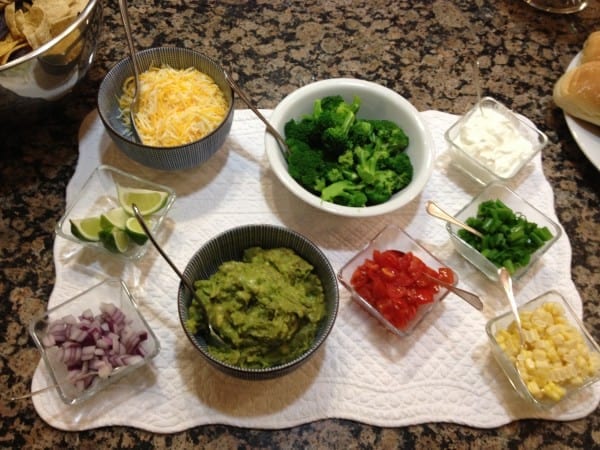 We were set to entertain weeknight guests last night when my oven died. Throwing my original game plan aside, I needed a quick-and-easy substitute for a small crowd. Enter this simple turkey chili. While I made it primarily for adults, my tiniest guests just loved the idea of all the topping choices.
Turkey Chili
Adapted from AllRecipes.com
ingredients
1 1/2 teaspoons olive oil
1 pound ground turkey
1 white onion, chopped
1 (28-ounce) can diced tomatoes
1 (15-ounce) can red kidney beans, drained and rinsed
1 (15-ounce) can black beans, drained and rinsed
1 (15-ounce) can pinto beans, drained and rinsed
1 (6-ounce) can tomato paste
1 tablespoon garlic, minced
2 tablespoons chili powder
1/2 teaspoon paprika
1/2 teaspoon dried oregano
1/2 teaspoon ground cayenne pepper
1/2 teaspoon ground cumin
1/2 teaspoon salt
1/2 teaspoon ground black pepper
instructions
Heat the oil in a large pot over medium heat. Stir in onion and garlic, and cook until tender. Place turkey in the pot, and cook until evenly brown.
Mix in diced tomatoes, beans and spices. Bring to a boil. Reduce heat to low, cover, and simmer 30 minutes (the longer the better). Add tomato paste to thicken. If chili is too thick, add 1 or 2 cups of water to dilute a bit.
Cook's Note: I like using 3 different types of beans for variety (and to stretch the recipe) but you can use whatever you like. You can also reduce the amount of beans you use as well, depending on personal preferences. And vegetarians can, of course, entirely forgo the meat.
Yield: 8-12 adult servings
 15 Chili Bar Topping Ideas
Shredded "Mexican" cheese mix
Broccoli (steam for just a minute or two to make the color pop)
Diced tomatoes
Red onion
Guacamole
Corn (use canned or steam an ear and shave off the kernels)
Scallions
Zucchini (I've used raw)
Banana peppers
Shredded carrot
Avocado
Shrimp (Buy pre-cooked when you need to save time)
Bacon
Sour cream
Cornbread
I made sure to stock plenty of tortilla chips, plus hot dogs and buns for those who might want to make their own chili dogs.
The result? Happy guests, happy kids and a great idea to use for future meals.
P.S. It was so good we forgot to photograph anything but the toppings bar!