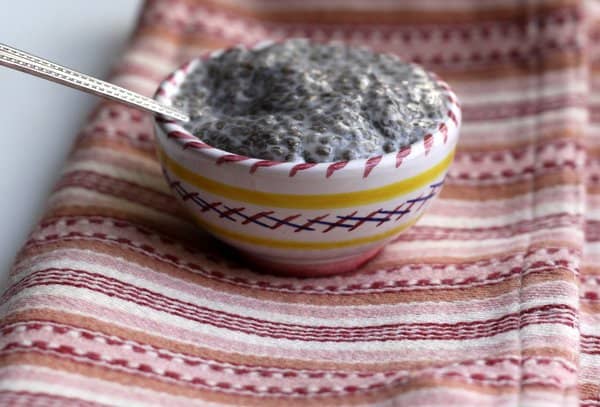 THEY LOVE THIS STUFF. I'm shocked and amazed myself, but our girls do. I'd been hearing about the health benefits of chia seeds for years–fiber, omega fatty acids, calcium, antioxidants and protein–but in Italy, if it ain't the stuff that mama made, it ain't available. At least not in my grocery store. (The Italians are so traditional in many beautiful ways, but sometimes it was maddening limiting.) But here we are in NC now; Enter Trader Joe's. As Paul sang chi-chi-chi-chia I threw a bag of chia seeds into our cart, not totally sure of what I'd do with them. But right there, on the back of the package was a recipe that turned out to be the unexpected hit of the year. (We're still in February so I can say things like this.)
It's a no-cook concoction, one that's very easy for even toddlers to help make and maybe part of the reason why ours are so smitten with this whole thing. They helped.
I can't say that older kids, old enough to know about real pudding, will love it too but I'd give it a try. If it's not a hit as dessert, I can definitely see swirling it into yogurt or even hot oatmeal for a healthy hearty breakfast instead. (And try these dessert ideas too. They're all low in sugar and high in good-for-you ingredients. Best of all, they're delicious!)
For now, these two can't get enough of of it as is.
But I may have to find a chia pet just for fun.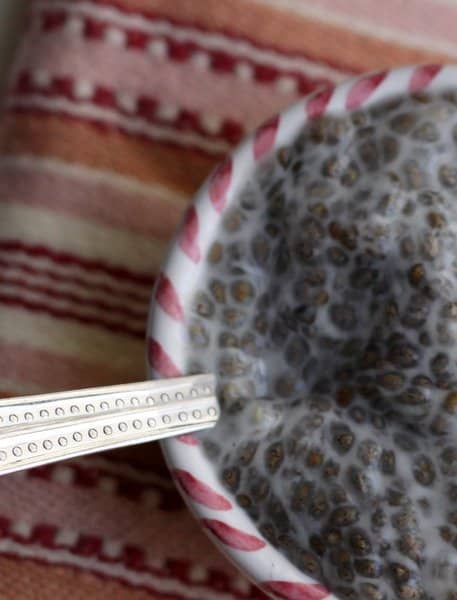 COCONUT MILK AND CHIA SEED NO-COOK PUDDING
This keeps for several days in the fridge, getting thicker if you don't cover it–and I think it's better as it get thicker. 
NOTE: I've seen a couple of posts about the amount of honey, and think you're right. There's too much. I made an update to the recipe below and another thing, you could use maple syrup too.
ingredients
1/4 cup chia seeds
2 tablespoons honey  << UPDATED
1 cup coconut milk
instructions
Combine everything in a bowl and refrigerate overnight, uncovered. I think the best results came after 2 days but try it and see.
This post is part of these blog parties: Whole Food Wednesdays, My Girlish Whims, What I Whipped Up Wednesday and  Wow Me Wednesday.