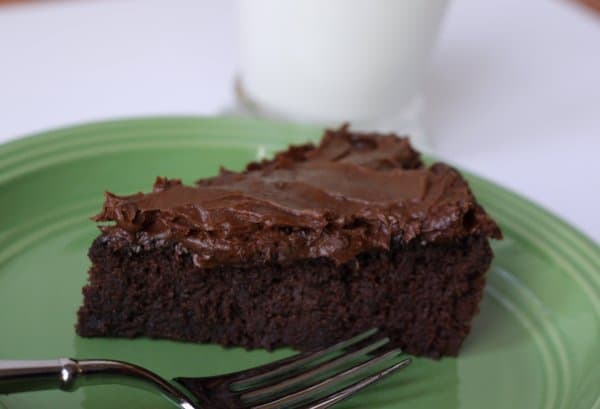 I HAVE A LIST OF TOP 5 FOODS. In fact, on one of our first dates, I asked Paul about his. With a sort of deer-in-the-headlights look, he shrugged and explained that he didn't have such a list (he politely left out saying anything like "because I'm not 9"). No matter. Mine, I announced, were: 1. Steak 2. Salmon 3. Salad 4. Cake and 5. Ice cream. You know what? I still love all of those, but these days I'd probably replace salmon with chicken under a brick (the super juicy kind with salty, crispy skin). But I would never, ever replace cake. What I would do though, is update my recipe. Just how healthy can cake be? This month, we're going to find out.
We've got a lot of birthdays in May, my own, Phoebe's, one grandmother, one great grandmother and a few days into June, we've got a first birthday party to plan for George. So, we're making cake and quite a bit of it. The question is: Can I make chocolate cake healthier–or just less bad for you?
The first test run is something I've heard about for a long time. Black bean chocolate cake. This particular version is a riff from one I found on Healthy Indulgences, a blog about baking without sugar, flour or gluten. It was pretty good. But I'll say this, you have to leave it in the fridge or it does taste a little beany. Two more things: The original recipe used Stevia or erythritol. I don't know what those things are, so I prefer regular sugar.  And wow, what a lot of eggs! It was very chocolatey and rich though, quite a good trick for a cake that doesn't include flour–and packs a protein punch too!
I'm not sure if it's top-5 worthy just yet, but we're getting there.
FLOURLESS BLACK BEAN CHOCOLATE CAKE
This recipe makes one 9×9 inch cake or one round cake. For a layer cake, double the recipe.
ingredients
1-15 ounce can of unseasoned black beans
5 large eggs
1 cup sugar
1 tablespoon pure vanilla extract
1/2 teaspoon sea salt
6 tablespoons unsalted organic butter
6 tablespoons unsweetened cocoa powder
1 teaspoon baking powder
1/2 teaspoon baking soda
1 tablespoon water
instructions
Preheat oven to 375.
Prepare baking pan by greasing with butter, then dusting with cocoa powder.
Blend everything in the blender, like this: Rinse the beans and put them in the blender. Add 3 eggs, sugar, vanilla and salt. Blend on high until it's completely smooth with no lumps at all. Add butter, blend for 1 minute. Add 4th egg, blend for 1 minute. Add last egg, blend for 1 minute.  Add cocoa powder, baking powder, baking soda and water, blend again until completely mixed through, about 1 more minute.
Pour into prepared pan and bake for 40-45 minutes.
Allow to cool and by all means, add chocolate butter cream frosting! I made this better-for-you version for Estelle's first birthday.