ON A COLD, RAINY DAY IN NORTH CAROLINA, I can't help but grin looking at these adorable first birthday party photos, sent in by the mother of our newest Featured Foodlet, Kennedy. Find out how her mom pulled off the cutest BBQ bash of the year.
Name of the birthday girl: Kennedy
Parents: Breanne and Michael
Where the party took place: Our home in Houston, TX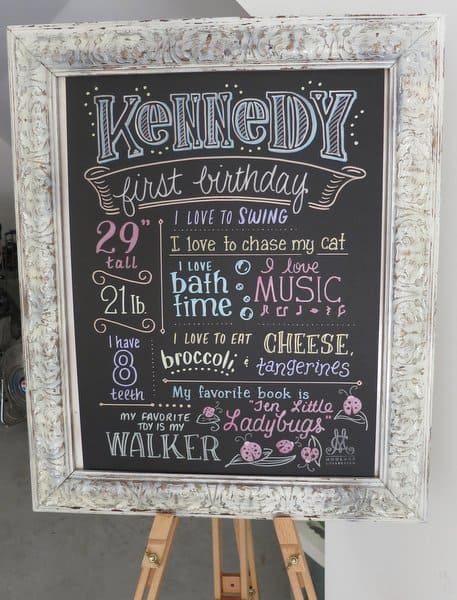 Theme or colors of the party: The theme for Kennedy's first birthday was a "Texas BBQ". The colors were red, white and blue.  Although I was aiming for a "Texas" theme, the concept can be transferred to any other BBQ or other similar type of function.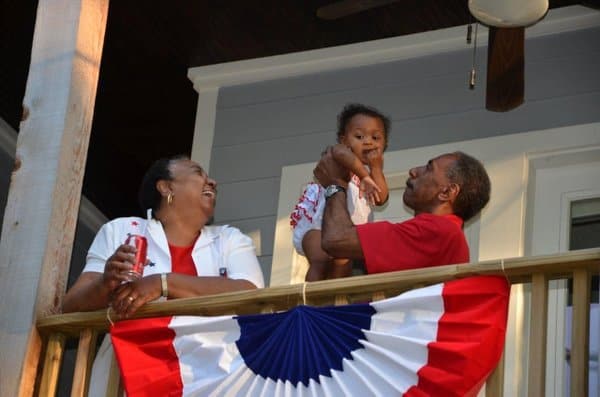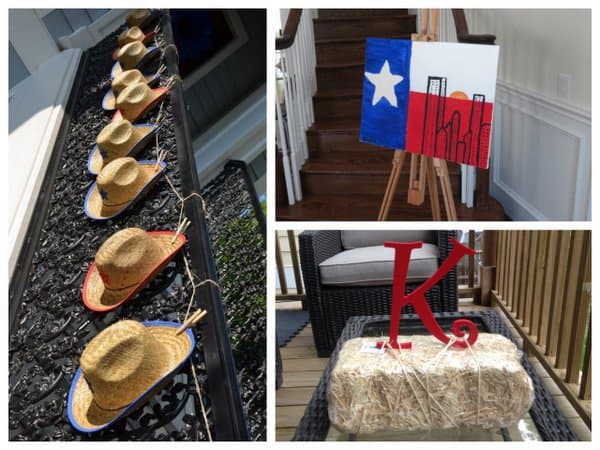 How did you decide on the theme? We wanted a gender-neutral party and something both adults and toddlers would enjoy. I also wanted to do something very different from the other one-year birthday parties we had been to.
Number of guests: About 60 guests including parents and children.
What was on the menu?  We had an extensive menu from a variety of sources. We ordered chicken from a popular local BBQ restaurant. We have a friend who makes amazing ribs and he was kind enough to prepare a couple of racks. In keeping with the BBQ theme, one of our friends also grilled burgers during the party. I made potato salad and my mother-in-law made cupcakes.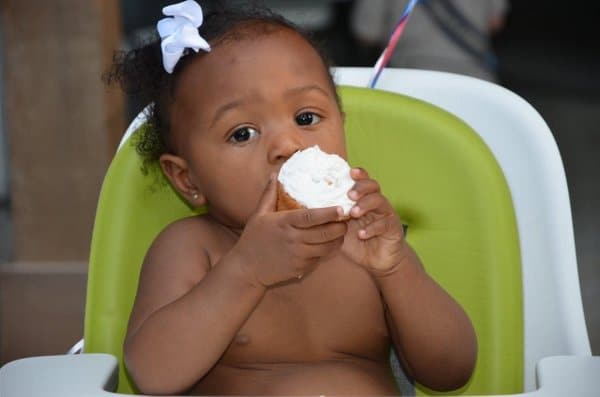 Did you make anything especially healthy for the kids or adults? We did! We had gluten-free no sugar cookies sweetened with bananas. My girlfriend made them. We had organic juice boxes and a fruit plate. The buns for burgers and hot dogs were whole-wheat. We served green salad and asked for the BBQ sauce to be put on the side for the people who follow the Paleo diet. My MIL also made the ice tea from scratch because when I read the ingredients on the store brand ones I was disgusted! Our hotdogs were organic (but we made a mistake there…see "misses" below!).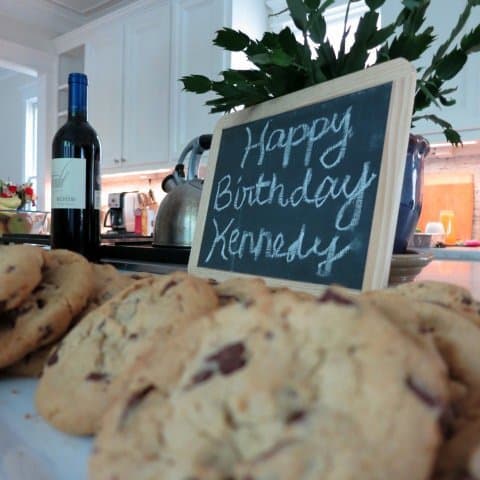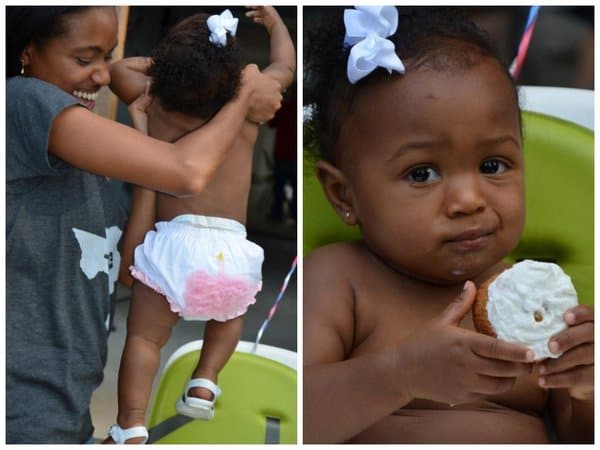 What was the biggest hit on the menu? The ribs! Our friend marinates them with some special sauce and they are amazing.  Michael didn't get one and he was sad that they ran out so fast.
Any misses? I had my mother-in-law search all over Houston to find organic hot dogs.  She was able to find them, but we forgot to put them out.  We also forgot to use the bubble machine.
What was the cake like? I made the cake from scratch. When I was a kid, it was always the mom who made the birthday cakes, so I wanted to do the same for my daughter's first birthday. The homemade cakes aren't as pretty as the store-bought cakes kids get today, but Mom made it which made it that much more special.  That said, I had never made a cake from scratch, so after two failed attempts my mother-in-law came over and helped me make the cake. I ordered the cake top from esty.com.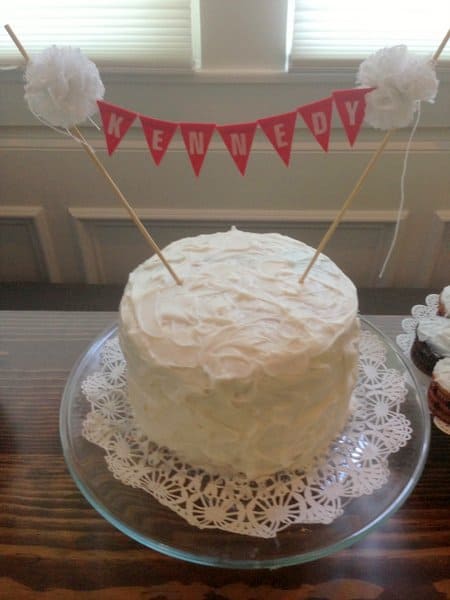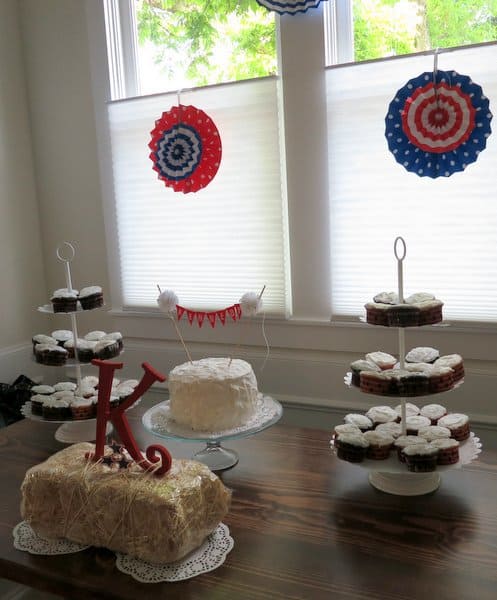 Where did you get your inspiration? From concepts I saw at old-fashioned country fairs and do-it-yourself back yard weddings.
Any games or activities? We set up a photo booth where our guests could dress up in some props that we made available and take fun pictures with our computer.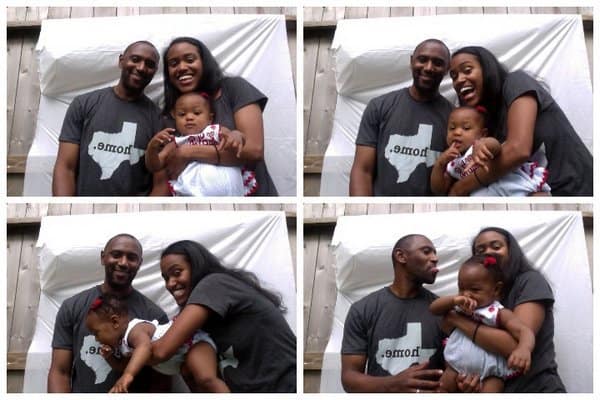 How long did it take to put everything together? LOL…I started planning (mostly in my head) this party in January so about 5 months!
What was the hardest part? Setting it all up. I had all these ideas floating in my head I had been buying things on sale for this party for months. It rained really hard the day before so we weren't able to decorate until the morning of the party, but we really needed to start decoration the day before in order to be as prepared as we wanted to be.
And the easiest? Buying things online.
Most expensive? The food was the most expensive. I tried to keep the cost low by taking people up on their offers on helping me out by brining dishes and completing other various tasks.
What would you do differently next time? A nursing room!  I had a changing station but I did not think of the fact that some moms are nursing and would not feel comfortable nursing in public. The women had to nurse in our bedroom which is completely fine with us but at least we would have made our bed and that morning.
What did Kennedy enjoy the most? Kennedy and all the babies enjoyed playing with an empty water table! I threw some sunglasses into the table and the kids went crazy! We had a bubble machine but I forgot to put it out. 🙁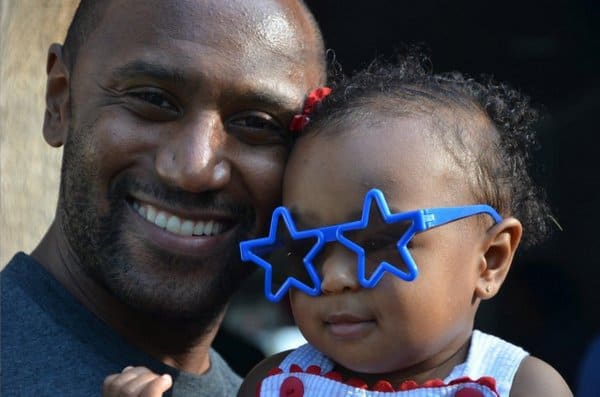 Special touches: I had a bubble bar for the adults. The bubble bar consisted of prosecco, sparkling water and sparkling apple cider each chilled in a champagne bucket. Next to the bucket had disposable flutes with fresh blueberries and raspberries to keep in the red, white and blue theme.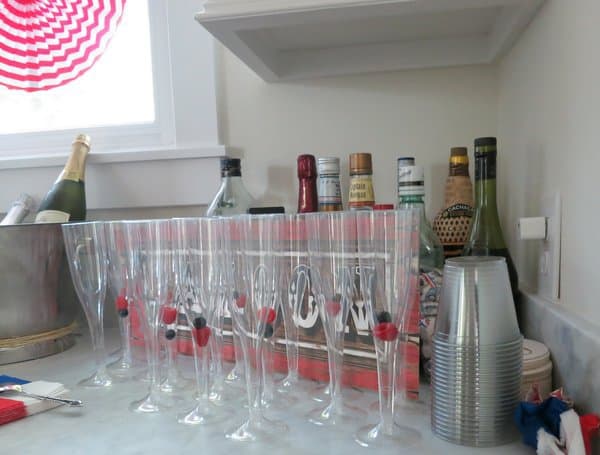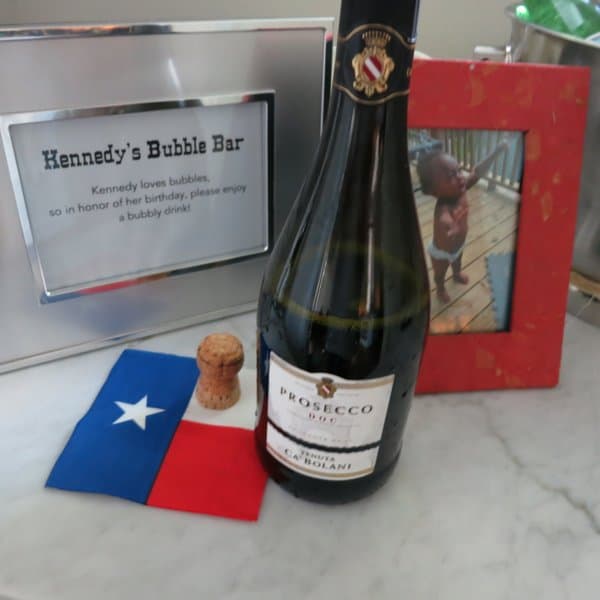 I also made a bunting out of 55 photos. I made sure that all the guest or their children were in at least one picture with Kennedy. I put the pictures in order from birth to on years old.  I wanted everyone to understand how important they were to Kennedy's first year.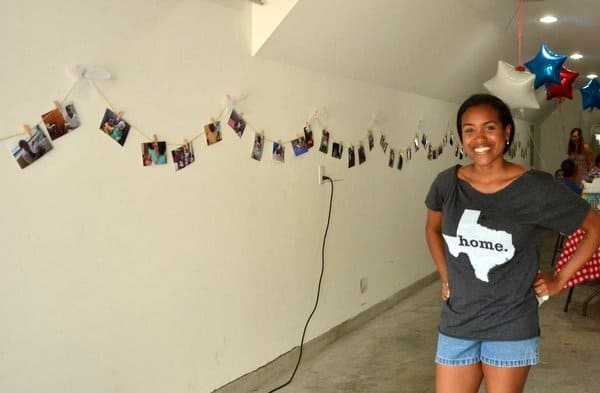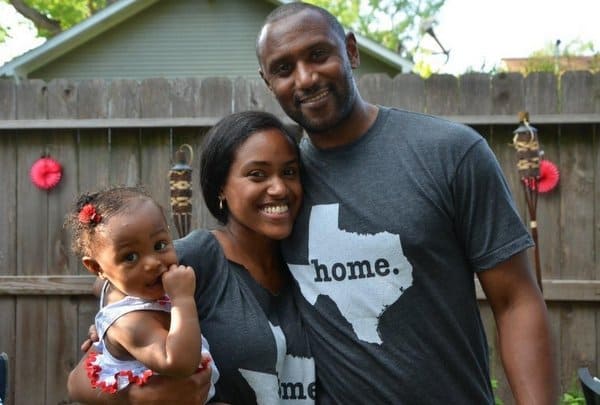 Do you have a great birthday party to feature on Foodlets? We want to hear about it so email us with all the adorable details!