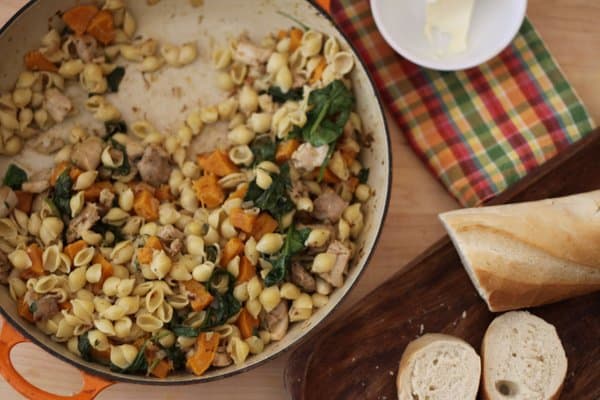 I'M BREAKING A PRETTY BIG RULE HERE. The idea of making two meals, one for the kids and another for the adults, is just too exhausting for me to even consider on most days. But for our Halloween lunch, I decided to spare the moms those mummy turkey dogs. Instead we adapted a recipe from Sweet Potato Chronicles…and had two servings each. It's spicy, it's flavorful but if your kids aren't into heat, just hold the spice until the end and everybody still wins.
Sometimes it's really nice to be appreciated and I'll tell you this right now, the road to praise is not cooking for kids. When I was a Vice President at Martha Stewart, I used to get compliments all the time.  Great presentation! Cute outfit! Thanks for buying everyone lunch. (Yeah, even then I was stacking the deck in my favor.) Now I'm working with a bunch of knee-high critics who spill 25 percent of any given meal on the floor and only say, "Thanks for lunch!" when I prompt them to. That's why I loved having moms over.
Everyone sat down in her seat. No one had to be reminded to use her fork. Each person told me they loved the dish and if that wasn't enough, nobody even spilled their drink. Heaven!
Spicy Pasta with Chicken, Spinach & Goat Cheese
Adapted from Sweet Potato Chronicles' Late Harvest Cavatappi
ingredients
1 medium order valtrex online no prescription butternut squash, peeled and cubed
olive oil
1/2 box shell or other small pasta
Chicken thighs (boneless, skinless) cut into bite-size pieces
salt & pepper
1 medium yellow onion, diced
4 cloves garlic, minced
1 tablespoon white wine vinegar
2 1/2 cups chicken stock
1 tablespoon dried thyme
1/4 teaspoon nutmeg
3 cups fresh baby spinach
4 ounces goat cheese
optional: 1 teaspoon red pepper flakes
instructions
Preheat oven to 425 degrees F. Place diced squash on a baking sheet lined with parchment or a silicone liner. Roast for 25-35 minutes, depending on size of chunks. Flip once, halfway through.
Boil water for pasta. Fill a large stock pot to the top and add a handful of salt. Cook according to directions MINUS two minutes.
While the pasta water is heating, brown chicken in a large skillet with a splash of olive oil. Add salt and pepper to chicken while it cooks. As chicken begins to brown, add onions. Cook until onions are soft then add garlic. Add vinegar stock, thyme and nutmeg, then deglaze the pan, scraping up all the bits from the bottom. Bring to a boil and reduce by about 25 percent.
When the pasta is done, drain and add to skillet. Fold in goat cheese (let it melt and mix in) and add spinach which will wilt when it hits the pan. Finally, add the butternut squash.
Give the kids this portion.
Add the red pepper flakes and enjoy the rest with another adult.